Every great American city deserves an iconic hotel and restaurant, and that's just what Aparium Hotel Group set out to give Detroit with The Foundation Hotel and Apparatus Room.
Working with developer Walter Cohen, McIntosh Poris Associates, Simeone Deary Design Group, two-Michelin-star Chef Thomas Lents and a whole host of local artisans and craftspeople, Aparium transformed the historic Detroit Fire Department headquarters into a red-hot hospitality destination that's helping fuel the Motor City's economic, cultural and culinary renaissance.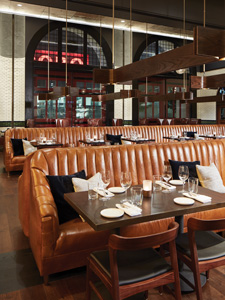 Subtly evoking Motor City history, leather banquettes are channeled to look and feel like vintage car seats, and light fixtures over dining tables were inspired by wood veneers seen in luxury cars. Image courtesy of Nathan KirkmanIt's all part of Aparium's two-tier development strategy: Target the best secondary, underserved markets or locations and create locally relevant boutique hotel properties anchored by top-notch, chef-driven restaurants. In addition to Detroit, the company has taken that strategy to Milwaukee with The Iron Horse Hotel and Smyth; Minneapolis with Hewing Hotel and Tullibee; Covington, Ky., with Hotel Covington and Coppin's Restaurant & Bar; and other cities large and small.
"Wherever we go, we plant our flag. We want our properties to be there for a long time and have the staying power of restaurants like Gramercy Tavern, Gotham Bar & Grill and Zuni Café and hotels like The Pfister and The Peabody," says Michael Kitchen, vice president of acquisitions and development at Chicago-based Aparium. "Detroit was one of the first projects that came to us, but it was also among the most challenging."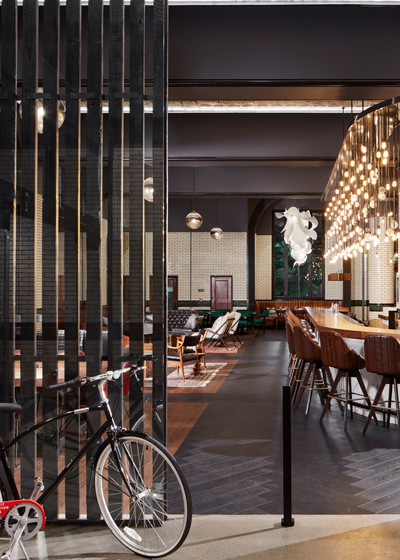 Apparatus entry view. Image courtesy of Nathan KirkmanOpened in May 2017, The Foundation Hotel and Apparatus Room was a nearly three-year design and construction project, but efforts to secure the space go back to 2010. At the time, Kitchen, who grew up and went to college in Michigan, was convinced that despite its Rust Belt decline and financial troubles, Detroit was ripe for a "Brooklyn-esque" moment. When the city ran an RFP on its vacant Fire Department Headquarters building, he convinced Aparium's partners that it was exactly the right opportunity for the company. "I fully believed that Detroit would come back and be great, and they looked at me like I was crazy," he says.
Aparium was ultimately awarded the RFP in 2013, taking the title to the iconic 1929 neoclassical brick building as well as the adjacent Pontchartrain Wine Cellars building on a prominent downtown corner. That same year, Detroit's financial crisis came to a head, and the city became the largest in the nation's history to file Chapter 9 bankruptcy.
"Getting financing to develop and build anything in Detroit at the time was really tough, but we stuck with it and ultimately were rewarded," Kitchen says. "What we thought would be 7 to 10 years for Detroit to turn the corner actually took 3 to 5 years. Developers began transforming the city, artists and craftspeople got involved and energized, and a wave of gentrification was building that we wanted to embrace and be a part of."
For Detroit, By Detroit
At its core, The Foundation Hotel and Apparatus Room project is a love letter to Detroit and to the city's burgeoning collaborative and artistic culture. Nearly every aspect of it — from the coffee and beer served to the uniforms, custom wallpaper, lighting and headboards — is locally made, locally sourced, locally salvaged. All told, the design and development team collaborated with more than 45 Detroit-based groups and artisans to create what Kitchen says has become Aparium's flagship property.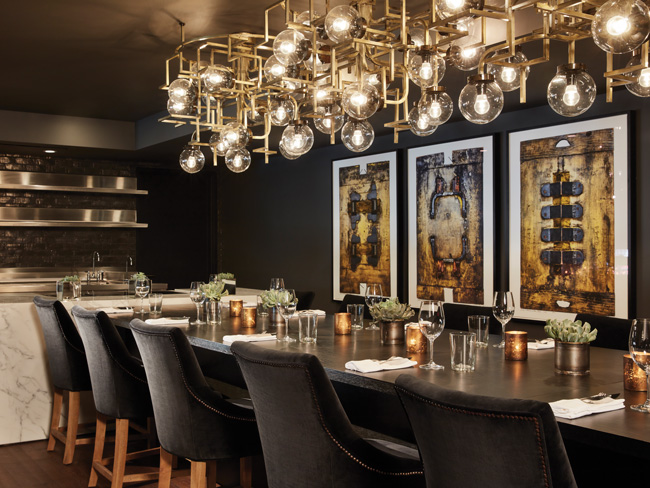 Located on the mezzanine, the Chef's Table is a combination demonstration kitchen and 16-seat communal table where Executive Chef Tom Lents and/or visiting chefs present ticketed, multi-course menus. Image courtesy of Nathan Kirkman
"The Apparatus Room is probably the cleanest, purest positioning that we have for any of our restaurants," Kitchen says. "It's iconic, polished New American, which issomething we felt the city was missing. And everything we did here was influenced by our surroundings. We didn't want to come in and slap a luxury hotel and restaurant in Detroit that meant nothing to Detroit in one of the city's most meaningful buildings."
Designed by Michigan-based McIntosh Poris Associates and Simeone Deary Design Group, whose co-owner, Gina Deary, hails from Detroit, The Apparatus Room anchors the five-story, 95,000-square-foot building and is the project's heart and soul.
"From the beginning, it was always going to be a restaurant with a hotel and not the other way around," Deary notes. "There are 100 guest rooms, which of course generate revenue, but Aparium always focused on the restaurant as the element that would bring the project together. As we conceptualized the design, we wanted to reflect the very collaborative nature of Detroit in part by creating a space that's open and integrated. The first floor is a lobby, a bar, a kitchen and a restaurant that all flow together. It has almost a kind of living-room feel."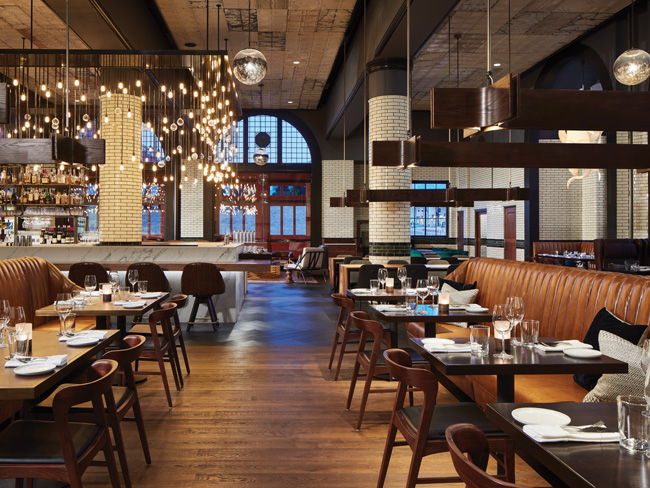 Custom, locally crafted furnishings in muted, neutral tones allow the building's original character and finishes to shine through, while an open design creates easy flow between restaurant, bar, display kitchen and lobby. Image courtesy of Nathan Kirkman
As adaptive reuse of an historical landmark property, the team also needed to leave the basic structure alone and make as much use as possible of what the original building had to offer.
The large red fire doors were refurbished, were repainted their original firehouse red and can be hitched open to frame large glass windows through which The Apparatus Room glows at night. One of the doors serves as the entry, leading via vintage red carpet to a small reception desk area surrounded by a retail gallery of locally made products. Original subway tile walls, flooring, millwork and marble wainscoting that lined many of the original corridors were saved, cleaned, and either left in place or repurposed. A shaft space between the restaurant and the restroom corridor, originally used to hang and dry fire hoses, now holds a glass-blown floating balloon sculpture, one of several unique design features that blend old and new.
Behind the reception desk, a partition made from salvaged charred wood provides visual and acoustic separation between the check-in area and dining room. It holds a large screen where stylized videos of local artists and craftspeople working to create the various products and installations within the building are shown."The imagery is beautiful. It sets the stage and gives guests an idea of just how many hands and how much artistry touched this project," Deary says.
Apparatus private dining. Image courtesy of Nathan KirkmanThe strength of the existing space is especially evident in areas like the private dining room. According to Kitchen, it's the most historically significant space in the building and one in which the design team was able to create dramatic effect with just a few special touches.
"The beautiful millwork and ceiling shape were there; the gorgeous tile floors were there. Gina and her team just cleaned everything, painted the room a rich peacock blue and added luxurious draperies," Kitchen says. "But the room really speaks for itself. Our real challenge there, and throughout the property, was to not bastardize what existed but to highlight and complement it. Simeone Deary used a tremendous amount of restraint, and the result is a design that's balanced, deeply layered and full of nostalgic glam."
Named for the fire department's actual apparatus room — the area where the fire engines were parked — The Apparatus Room proper measures 5,900 square feet, including a main dining area, a private dining room, a lounge/lobby area, a bar, a new display kitchen and original back-of-house kitchen space. The team also took the opportunity presented by the room's double-height ceiling to create a mezzanine area above the kitchen.
Overlooking The Apparatus Room, the mezzanine houses the Chef's Table, a combination demonstration kitchen and a 16-seat communal table where Lents and/or visiting chefs present upscale, ticketed multi-course menus. Nominated as a semifinalist for Best Chef — Great Lakes in this year's James Beard Awards, Lents in the same week saw the Chef's Table win Detroit Free Press Restaurant of the Year honors.
"We knew that we were going to have a very ambitious food and beverage program and were looking for a Michelin-starred chef, eat-your-heart-out, this-is-Detroit quality offering," Kitchen said. "We overshot the mark with Tom, who was most recently executive chef at Chicago Trump Tower's Sixteen. He's a Michigan native, which was imperative to us, and is a fantastic chef who's also locally grounded. He does his own thing in the Chef's Table but also uses it as an incubator for visiting chefs and up-and-coming local chefs as a way to give back to Detroit."
Artistry and Engineering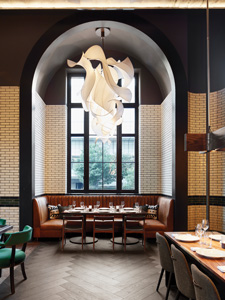 A smoke-like custom light installation made from white fabric twisted and stretched over a metal frame pays homage to the building's origins. Image courtesy of Sal RodriguezOn the main level, the centerpiece of The Apparatus Room is the large, U-shaped bar that serves to divide the room while keeping energy flowing between its various areas.
"We like to keep our restaurants small and packed, so the volume of the room was initially intimidating," Kitchen notes. "When you have a space this large, even if it's a quarter of the way full, it could feel empty. Part of our solution was to put the bar in the middle, around the columns, and hit people with that heat and energy right when they come in. We also positioned coffee on the entry end of the bar and a communal table nearby. In the morning, there's coffee and pastries and this communal space where people can hang out, so there's always energy facing the front."
Topped in walnut and clad in marble for a clean, simple look, the bar drops to dining height on the side closest to the restaurant, while the other, larger side is traditional bar height. That side opens to mixed lobby/lounge-style seating areas along the building's front.
Image courtesy of Sal Rodriguez
Above the bar hangs a signature lighting installation, designed and fabricated by Alex Porbe and his team at Detroit-based Incite Design. Next to updating the firehouse's original back-of-house kitchen and adding a front-of-house display kitchen, the fixture ranks among the project's largest creative investments. It features more than 500 individual bulbs in an abstract representation of the streetlamps of Detroit. Many are lit, but those that are handblown glass aren't.
Image courtesy of Nathan Kirkman"During the recession and bankruptcy, many streetlights in the city stayed dark because there was no money to replace burned-out bulbs. So we had this idea to pay tribute to those days," Deary says. "The fixture has an industrial look, but if you look closely, you see that the individual bulbs are very beautiful and the connections very engineered. It speaks to one of the big design concepts for the whole property, which was turning engineering and manufacturing into art. That's the soul of Detroit. It has always been a city of tinkerers, engineers and artists, so the design celebrates that culture."
A second feature light installation hangs from an archway above a banquette-lined alcove. Made from white fabric that's twisted and stretched over a metal framework, its smoke-like imagery pays homage to the building's origins.
Custom, locally crafted furnishings in brown leather tones and gray fabrics; natural, live-edge wood tables; refurbished salvaged metal ceiling tiles; and vintage carpets lend a lived-in, comfortable feel to the space. And many design touches subtly evoke Motor City history.
Leather banquettes, for instance, are channel backed to look and feel like vintage car seats. Custom downlight fixtures over dining tables were inspired by the type of soft-turned, engineered wood seen in luxury cars.
"We didn't want to be overt, but a lot of Detroit's engineering history is directly related to the automobile, so you see a lot of those influences in the furniture and finishes," Deary says. "We also brought in midcentury-modern furnishings because that really had a heyday in Detroit. But everything is simple, warm and elegant, not overly designed or stuffy. Detroit has a unique character and is a nostalgic city. You have to be very careful what you design there because there are a lot of people who are very close to the city and who have been there a long time. They want to make sure it is portrayed authentically. If you don't, the locals will not go to your space."
With the majority of customers on any given night being locals, with the property on track to hit year four of Aparium's pro forma in year one, and with its chef helping to put Detroit in the culinary spotlight, The Apparatus Room seems to have passed that crucial test.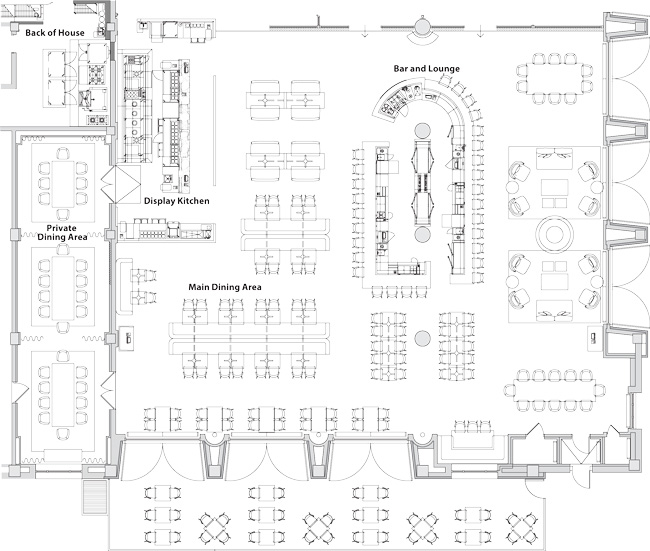 Detroit Foundation Apparatus Room
Project Team
Owner: Aparium Hotel Group
Architect: McIntosh Poris Associates
Interior design/graphic design: Simeone Deary Design
Industrial design/lighting fabrication: Alex Porbe, Incite Design
Laser cutting/engineering: Lauri Mendenhall, Prototype Design, Inc.
Custom furnishings: Urban Ashes
Registration screen/art wall: Lisa Spindler, Smoke Study Artwork
Glassblowing: Matt Cattanach, MatCat Art
Artists/art consultants: Kim Harty (College of Creative Studies), Matt Eaton (Red Bull House of Art)
Salvage: Chris Rutherford, ASWD Salvage Warehouse
Millwork: Matt Gaglio
Wallpaper: Josh Young, Detroit Wallpaper Company
Signage: Urban Ashes, Detroit Laser Company
General contractor: Sachse Construction and Development Co., LLC
Snapshot
Opened: May 2017
Concept: Iconic New American
Executive Chef: Thomas Lents
Restaurant size: 5,900 square feet, 200+ seats
Average check: $75 per person
Property features: Integrated lobby, restaurant, bar, display kitchen; private dining room; mezzanine Chef's Table; 100-room hotel
Design highlights: Original building features (firehouse doors, vintage finishes); custom, locally crafted lighting, furnishings and art installations; vintage rugs; salvaged metal ceiling tiles; historical Motor City design inspiration
Custom, locally crafted furnishings in muted, neutral tones allow the building's original character and finishes to shine through, while an open design creates easy flow between restaurant, bar, display kitchen and lobby. Image courtesy of Nathan Kirkman
Detroit's New Grand Dame