From concept development to brand protection, here's how companies that made the move to fast casual tackled the challenge.
Pick a cliché: If you can't beat 'em, join 'em. Imitation is the sincerest form of flattery. Out with the old; in with the new. Adapt or die.
All could be applied to the growing trend of established brands expanding into the fast-casual space. Clichés aside, this is just good business. Fast casual has remade the restaurant industry in the 21st century, taking market share from concepts up and down the quality and service level chain.
Instead of just surrendering customers, established chains are looking to compete for the same dining dollars as fast-casual players, but they're bringing the full weight — both the benefits and drawbacks — of their existing brands to fast-casual offshoots.
Why Fast Casual?
Growing store count and sales is obviously the bottom line for any company that enters the fast-casual space. But the exact reasons to make the leap can differ from company to company.
Florida-based Hurricane Grill & Wings launched Hurricane BTW (short for burgers, tacos and wings) in reaction to the growing trend of off-premise dining. With more food being consumed away from restaurants, operations don't need the same square footage to satisfy guests, says Chief Brand Officer Brooksy Smith. At the same time, Millennial customers have shown a preference for the fast-casual sector. Developing a fast-casual concept, with its naturally smaller footprint and carryout-friendly design elements, ticked both trend boxes.
Cracker Barrel also wanted to reach Millennials when they launched biscuit sandwich concept Holler & Dash, now seven stores strong. Its separate branding and service style attracts this desired demographic. The interior is warm and welcoming, with wood finishes and localized elements, and it has a relaxed come-as-you-are employee culture that appeals to younger guests, says Holler & Dash Chief Operating Officer Michael Chissler.
In addition, with its smaller footprint and more urban vibe, Holler & Dash can succeed in places that aren't a natural fit for Cracker Barrel, a full-service operation that traditionally thrives along interstates and in rural communities.
Bono's Pit Bar-B-Q, in business since 1949 and based in Jacksonville, Fla., came at the development of its fast-casual cousin Willie Jewell's Old School Bar-B-Q from a different angle. Willie Jewell's was created nine years ago, before Millennials became the demographic darlings of the restaurant industry.
The concept, with 10 existing stores and another 4 to 5 set to open this year, wasn't designed to reach a different demographic group — but it was designed to attract a different group of franchisees.
According to Bono's and Willie Jewell's President Josh Martino, building out a Bono's restaurant can cost up to $2 million. At that price, the business is simply out of reach for many potential franchise partners. Creating a smaller format store allowed the company to bring buildout costs down to between $550,000 and $750,000 — much easier numbers for franchisees and their lenders to swallow.
Don't Hit Bone
A lower price is indeed one of the benefits of fast-casual development. The buildout cost for Hurricane BTW is far lower than the full-service brand, Smith notes.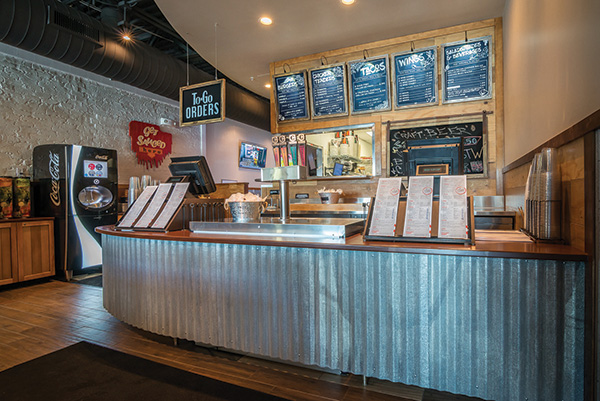 Hurricane BTW's design is inspired by modern surf shops, reflecting the Millennial guests it hopes to attract. Parent concept Hurricane Grill & Wings has an older demographic and a beach shack design. Image courtesy of Hurricane Grill & Wings
BTW's construction costs are kept low in part through the use of lower cost materials that can be sourced at big box home improvement stores. The concept uses oriented strand board for its community tables and sauce bar and residential duct components for its soda runs. While these materials fit with the brand's look, described by Smith as "industrial surf shop," they wouldn't be found in a typical casual-dining restaurant.
However, businesses looking to move into the fast-casual realm must be careful not to cut too deeply. At some point, the cuts detract from the customer experience. That concern played a big role in the development of Willie Jewell's, says Martino.
For Bono's, the concept's heart is an open kitchen that showcases the authenticity of the food, with meat taken directly from the barbecue pit and cut to order in front of customers. While a pit isn't feasible at the fast-casual price point or footprint, the chain was determined to preserve this experience at Willie Jewell's. The concept, then, was given an open kitchen with a wood smoker. The smoker door is flush against the kitchen's back wall, and the cooking chamber sits outside. This allows customers to see the authenticity of the cooking and watch as meat is pulled from the smoker then cut to order.
In the same way, Martino recommends that established concepts entering the fast-casual segment maintain the core of their brands. "What are the things you absolutely love about your concept, that you couldn't do without, that if you stripped them away, you would lose the soul and base of your concept?" he asks. "On the same end, what are the things that give you the most frustration, that make your operation the hardest to run, but that you could live without? Write those down, and figure out a way to make up for them or just see if you need them at all. That can be the basis of your concept. That goes for personnel, for design, for decor."
Protect One Brand, Develop Another
While Willie Jewell's and its parent concept offer the same core experience — and use the same recipes — the company chose not to brand it with the Bono's name. Calling it Bono's Express or something similar could have confused guests, says Martino, so the Willie Jewell's brand was born.
Cracker Barrel took that thinking a step further when it created Holler & Dash.Protecting the parent was so important to Cracker Barrel that the company developed an entirely new concept: different branding, different menu and no clear connection between the brands either online or in store though some design elements, like the barrel-inspired ordering counter, nod to the casual-dining brand.
With a distinct identity for Holler & Dash, the concept's leaders felt that making the brand a success required a separate team and culture, says Chissler.
While Holler & Dash makes use of corporate-level resources like IT and legal, "we use different companies for design, development and construction of our facilities," says Chissler. "We looked at different purveyors, almost 100 percent. We felt the more that was [shared], we would be in danger of replicating the same thing. We felt we needed to get different thinking and different team members. It was done that way to keep the two from cross-pollinating."
Don't Damage, Don't Cannibalize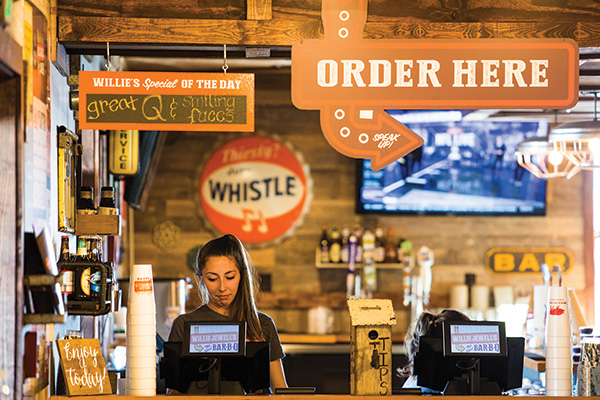 Willie Jewell's is designed like a traditional barbecue joint, inside and out. Through a story wall on the interior, the chain makes its connection to Bono's Pit Bar-B-Q clear. Image courtesy of Logan Bowles
Not every company has the resources to bring in a separate leadership team for its fast-casual development, and not every company will want to. After all, if the parent is valuable enough, many operations will want to take advantage of that brand and that menu. In such situations, though, the new concept can't be allowed to harm the big brand's reputation.
According to Hurricane's Smith, much of this this comes down to food quality. Some customers may expect a step down in quality in a fast-casual concept; instead of meeting these lowered expectations and damaging the overall brand, the food at the new concept should be at least as good. Companies developing a fast-casual brand should set that goal and stick to it, Smith says.
The approach can actually benefit the parent brand, he notes. For its burger, Hurricane BTW uses a ¼-pound beef patty, chosen for its faster cooking time than the parent's half-pounder. The smaller patty proved so popular that it is now a popular part of the casual concept's lunch menu. Similarly, some menu items at Willie Jewell's have been so popular that they've been brought over to Bono's, says Martino.
The issue of protecting the parent concept extends beyond reputation and into dollars and cents. Wouldn't two restaurants with shared branding and menu offerings end up competing against each other? Couldn't what's perceived as success actually just be money moving from one pile to another?
Short answer: Yes.
How to keep that from happening? Geography.
In the case of Willie Jewell's parent Bono's, the company decided not to open any fast-casual restaurants in Duval County, Fla., where most Bono's are located. For Hurricane BTW, geography is also key. While the company hasn't ruled entire counties off-limits, its formula is almost as simple. Know the radius existing casual-dining stores need to thrive, Smith says, and then stay out of that radius.
A related, and more difficult question, Smith adds, is how to divide up development territories. This takes careful analysis of factors like the market's demographics, competing concepts and available real estate, then choosing which concept has the best chance to succeed based on those factors. At that point, success requires the company stick to its guns. "If you've made a bet that this is where you put a Hurricane Grill, then you protect the radius of the market they need to support their business. You don't put a BTW in their playing field."
Stick To It
While establishing a fast-casual concept is a challenge, everyone interviewed agreed it was also a fun and energizing exercise — "like a B-12 shot in the arm," says Martino.
The fun, though, shouldn't distract from the end game: developing a long-term successful brand that's profitable for the company, its employees and its partners. Doing this takes real vision, commitment and courage in a time when companies live and die by quarterly earnings reports and comparable sales reported monthly.
"A lot of guys jump into it," says Chissler. "It's exciting, but it's a lot of work. You have to be committed to the goals you want to achieve. Then, you have to provide the resources and the people resources to do it right."
---
The Clover and The Bee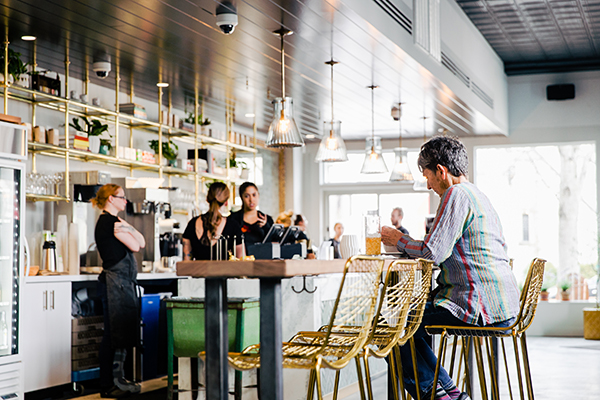 Fast Casual Development Clover Bee
Chains are not the only ones moving into the fast-casual segment. Independent restaurateurs are also opening fast-casual siblings of established counterparts.
Among these are Mark Hinkle and Greg Ortyl, owners of Olive + Oak, a polished-casual restaurant in the St. Louis suburb of Webster Grove.
Upon opening its doors two years ago, Olive + Oak became an immediate hit — so much so that its owners began planning their next concept. Instead of opening a second Olive + Oak in another part of town, however, they wanted to develop a new concept in the same neighborhood. Since both owners are residents of the community, it would make running the restaurants easier, while also allowing some of Olive + Oak's goodwill to rub off.
Limiting themselves geographically meant the partners had to wait for the right location to open up. Fortunately, that opportunity came in early 2017, when a space in the same building as Olive + Oak — right next door, in fact — became available.
This location helped define the new concept, Hinkle says. "It was 'Hey, what makes sense here?' as opposed to 'We want to do X concept. Where can we put it?'"
The answer was The Clover and The Bee; a concept that is, in many ways, the opposite of Olive + Oak.
Distinct designs establish a sense of place. As a polished-casual operation, Olive + Oak has a sleek, modern look with gray upholstered banquette seating, large mirrors that help open up the small space and a lively bar in the middle of the operation. The Clover and The Bee is much softer, with a large floral mural and a green, gold and pink color scheme.
Then, there are the dayparts each restaurant serves. While Olive + Oak is dinner only, The Clover and The Bee started out serving just breakfast and lunch, allowing the two restaurants to, in combination, offer every meal. Notably, though, The Clover and The Bee recently expanded into the dinner daypart.
While having the two restaurants serving the same daypart right next door to each other sounds like they're being set to compete, Hinkle doesn't see it that way. The experiences they provide are just too different.
"Olive + Oak is for when you want to dine, when you want to invest two hours in a dinner. The Clover & The Bee is for 'Hey, I just got off work. I don't want to cook and clean. I don't want fast food, though.'"
Despite these differences, the two restaurants aren't polar opposites. Both are committed to serving food made from scratch using high-quality ingredients. What's more, their close proximity to each other means there's a shared culture — along with shared resources, including prep space, storage, ingredients, manpower and more. This is actually a great advantage for both restaurants
"There are a lot of times where I say overall, you just use what's there," Hinkle says. "At the end of the day, we're all one family. It certainly requires some accounting attention. But I'll take the accounting headache any day for the ability to have that extra workspace."