Sure, it's good for what ails you, but soup can also be good for business — at least in the hands of creative entrepreneurs with a reverence for the perfect bowl of soup. From burgeoning fast-casual chains to funky food trucks to urban microsouperies delivering weekly "soupscriptions," soup-centric concepts are popping up all over.
Of course, the idea isn't particularly new. In 1984 Al Yeganeh opened New York's Soup Kitchen International, the tiny storefront unit that sparked the inspiration for the "Soup Nazi" episode on NBC's sitcom "Seinfeld." That operation is now part of Soupman Inc., parent company of the Original SoupMan, which operates franchise restaurants and sells its packaged soups to retailers and other restaurants as well as directly to consumers online. Recent efforts to grow the business have the Original SoupMan's management team, led by new CEO Lloyd Sugarman, targeting both retail and foodservice opportunities. Its strategy includes a new food truck franchise program introduced at this summer's International Franchise Expo in New York.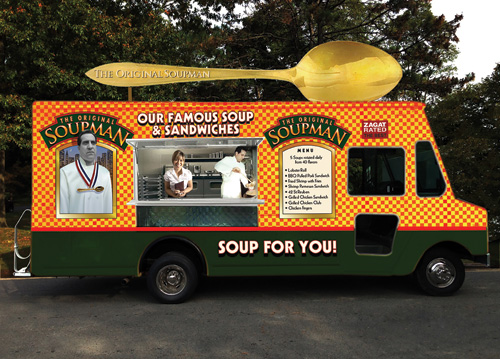 The Original SoupMan Food TruckSugarman says it's the first nationally recognized gourmet brand packaged as a food truck franchise opportunity. The truck's graphics tie into the packaging used on retail products as well. "With the retail tie-in, our food truck franchisees will be able to park in retail partners' parking lots to sell and sample products and hand out coupons," he says. "So you're going to have many more opportunities as a franchise operator to be able to get locations that other food trucks wouldn't normally be able to tap into."
The first franchises — at a fee of $15,000, and purchase or lease options for the trucks, which run roughly $80,000 — were set to start selling in early fall. Sugarman expects to sell around 80 truck franchises around the country within the first 18 months.
Michigan-based Zoup! has also worked to create and lead a fast-casual dining category that its team describes as "soup differentiated." The company, launched in 1998 by Eric Ersher, opened its 50th unit this summer and has plans to open 12 more before the end of the year. Zoup offers a rotating daily selection of a dozen soup varieties, including low-fat, vegetarian, low-points (Weight Watchers), dairy-free and spicy options. While soup serves as its raison d'être and operations stay simple by design, Zoup dips into bakery-café territory by offering a menu of salads, grilled sandwiches and baked goods. Catering, including delivery and setup, provides an additional revenue stream.
That strategy bodes well for growth, which can be tough for very narrowly focused concepts, says Darren Tristano, executive vice president at Technomic Inc. "We are seeing a trend of more singularly focused concepts. It's risky to have such a narrow menu, but there is opportunity to be successful if the quality is there and you have something unique to offer. That may include broadening the menu to grow your dining occasions, as well as developing multichannel ways to build sales," he says.
Tristano adds that urban markets as well as college and university campuses could be prime markets for soup-centric concepts. "It's an opportunity to target consumers who don't have the time to cook and who want good food that's ready to reheat," he says. "And if you're marketing sustainability, organic, local, fresh-made — those certainly are attributes that a lot of consumers today are willing to pay for, especially if it's convenient. The challenge, of course, is to make it profitable."
Here's a look at three next-gen, nontraditional, soup-based businesses attempting to do just that.
SoupCycle
Portland, Ore.
What started as a grad school project has become a viable business for Jed Lazar, founder of SoupCycle. It's a nontraditional business model, to be sure, but one that strikes a chord and satisfies a need for its primary target — urban, environmentally conscious consumers looking for fresh, sustainable, organic, local foods, including vegetarian and vegan options, that are also convenient.
Since launching in 2008, SoupCycle has made more than 100,000 soup deliveries — all via bicycle — to customers who sign up for weekly "soupscriptons." The typical order is for a 28-ounce portion of soup, which comes with a side salad and bread. Staff make deliveries to residences and offices throughout downtown Portland; and, in a recent development, the company now services parts of Corvallis, Ore.
Subscribers can visit SoupCycle's website to view each week's offerings, which always include one vegan, one vegetarian and one meat-based soup option, as well as side salads and bread. Vegan and vegetarian meals were recently priced at $16.50 and the meat-based option at $17.50.
Customers also receive an email newsletter each Monday listing menu options for the next week and have until 5 p.m. on Friday to make any changes to their order online. SoupCycle procures local produce over the weekend and prepares the soups in a 1,600-square-foot commercial kitchen. Staff package and chill soups before loading them into bike trailers for delivery. Customers receive their orders on Tuesday, Wednesday or Thursday, depending on their delivery zone.
Lazar estimates current volume at 175 gallons of soup each week. He says the company adds a new recipe to its repertoire every month and emphasizes the importance of variety. "Our customers get our products every week, so we have to offer sufficient variety to keep them engaged," he says. "We now have around 60 soups that we rotate, but we've had 100 or so on our menu over the years. Customers rate them each week, and if they don't like one, we don't make it again."
As for growth, Lazar says that, rather than expanding territory, the goal is to increase density in the areas the company already serves. This month he's also introducing a reusable container program. The company's marketing tactics include office-based soup tastings to introduce potential new customers to the concept and sampling at summer street fairs. "We also get a lot of word-of-mouth advertising," Lazar adds. "And by now most people in Portland have seen SoupCycle bikes and trailers out making deliveries, which helps to create buzz."
Soupergirl
Washington, D.C.
Inspired to get involved in the local foods movement after reading Michael Pollan's book "The Omnivore's Dilemma," Sara Polon quickly settled on soup as the best product on which to build a locavore-targeted business. Five years ago, with her mom and partner Marilyn Polon, she launched Soupergirl. Originally a subscription-based soup delivery service, it has grown to include a storefront retail shop/café and a wholesale arm that sells Soupergirl-branded products to local grocery stores.
Soupergirl's menu consists of vegan and kosher soups featuring fresh, local ingredients and no preservatives. "We're especially popular with moms, who trust our products and feel good about feeding them to their families," Polon notes.
Delivery customers can choose from a variety of subscription options, placing their orders online by Thursday of each week for their delivery the following week. Each week, subscribers can choose between two featured soups, one chunky and one pureed, and take cold delivery of their choices at their offices or residences. They also receive a salad, which changes weekly.
The Soupergirl storefront, opened in a suburban D.C. neighborhood in 2011, measures 3,000 square feet, half of which the kitchen consumes. The front of the house seats 25 and offers counter service. Customers can serve themselves from several soup kettles for dine-in or takeout. Fresh-baked breads and desserts are available, and a refrigerated grab-and-go merchandiser holds a selection of packaged chilled soups, salads, hummus and desserts.
Today, the company's sales split in an average week is roughly 30 percent online (subscription/delivery), 20 percent farmers markets, 30 percent storefront and 20 percent wholesale. "That's all in flux as we grow the wholesale business," Polon adds. "Last year, wholesale was probably around 5 percent. Right now we're in 16 stores, including 4 Whole Foods Markets, cafes and bars around the area, and we're trying to expand that as much as possible. And I haven't ruled out opening more stores. Soup isn't a trend, it's not a fad. Soup never goes out of style."
The Splendid Spoon
Brooklyn, N.Y.
Vegan, gluten-free soups featuring local ingredients are specialties of The Splendid Spoon, a Greenpoint, Brooklyn-based microsoupery. Launched in 2011 by French Culinary Institute-trained chef Nicole Chaszar, it's a small company on a big mission: to make healthy food choices easier for time-starved New Yorkers.
"I started out selling at the Smorgasburg Flea Food Market here in Brooklyn. I saw the same customers coming back again and again and thought there should be an easier way for people to get the soup than having to come and pick it up every week," Chaszar says. "So we started a subscription-based delivery program. It lets me know how much to prepare and customers know they can rely on receiving these healthy meals every week."
Splendid Spoon containersUtilizing a cargo-bicycle delivery service, The Splendid Spoon provides weekly deliveries throughout most of Brooklyn, Manhattan up to 90th Street and portions of Queens accessible by bike from its production facility. An organic food incubator and copacker, The Splendid Spoon's facility prepares and packages the soups and provides refrigerated storage.
Customers can choose from four seasonal soup flavors that change every six weeks. Chaszar works with a nutritionist to ensure that each soup comes in at less than 300 calories per 16-ounce serving and contains at least 2 servings of vegetables. Consumers can choose from a variety of subscription plans. One includes four pints of soup, one of each featured flavor ($55); another includes eight pints, two each of two featured flavors ($110). Gluten-free millet rolls are also available.
"I may eventually have my own soup restaurant, but my main motivation for doing subscriptions is to make things easier for my customers. The biggest reason people give for not eating well or using local produce is that it takes too much time to shop the farmer's market, prep the vegetables and actually make their own healthy foods. The idea of delivering healthy soup as a refrigerated pantry staple is really our mission."
While its delivery area hasn't changed and its goal is to continue to build density in existing service areas, The Splendid Spoon has also begun selling its soups through Fresh Direct and Good Eggs, which provide local grocery deliveries throughout the New York metropolitan area. That part of the business already comprises roughly 70 percent of sales. "I can't reach as many people with just bike service," Chaszar says. "Expanding with partnerships like these, as well as getting our products into retailers such as Whole Foods, is definitely an area that I'd like to grow."