Luigi Di Ruocco is vice president of Mr. Espresso, his family's 35-year-old artisan coffee roasting company and provider of espresso equipment, service and training to coffeehouses and restaurants in the San Francisco Bay Area and beyond. He's also co-owner of Coffee Bar, a three-unit group of specialty coffee cafes that showcase Mr. Espresso's single-origin, oak-roasted beans.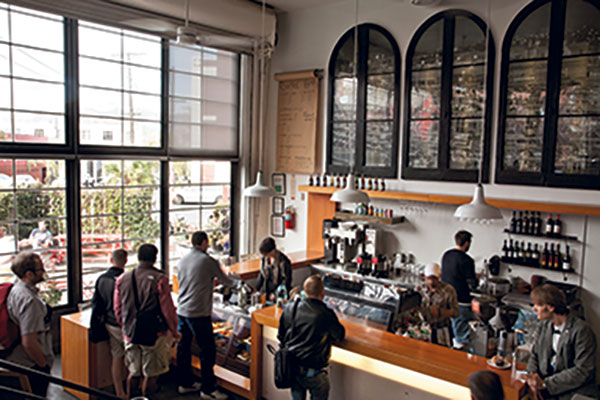 The original Coffee Bar is a large, open and modern cafe
At 2,500 square feet, the original Coffee Bar, founded in 2007, is a large, modern space with ample seating, a full kitchen, and a menu of freshly made sandwiches and salads as well as locally sourced baked goods. Two newer units, opened in 2011 and 2015, are 500-square-foot takeout cafes with more limited grab-and-go food options.
We asked Di Ruocco to share some insights on specialty coffee and one of the hottest trends on tap: cold brew.
Specialty coffee seems to be evolving quickly. What do you see as some of the biggest changes in the segment?
LDR: There's a whole new generation of roasters emerging, and existing companies are continuing to push the envelope forward to constantly improve coffee quality. Overall, it's much more competitive. On the operations side, there's stronger focus on proper preparation and techniques involved in creating high-quality beverages. A lot of the "froufrou" coffee drinks were used as a sort of bridge and, in many cases, to make up for inconsistencies and/or less-than-stellar coffee quality. Now, we see an emerging appreciation for a cup of coffee that tastes great on its own.
Why is cold brewing such a big deal now?
LDR: It's always been the high-quality method of making iced coffee, certainly a much better way than brewing a pot of strong hot coffee and chilling it. I think its current popularity speaks to the growing focus on technique. Hot-brewed coffee has a very short flavor shelf life; after an hour and a half, it goes downhill rapidly. Brewing with cold water produces a sweeter, non-acidic product that's significantly more shelf stable. It gives operators better opportunities to serve cold-brew beverages — plain coffee or coffee mixed with cream and/or flavorings to create specialty beverages and expand the category.
How complicated is it to implement a cold-brewed coffee program?
LDR: It can be very simple. All it requires is a cold-brew kit, which can be purchased for less than $100. It takes about five minutes to prepare and between 12 and 24 hours for the coffee to brew. Once it's brewed, you don't need any special equipment; you can just strain out the liquid into a container and pour it on demand. It will taste good for a few days.
More operations are installing taps for cold-brewed coffee. Is that much more complicated?
LDR: There's more of an investment because you have to have the tap system and nitrogen connected to it to draw the coffee out. And you need the space to be able to install the system in a location that's easy to access. The great advantage is that once it's up and running, you can just pull a tap and serve it quickly. It's also a great self-merchandiser to have a cool-looking tap for cold-brewed coffee.