Thalia Hall and Cindy's at the Chicago Athletic Association Hotel
Thalia Hall
Restaurateurs Bruce Finkelman and Craig Golden this summer launched the fourth foodservice installation at Thalia Hall, an historic landmark located in the Pilsen neighborhood of Chicago that's been restored and renovated to its original late 19th-century design.
Tack Room, an intimate piano bar with a limited dinner menu, looks like a photo out of a Ralph Lauren catalog but with an edgier vibe. Originally a carriage house for horses and buggies, designers outfitted the 1,400-square-foot space with subtle horse and stable accents, including red-and-white wallpaper with tiny horse silhouettes, wood slatted tables and decorations like cowboy boots, antique saddles and horse bridles. Available for private and pop-up events, the space can accommodate 40 to 50 seated guests or 60 to 70 guests for cocktail parties. Lantern candles help light an outside patio.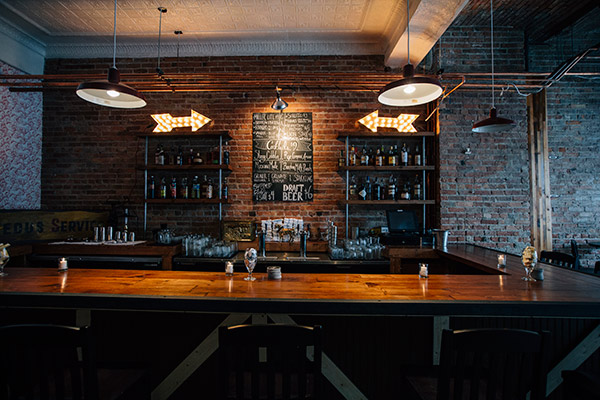 Tther businesses at Thalia Hall that have opened over the past three years are Dusek's, a beer-inspired restaurant, and Punch House, a cocktail bar in the basement of the building with wood paneling, cushy booths and a '70s rec room vibe. Concerts and events of all types take place in the public hall portion, an open space with grand ceilings, a stage, wood floors, a balcony and dramatic stained glass windows modeled after an opera theater. Chairs can be set up for seated events or removed for receptions.
Thalia Hall was founded in 1892 by Bohemian immigrant John Dusek as a neighborhood establishment. Dusek was a family man, a tavern owner and a facilitator of the arts, and his hope for the corner of 18th and Allport was to build a public hall for the community. Built by Frederick Faber and his partner William Pagels in the Romanesque Revival style, design details include an elaborately cut limestone façade with other technical, pattern-based masonry inspired by the opera house in Prague.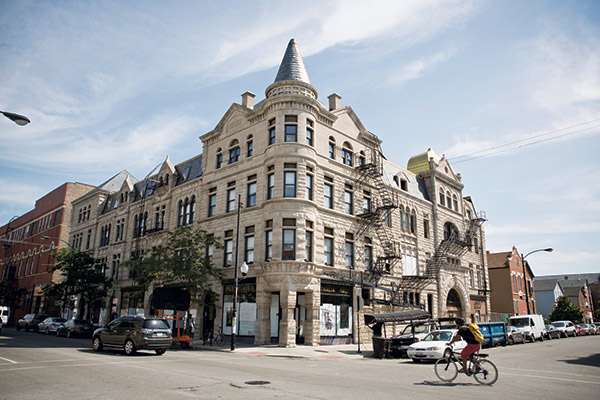 Named after the Greek muse of comedy, Thalia Hall was completed around the time of the openings of the Columbian Exposition and became a center for the arts, including concerts and choirs in the theatre portion. Thalia Hall earned landmark designation in October 1989 but has sat empty at times throughout the years.
"Public halls were important to communities and used to be in all neighborhoods of Chicago," says Will Duncan, partner and director of operations for Dusek's and Punch House at Thalia Hall. "They were used as large gathering spaces for meetings and town hall political discussions. The rest of the property is a mix of both retail and residence."
Thalia Hall has 5 retail storefronts, though it was built to have 22. "Our goal for this project has been to renew that usage," Duncan adds.
When Finkelman and Golden bought the property a few years back, they purposely left many of the existing design details, like stained-glass windows and ornate, brass wall accents. They even had to airlift an HVAC system onto the roof to avoid damaging the historical dome ceiling. The team hopes this new reincarnation of Thalia Hall will introduce another place for cultural and musical entertainment in the burgeoning Pilsen neighborhood.
Cindy's at the Chicago Athletic Association Hotel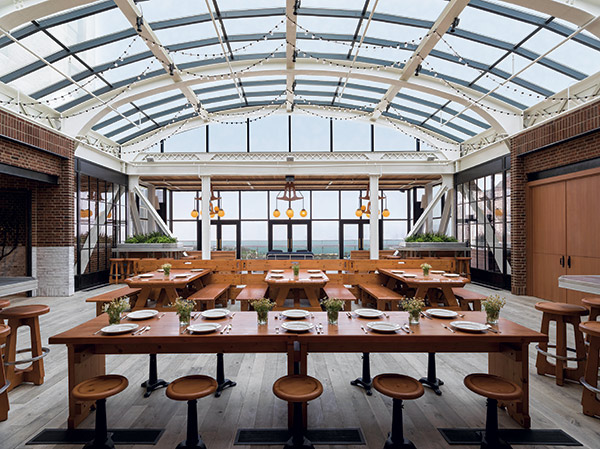 Photo courtesy of Chicago Athletic Association Hotel
Located on the 13th floor of the new, luxury boutique hotel, Cindy's, the Chicago Athletic Association's rooftop restaurant and open-air terrace, offers unparalleled views of Chicago's Millennium Park, Lake Michigan and the Magnificent Mile below. Designed by Roman and Williams Buildings and Interiors, the bright and airy space was meant to reflect a Great Lakes beach house, with sunroofs and strung lights; whimsical greenery; communal, picnic-style seating; and an outdoor terrace with fire pits. A steel and glass structure mimics the train sheds that once lined the tracks opposite the hotel, while a private dining room modeled after a library provides flexible seating arrangements.
Chicago-based Hartshorne Plunkard Architecture partnered with Roman and Williams, Commune Hotels & Resorts, Agman Partners and Geolo Capital to renovate the landmark building that features Venetian-gothic architecture. While paying homage to the Association's legacy as a revered social club, the project team transformed the building into a 241-room boutique hotel that includes 17,000 square feet of event space and an interactive game room. The building also features such restaurants as Cindy's, Cherry Circle and a Shake Shack.
The hotel recently announced a new partnership with the Chicago Architecture Foundation to provide a guided tour of the historic landmark, including a detailed look inside Henry Ives Cobb's 1893 tower with notable design details like the grand staircase lobby, the drawing room and various ballrooms.