In late January, Denver's Tavern Hospitality Group raised the curtain on its newest concept, Whisky Tango Foxtrot (WTF). A neighborhood gathering place in the up-and-coming Prospect Park area, the operation was designed by Colorado architecture firm Arch11 as an ode to Denver's pre-Prohibition watering holes, but with decidedly modern twists.
Located in a former bag factory near Coors Field, where industrial loft conversions and high-density new-builds dominate, the operation was designed to create "a timeless bar atmosphere that would be the social hub of the neighborhood," says Arch11 principal and lead architect on the project Ken Andrews. "This is the place where well-made, old-school cocktails are served and people might linger at the bar for hours."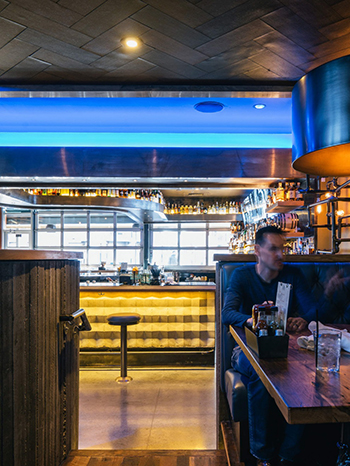 Photos by Larry SykesThe 3,200-square-foot interior is designed with an earthy palette of concrete, steel and wood highlighted with warm, soft light. A long, curving peninsula bar features a richly textured concrete surface that modulates under glowing LEDs concealed under the counter. "We wanted people to sit and discover the details over time," says Andrews. An undulating stainless steel soffit with a dusky blue patina delineates the bar area and the dining area beyond. The soffit over the front bar does double duty as storage for some of WTF's 90 varieties of whiskey.
Tufted booths and banquettes covered in vivid blue fabric elevate the atmosphere and introduce a touch of nostalgia. Photo murals of Denver in the 1930s and 40s add to the narrative, as do TVs that fade into the background with their own graphic displays of historic photos and menu items.
A floor-to-ceiling wall comprised of staggered wood slats (a riff on barrel staves) and Edison-style bulb pendant lighting provide a homey, vintage feel while screening an industrial-style stair leading to WTF's popular rooftop bar.