Based in the Chicago area, Beerhead is a craft beer concept offering roughly 500 beers in each of its seven restaurants. Open since 2012, the chain recently began selling franchises and has four such locations in its pipeline.
As part of its franchise initiative, Beerhead recently rolled out a new design at its restaurant in Vernon Hills, Ill.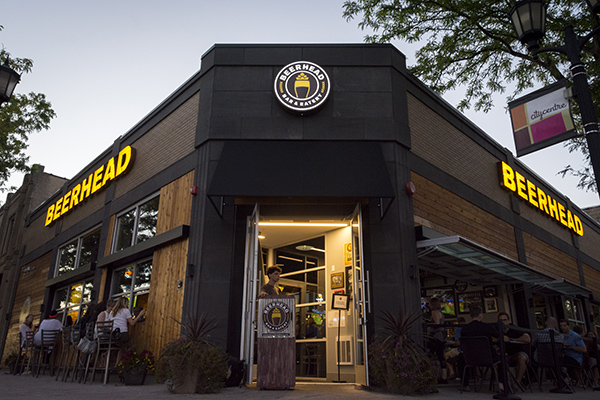 Notably, Beerhead's redesign included a name change. Previously, the concept went by The Beer Market. That name, however, made the chain sound like a retail store, says co-founder Greg Goodrich.
"We got that feedback from some of our guests...We knew we had a concept that worked. We tested it in different markets and with different varieties. Once we understood that early on, we wanted to make sure we had a brand that matches the cool factor of our concept. The Beer Market was a great starter brand for us, but we could kick it up a couple of notches."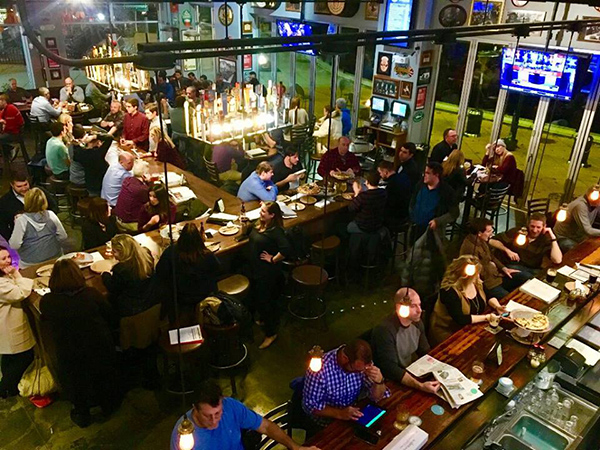 The change to Beerhead's design included updating its furnishings. The chain uses a large T-shaped community table made with reclaimed wood taken from school bleachers, as well as new chairs with metal frames and wooden seats and seat backs. Beerhead also went from high-top to low-top booths and increased the number of low-top tables.
"We changed the floor plan for seating to change the way the store flows. [With this new design] you're not overwhelmed with seats when you walk in the door. There's better visibility to the entire space by adding the low tops when you walk in the door," says Goodrich.
As a beer-focused concept, Beerhead offers 50 beers on tap and more than 400 in cans and bottles. The company, notes Goodrich, intentionally limits its taps to ensure it is serving only fresh kegs.
Beerhead obviously wants to showcase its beer selection, Goodrich says. "When you walk in the door the actual cooler that houses these beers and the tap system are front and center. We get a lot of compliments on that. It's a kind of showpiece."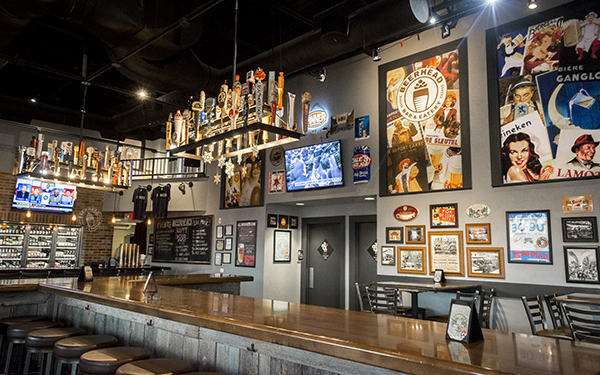 One of Beerhead's signature design elements survived the redesign. The chain has custom made chandeliers using tap handles that hang above the community tables. Beerhead's wall decor has been updated, however. Pieces focus on beer history, including black and white pictures from old breweries, vintage beer signs and cans, as well as custom-made branded pieces.