Like airports around the country, Portland International (PDX) is adding a sense of place for people traveling through, thanks to popular local foodservice establishments. Among several recent additions to the PDX international concourse is The Country Cat, the second outpost of the city's popular farm-to-table eatery helmed by husband-and-wife team Adam and Jackie Sappington.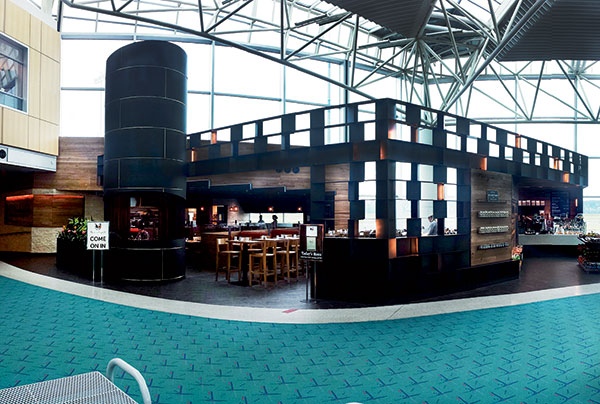 Inspired by imagery of an old Oregon barn, The Country Cat's airport operation carries on the original restaurant's signature traits, including whole-animal butchery, house-made jerky and pastries prepared by an on-site baker.
"The opportunity for the airport presented itself and we were excited about being part of the effort you see nationally to elevate airport dining," says Jackie. "We were approached by Andale Management Group out of San Francisco, which has expertise operating in airports. They wanted to enter the Portland market with a sit down, farm-to-table concept and they approached us to partner with them. We worked with Skylab Design Studio and R&H Construction and put together a beautiful design. It's very unique, in that there really are no walls or ceiling, except over the kitchen area."
Design highlights include a 30-foot bar lined in repurposed pickle barrel wood, an open-line kitchen with counter seating, reclaimed hickory wood paneling and blackened steel, including a distinctive metal wall that goes around the perimeter of the space and a metal-coated silo at the restaurant's entrance.
"The wall is braced by structures underneath the slab," explains Dave Fuerstenberg, project manager from R&H Construction, of one of the more unique challenges in building the restaurant. "Normally, you could attach the top to the ceiling or roof but this had to be completely supported from below. Both the wall and the silo were tough because there was nothing to support them. For the silo, we had a hoist system that lifted the top three pieces of the structure up into the air and we built an elevated track for them to roll on over the top of the bottom section."
The 8-foot-by-22-foot silo's interior "skeleton" is made of 2x2 steel and its exterior is lined in 3/16-inch bent hot-roll steel panels. Brass inlets were added at the joints for interest. A window and counter built into in the silo creates a distinctive host station for the restaurant.