Leveraging a thoughtful design platform, Bread & Butterfly provides customers with a comfortable atmosphere across multiple dayparts.
In a world where smartphones are a constant distraction, a space that encourages people to unplug and enjoy the moment is rare and sorely needed. That's the type of place Atlanta's Bread & Butterfly wants to be.
The restaurant, which opened last December, was inspired by all-day European-style cafes that its owners, Billy and Kristin Allin, frequented in other cities, but couldn't find in their own area.
While the hours and menu of Bread & Butterfly make it an option for every meal, the owners have worked hard to create an establishment that invites customers to actually enjoy themselves at any time, day or night.
One key to this, says Kristin, was the decision to not offer wireless internet service. "It was hard at first. I really had to stick to my guns on this. My staff at first was shocked that we don't have WiFi and we do get some customer pushback."
Many customers, though, have started to come around, and now understand the relaxed, yet vibrant place Bread & Butterfly wants to be. Of course, the operation's design and decor go a long way toward creating this type of space, too.
The restaurant consists of three main sections: an outdoor patio, a dining room and a sunroom. Each room seats between 20 and 25 people and features its own design touches.
The simplest of these spaces, the outdoor patio is shaded by a black and golden cream striped awning and has several large plants that add color to the space. For furnishings, the operators chose durable outdoor pieces, including white tables and bright yellow chairs.
The sunroom, naturally, is more ornate. It features a black-and-white patterned tile floor, two-and four-top tables with white marble tops and chairs woven with yellow and blue plastic material, which help energize the space. The biggest pop in the sunroom, though, comes from a yellow neon "Merci" sign which sits on a wall of bright green tile.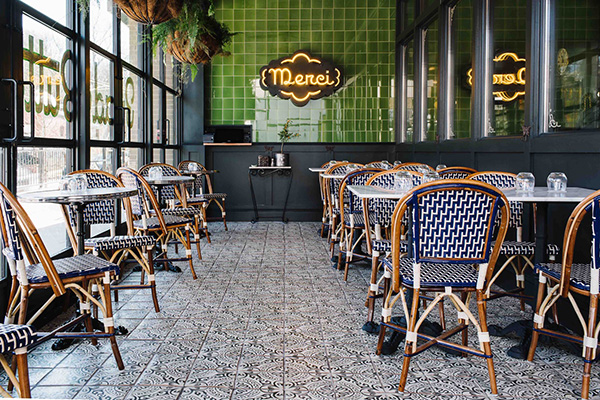 (photo by Andrew Thomas Lee)
Currently, customers can enter the sunroom either from the main dining room or through five large iron doors, which open to the outside. Those doors, though, won't be open much longer, says Kristin. "I fear our days of opening the room up are slightly numbered...When it creeps up in the high 80s, it will be time to shut the doors and turn on the air conditioner." Notably, the room gets no direct sunlight, so the windows don't need any blinds or shades to block the sun and keep the space from getting overheated.
The dining room is Bread & Butterfly's central space. While not formal, the dining room features a slightly more sophisticated feel designed to provide an elevated experience. It features a bar with a white marble top and a connected pastry display case. Customers can park themselves on a camel colored stool at the bar and enjoy a cup of coffee and a croissant in the morning, or a glass of wine or mixed drink later in the day.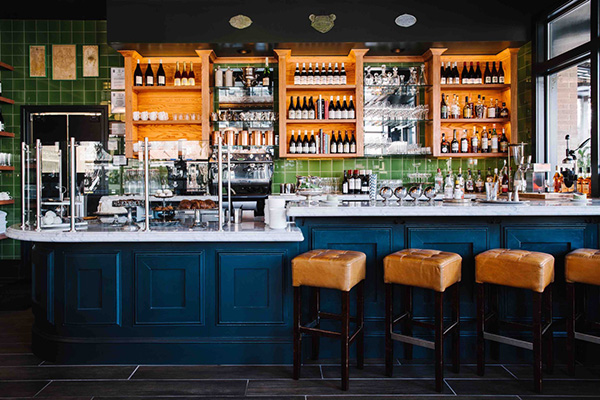 (photo by Andrew Thomas lee)
Opposite the bar sits the coffee station, where customers can add cream and sugar to their coffee. Magazines and newspapers hang from two horizontal bars above the station. Customers are welcome to take and read these periodicals.
Wall décor in the dining room is minimal, with two main walls made of windows. The remaining walls are covered with the same bright green tile used in the sunroom and decorated with mirrors and display plates.
Seating in this space includes hardwood chairs around the round marble two-and four-top tables located in the center of the room. Along the space's back wall, the restaurant uses bench seating with green upholstery. This section has just four rectangular two-tops, all painted black, creating a more intimate, personal space where people can connect with one another or really relax on their own.
(photo by Amy Sinclair)
That sort of experience is at the heart of what Bread & Butterfly offers, Kristin says. "Most coffee shops have people working there. We wanted to go away from that so you're enjoying your food and drink with friends or can be by yourself with a magazine. This is a place where you can unplug and get the real feeling of what a European cafe, in our mind, would be."