Just what is an izakaya, anyway? Often described as a Japanese gastropub, not even operators and designers involved in their development agree definitively on what constitutes an izakaya. But however you define this Japanese hospitality meme, the concept continues to find fans and footing in the U.S.
"The name izakaya is a compound word consisting of 'i', which means 'to stay' and 'sakaya', which means 'sake shop'. This indicates that izakayas originated as sake shops that allow their customers to sit on the premises and drink after a long day of work," explains Toshi Kizaki, chef-owner of Izakaya Den in Denver.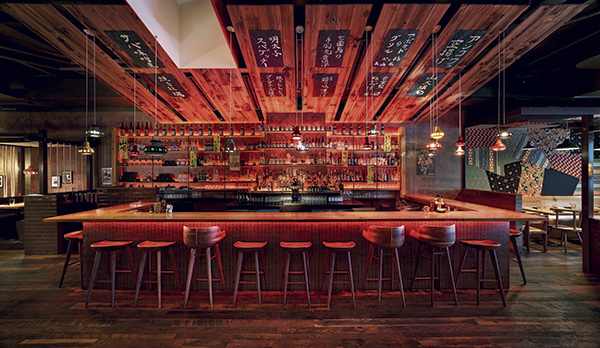 Daikaya, Washington, D.C."The best term to explain izakaya is a Japanese tavern," says Brian Miller, senior project designer at Edit Lab at Streetsense. "In Japan, at the end of the day you go out with co-workers to four or five places, and have a little bit to eat and drink at each."
That idea resonates with U.S. consumers, as well. "Small plates and sharing are still hot trends, according to our 2015 What's Hot culinary list," reports Christin Fernandez, director of media relations for the National Restaurant Association. "Ethnic cuisines with Asian flair continue to trend, as well."
Ubiquitous in Japan, izakayas run the gamut from tiny holes-in-the-wall and small establishments tucked away in a floor of a building to standalone, upscale bars/restaurants. Designed for drinking and socializing, they all offer a good selection of sake, shochu (Japanese distilled beverages), beer and often Japanese whisky as well as shochu cocktails called chuhai. Food menus vary, but typically feature snacks and small bites — the Japanese version of tapas or mezzes.
Here in the U.S., operators put their own spin on the concept. The spaces may be larger and more dramatically designed and menus more diverse than traditional iterations. But judging by the reception they receive, these modern American interpretations of izakayas are proving to be welcome new dining diversions.
Izakaya Den, Denver
"The design embraces the Japanese aesthetic idea of wabi-sabi, defined as the beauty of things 'imperfect, impermanent and incomplete,'" says Toshi Kizaki, owner and chef of Izakaya Den. Construction involved the use of natural and man-made materials in an intentional juxtaposition of old and new. Throughout the interior, design elements include concrete, weathered steel, stone and wood cladding. The materials are meant to age, weather and gain patina over time, says Kizaki.
Parent company Hiro & Co., which also operates the 30-year-old Sushi Den concept, opened Izakaya Den in June 2013. Kizaki teamed with designer Jeff Sheppard of Roth Sheppard Architects for this new two-story project.
Traditional elements, mainly on the first floor, were designed and fabricated by Japanese artisans who came to Denver to install a variety of components on site. These included traditional shoji screens and stained wood beams and columns, which help to define dining spaces.
The second floor features a more modern and dynamic appearance, says Kizaki. There, natural materials such as stone, onyx, wood ceilings, concrete walls and oxidized steel panels combine casual and eclectic. A glass elevator and a winding staircase, with an encompassing bamboo garden, tie the two levels together.
"The restaurant is divided into separate seating areas, yet there is visibility from each space into the central bamboo garden and sake bar. This allows the interior to maintain its casual and lively atmosphere," notes Kizaki.
The building measures roughly 15,000 square feet, including a basement. The first floor accounts for 5,800 square feet; the dining room consumes 40 percent of the space, and together the kitchen and prep areas consume an equal amount of space. There is also a small bar. The second floor accommodates a larger dining area and includes a retractable roof over the bar as well as an outdoor patio.
Izakayas in Japan are generally small and modest because of high real estate costs. "Americans are not used to this type of smaller space and we created Izakaya Den to have more space with more atmosphere," notes the chef. His wide-ranging menu also departs from tradition. Izakaya Den bills itself as "The Sake House with Tapas." Dishes such as Wagyu beef sliders and shrimp & grits with sriracha butter offer a hint of global fusion. The menu includes sections of sushi and sashimi, noodle dishes and Japanese small plates.
Daikaya, Washington, D.C.
Photo by Nikolas Koenig"In Japan, izakaya are modest, neighborhood establishments," says Brian Miller, senior project designer, Edit Lab at Streetsense, who headed up the design of Daikaya in Washington's Chinatown. Opened in early 2013, Daikaya houses a ramen shop on the first floor and an izakaya upstairs.
Four years of concept development were kicked off by a two-week research trip to Japan by Miller and Daikaya's three partners, Yama Jewayni, chef Katsuya Fukushima and Daisuke Utagawa. "We visited half a dozen places a day in Tokyo. We found that there is no one set of rules or traditions that govern izakayas," says Miller. But the team returned with plenty of ideas, as well as Japanese fabrics, signage and small sculptures to integrate into the décor.
In D.C., Jewayni found an empty lot in Chinatown and convinced the landlord to construct a customized building. Designing it from the ground up, the team reinterpreted the customary lanterns that mark izakayas, transforming the whole façade into a glowing lantern at night with a laser-cut seikaiha pattern, an ancient symbol for water. It's made from weathered steel, which adds a patina of rust.
"In Japan, it is very common to have buildings with multiple bars or restaurants on different floors. So we wanted to do two separate entranceways," explains Miller.
The ground floor takes its inspiration from Sapporo-style ramen shops, with tight seating and simple design intended to keep the focus on the food. The ramen counter is clad in graphic blue and yellow tiles and the kitchen is open.
The izakaya upstairs is designed as a gathering place, with a large bar in the center recreating the social aspect of Japanese izakayas. A wooden back-bar showcases the restaurant's wide-ranging selection of sake, shochu and Japanese whisky. Beer is served as well.
With total seating for 90, the izakaya has 16 stools at the bar and a drop-leaf communal table that accommodates up to 10 guests. A mixture of seating types and vintage lighting ensure that each table has a different feel, while rope dividers and raised booths give diners a sense of privacy. Japanese fabrics are tacked to walls and acoustic panels line the ceilings, allowing for conversation.
The space, including the ramen shop and back-of-the-house areas, totals about 5,000 square feet. "The izakaya is substantially bigger than anything we saw in Japan," concedes Miller, but "at the end of the day it is a restaurant in America, where there's more space."
One key to authenticity that Miller and the partners worked hard to convey was the patina of usage and time. "It was very important to the owners that the place felt like if one thing broke they could replace it with something else — or had already done so. That things don't match; the feeling that this place changes over time." Thus the eclectic mix of seating and lighting fixtures, and the selection of mismatched dishes and glassware in varied patterns and colors.
The designer also used several types of wood in the space to obtain that haphazard, layered look of past repairs and additions. The bar features a pine top, for example; wood so soft it accumulates dents and marks from bottles and cutlery. Details like that, says Miller, "start to tell the story of the life of the restaurant over time."
Craft Izakaya, Atlanta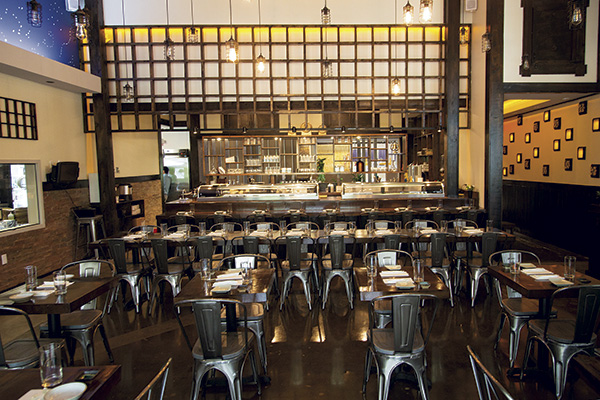 Photo by Matthew M. WongCraft Izakaya, which opened last summer in Atlanta's refurbished Krog Street Market, is billed as offering "small plates Japanese cuisine." It is operated by chef-owner Jey Oh, who also owns Sushi Huku Japanese Restaurant in Atlanta.
Housed in a former 1920s warehouse and manufacturing facility, an eight-stool craft cocktail bar fronts the restaurant. Announced by a traditional brushstroke logo, the adjacent entrance leads into a 2,000-square-foot space with high ceilings, industrial-style exposed duct work and dangling Edison bulbs. The restaurant's mezzanine level serves as a separate dining space.
"The interior is all about warmth and wood," says general manager Richard Tang. "It has a lot of the wood elements of the traditional izakaya style, dark-stained pine and some repurposed wood."
At the back of the room resides a full-length sushi bar with 10 stools where customers can watch the chefs at work. Following the Japanese tradition, a communal table that seats 18 to 20 guests adorns the center of the room. Closely spaced deuces make for a total of 86 seats.
"There is the izakaya element of people enjoying food and drink together," notes Tang. "I want people looking over and saying, 'What's that? I want to try what they're having.'"
A large window that allows guests to watch signature skewers of yakitori sizzling on a traditional Japanese binchotan charcoal grill serves as a theatrical element of Craft Izakaya's design.
The extensive menu, each item illustrated with pictures as is often done in Japan, includes small plates of grilled and teriyaki fried foods as well as sushi and sashimi. In another whimsical touch, Craft Izakaya provides guests with free cones of wata-gashi, a cotton candy-like Japanese festival treat.
Craft displays the restaurant's shochu and sake collection behind the sushi bar. The drink menu includes classic and specialty Japanese and American cocktails, craft beers and a short wine selection. The cocktail bar was built to Tang's specs and is fitted with a special glass rinser and drain as well as a trough that keeps garnishes and other ingredients cold. "We have every toy possible," he boasts. That includes mixology tools such as carbonation devices, foamers, dehydrators and sous vide circulators.