Page 1 of 4
Just what is an izakaya, anyway? Often described as a Japanese gastropub, not even operators and designers involved in their development agree definitively on what constitutes an izakaya. But however you define this Japanese hospitality meme, the concept continues to find fans and footing in the U.S.
"The name izakaya is a compound word consisting of 'i', which means 'to stay' and 'sakaya', which means 'sake shop'. This indicates that izakayas originated as sake shops that allow their customers to sit on the premises and drink after a long day of work," explains Toshi Kizaki, chef-owner of Izakaya Den in Denver.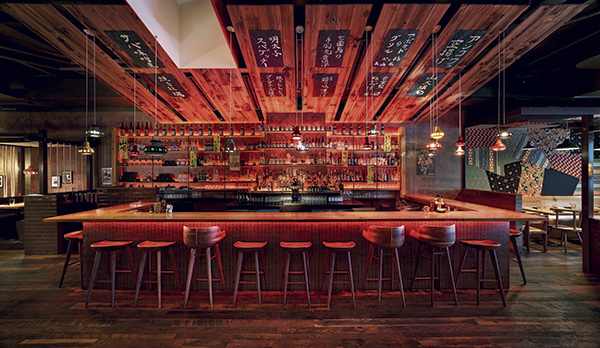 Daikaya, Washington, D.C."The best term to explain izakaya is a Japanese tavern," says Brian Miller, senior project designer at Edit Lab at Streetsense. "In Japan, at the end of the day you go out with co-workers to four or five places, and have a little bit to eat and drink at each."
That idea resonates with U.S. consumers, as well. "Small plates and sharing are still hot trends, according to our 2015 What's Hot culinary list," reports Christin Fernandez, director of media relations for the National Restaurant Association. "Ethnic cuisines with Asian flair continue to trend, as well."
Ubiquitous in Japan, izakayas run the gamut from tiny holes-in-the-wall and small establishments tucked away in a floor of a building to standalone, upscale bars/restaurants. Designed for drinking and socializing, they all offer a good selection of sake, shochu (Japanese distilled beverages), beer and often Japanese whisky as well as shochu cocktails called chuhai. Food menus vary, but typically feature snacks and small bites — the Japanese version of tapas or mezzes.
Here in the U.S., operators put their own spin on the concept. The spaces may be larger and more dramatically designed and menus more diverse than traditional iterations. But judging by the reception they receive, these modern American interpretations of izakayas are proving to be welcome new dining diversions.