Page 4 of 4
Craft Izakaya, Atlanta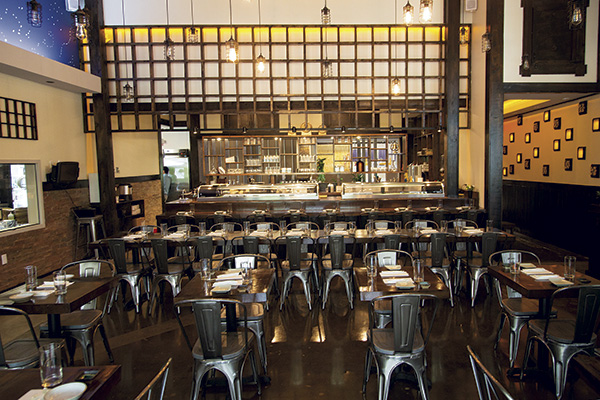 Photo by Matthew M. WongCraft Izakaya, which opened last summer in Atlanta's refurbished Krog Street Market, is billed as offering "small plates Japanese cuisine." It is operated by chef-owner Jey Oh, who also owns Sushi Huku Japanese Restaurant in Atlanta.
Housed in a former 1920s warehouse and manufacturing facility, an eight-stool craft cocktail bar fronts the restaurant. Announced by a traditional brushstroke logo, the adjacent entrance leads into a 2,000-square-foot space with high ceilings, industrial-style exposed duct work and dangling Edison bulbs. The restaurant's mezzanine level serves as a separate dining space.
"The interior is all about warmth and wood," says general manager Richard Tang. "It has a lot of the wood elements of the traditional izakaya style, dark-stained pine and some repurposed wood."
At the back of the room resides a full-length sushi bar with 10 stools where customers can watch the chefs at work. Following the Japanese tradition, a communal table that seats 18 to 20 guests adorns the center of the room. Closely spaced deuces make for a total of 86 seats.
"There is the izakaya element of people enjoying food and drink together," notes Tang. "I want people looking over and saying, 'What's that? I want to try what they're having.'"
A large window that allows guests to watch signature skewers of yakitori sizzling on a traditional Japanese binchotan charcoal grill serves as a theatrical element of Craft Izakaya's design.
The extensive menu, each item illustrated with pictures as is often done in Japan, includes small plates of grilled and teriyaki fried foods as well as sushi and sashimi. In another whimsical touch, Craft Izakaya provides guests with free cones of wata-gashi, a cotton candy-like Japanese festival treat.
Craft displays the restaurant's shochu and sake collection behind the sushi bar. The drink menu includes classic and specialty Japanese and American cocktails, craft beers and a short wine selection. The cocktail bar was built to Tang's specs and is fitted with a special glass rinser and drain as well as a trough that keeps garnishes and other ingredients cold. "We have every toy possible," he boasts. That includes mixology tools such as carbonation devices, foamers, dehydrators and sous vide circulators.