Page 1 of 2
From sidewalk cafés to posh patios, well-designed, carefully maintained al fresco dining spaces benefit operators and guests alike.
Many restaurant execs consider outdoor dining space a design imperative, inking it into plans for all their new builds. Why? A patio looks inviting, expresses the brand concept before patrons even come inside, adds seating capacity at a relatively low investment, increases flexibility, and most importantly, satisfies customers' love of dining in the great outdoors. However, crafting an effective outdoor dining space takes more than throwing out a few tables and chairs; restaurants need to consider patio placement, decor, furnishings, unusual features and the challenges of weather and zoning codes.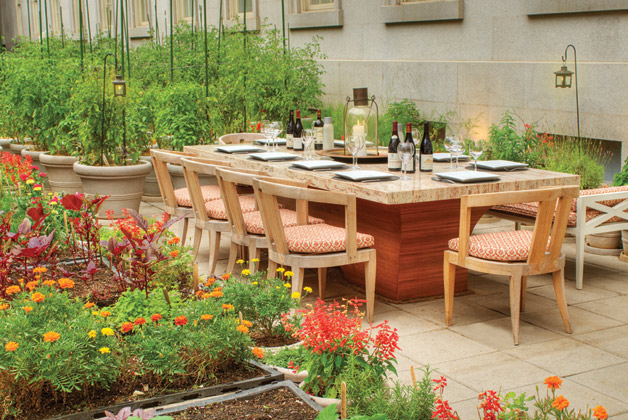 "Especially in colder climates, when the weather is nice people want to eat outside, feel the sun on their face, the warm breeze," explains David Miller, vice president of facilities and development for Sharon, Pa.-based Quaker Steak & Lube. "Patios also offer flexibility and more options for guests." All of Quaker Steak's 60 restaurants have outdoor dining spaces, except for ancillary stores in airports and colleges.
"There's nothing like the romance of al fresco dining; guests love it," echoes Greg LaMothe, vice president of restaurant concepts and hospitality for San Francisco-based Kimpton Hotels & Restaurants. About 80 percent of Kimpton restaurants have some outdoor component, from a small café carved out on a sidewalk all the way up to purpose-built, 8,000-square-foot decks complete with a pool. "A sidewalk café or patio gives your restaurant tremendous visibility and exposure; it says here's an eating and drinking establishment and conveys the essence of your brand," LaMothe notes.
"With outdoor spaces, we're able to offer our guests a differentiated dining experience, often in unique and attractive settings that change with the time of day and season," points out Bill Martens, vice president of development and construction for the Southlake, Texas-based Del Frisco's Restaurant Group. The company operates 10 Double Eagle Steak Houses, 6 Del Frisco's Grilles and 19 Sullivan's Steakhouses. About 65 percent of the group's 35 restaurants feature outdoor dining. Martens also points out that the locations' base rent structure generally does not include patios, which is positive from a revenue production standpoint.
Visibility and Placement.
An important consideration when designing outdoor dining space is proper placement. As a general rule of thumb, and when possible, operators agree patios should be visible to passersby, near the host stand and as close as possible to the kitchen and the bar.
"Generally our terraces are located in front of the restaurant," says Rick Doody, founder and chairman of the Bravo Brio Restaurant Group in Chagrin Falls, Ohio. A full 98 percent of the company's 103 casual Italian restaurants have outdoor seating. He adds, "Terraces are great billboards. People dining out in front of your restaurant says come on in, this is a good place to eat."
Quaker Steak's Miller agrees that placing patio spaces near the front of the restaurant makes sense. "We try to place patios close to the front door for seating purposes, so guests don't have to tramp through the entire restaurant to get outside," he says. Ideally, the company likes to site patios so they wrap around the front of the building. Quaker Steak often fits the interior space adjacent to the patio with garage-type doors that can open and extend the outdoors inside when the weather is good.
Kimpton's projects are often retrofits of existing structures, according to LaMothe. That often means the patio isn't always convenient to the kitchen and the bar. "You have to think about delivery systems, traffic flow, ingress and egress. Each project is a different challenge," he says.
Fashion Sense.
Although they are perhaps more ​casual, outside dining spaces deserve the same careful attention to design and furnishings as interior spaces. In particular, their design should be consistent with the interior, complement the décor and support the restaurant's overall brand image.
"Ideally, outdoor seating has a sense of continuity from the inner core of the restaurant," says LaMothe. "It's important to keep the design language consistent from inside to outside." Restaurants maintain that consistency by using the same or similar materials, finishes and overall look as the interior décor.
"The main point is that the patio should not detract from the actual restaurant; it should enhance it and be treated as a selling point," adds Jay Miranda, senior designer for Chipman Design Architecture, a Des Plaines, Ill.-based restaurant design firm.
Table Talk.
Whether they provide seating for 10 or 100, furnish outdoor spaces with both looks and durability in mind. Chairs, tables and other furniture obviously need to withstand the rigors of service in the open air. In most instances, that means purchasing items designed especially for outdoor use.
Quaker Steak PatioQuaker Steak purchases commercial exterior patio furniture made from resin. "The furniture is light, easy to handle and stackable," says Miller. That's important because seating is often dismantled when the weather turns bad. For service stations, Miller purchases large toolboxes on wheels from a hardware store; the POS sits on top, condiments and supplies tuck away in the drawers. The toolboxes complement Quaker Steak's automotive-themed concept and, during inclement weather, easily roll into storage.
Typically, the chain's patios range from 1,000 to 1,500 square feet, which is as much as 25 percent of the total seating area, or 8 percent to10 percent of the entire building. Patios seat anywhere from 60 to150 guests, or 10 percent to 25 percent of the restaurant's total capacity. A store now under construction in the Katy Mills suburb of Houston will boast a 2,600-square-foot patio, which will do double duty as an event space.
Kimpton selects a mix of materials for outdoor seating. "We mainly look for durability, because patio furniture sees a lot of use, but we're staying away from wood furnishings because of its high maintenance," says LaMothe.
As for the ratio of outdoor to indoor square footage and seating, LaMothe notes that the company doesn't approach concepts with a metric in mind; opportunity drives the size. When the Hotel Monaco Philadelphia opened, the blue prints did not contain a sidewalk café because management wanted to first gauge traffic and potential demand. Now, a sidewalk café will open this spring.
To decorate Del Frisco's patios, Martens looks for a mix of outdoor-specific dining furniture and lounge or lifestyle furniture. The company's patios typically account for between 10 percent and 15 percent of overall square footage and about 15 percent of seating. "We are careful to design our outdoor dining spaces to accommodate the high level of hospitality our concepts are known for, which means we need to identify a practical seating count and ensure we have adequate means of servicing the area," Martens says.
At Chipman Design, COO and Principal Daniel Tessarolo suggests using a mix of seating types of varying heights, such as sofas made with exterior fabric and wicker, and a mix of bar-height and regular-height chairs.
"The challenge is, you don't want a patio with a sea of tables and chairs," advises Miranda. As a designer he suggests breaking up patios into manageable areas that define service sections for waitstaff. Miranda also recommends installing some built-in furniture such as benches. Outdoor dining should not account for more than a third of the main dining capacity, he adds. "Otherwise you might spread your waitstaff too thin to cover that territory."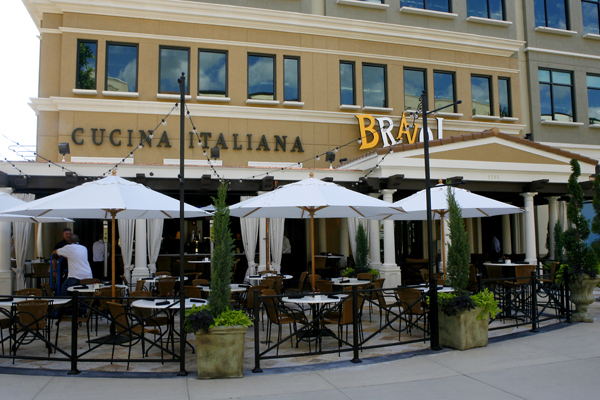 As their names imply, both Bravo Cucina Italiana and Brio Tuscan Grille take their cuisine and design cues from Italy. "Dining outdoors is a European custom, and terraces are a way to make our restaurants come off as more authentic," explains Doody. The company invests a lot of money, time and effort into its terraces. The floors feature imported Travertine pavers and the company imports from Italy marble-topped tables and other custom furniture. Instead of the dining tables used inside, patios feature smaller cocktail tables for a casual feel. The company's rule of thumb, like Chipman's, is not to allocate more than one-third of total seats to outdoor dining, notes Doody; so a 200-seat restaurant would parcel 65 to 70 chairs out on the terrace.
Stormy Weather.
Patio guests are fair weather friends, which can be a challenge for restaurant operators. However, intelligent design can tempter the effects of rain, cold, heat, wind and other climatic effects.
"The challenge of terrace dining is that it's always too something — hot, cold, wet, buggy, sunny," laments Doody. His company uses large and sturdy 11-foot umbrellas to mitigate light rain and bright sun. Space heaters and plastic drop-down coverings enhance guests' comfort and help extend the outdoor dining season for more months of the year.
"We try to site our buildings so that the patios are in the best position climate-wise," says Miller. In Quaker Steak's traditional market in the North and Northeast, patios are on the south and west sides of the buildings for maximum sun exposure and warmth; awnings and umbrellas temper the sun's effects when necessary. The opposite is true in scorching Southern markets such as Texas, according to Miller. There, patios are on the north and east sides of the buildings to avoid the sun as much as possible. "In a situation where a store is an inline or endcap and there aren't a lot of siting options, you really have to figure out how to temper the space for maximum use," notes Miller. That means extra awnings and umbrellas to ward off the sun and water misting systems to cool the air.