A mix of factors are conspiring to make kitchen footprints smaller. From buffets to fine dining, owners and developers are seeking to save money on real estate, improve operational efficiency and maximize labor.
"It's a huge trend, and I have seen reductions of 20 to 30 percent," says Stuart Davis, vice president, Midwest division with Next Step Design in Chicago. This is because, he says, rents are continuing to rise, especially in major cities, and talent is hard to come by, "so restaurants try to get away with smaller spaces and fewer cooks."
At award-winning fine-dining restaurant Elske in Chicago, which opened in November 2016, the kitchen is contained in just 450 square feet. A showpiece wood-burning hearth takes up about 60 percent of the cookline. The hearth is the only piece of cooking equipment at Elske. During the day, the chefs use it to partially cook vegetables and smoke meats. At night, it's used for everything, and the chef raises, lowers and removes grill grates as needed. "We looked at how to make it as flexible as possible, especially since they have a seasonally changing menu," Davis explains. "It's one of the smallest show kitchens I've ever done. With it being small, every single thing was touched and approved by the chefs, and everything is there for a reason and is multi-use." Prep, dishwashing and storage are in a 900-square-foot space downstairs.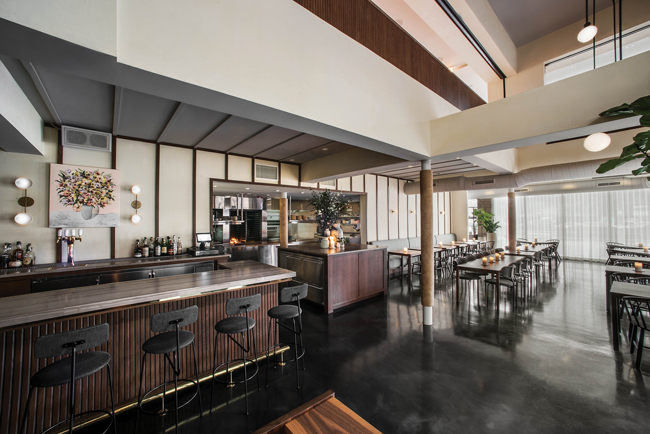 Chicago's award-winning Elske restaurant's kitchen is just 450 square feet. Image courtesy of Anthony Tahlier
Improved Efficiency, Smaller Spaces
In April 2016, Raleigh, N.C.-based Golden Corral set up shop but didn't make a single sale. The reason was that it had created a test kitchen to examine a new prototype. The goal was to develop a new kitchen, one that was smaller and more efficient.
Once Golden Corral had drawn up floor plans for the new kitchen, it rented a warehouse and did a complete mockup — using mostly plywood and cardboard — "so we could do a full-scale walk-around and touch and feel and make adjustments, which is a lot easier than after we build an actual restaurant," says Golden Corral's Senior Vice President of Development David Conklin. "Doing that mockup saved us thousands of dollars in aggravation and time." Doing the mockup was also fairly inexpensive, he adds.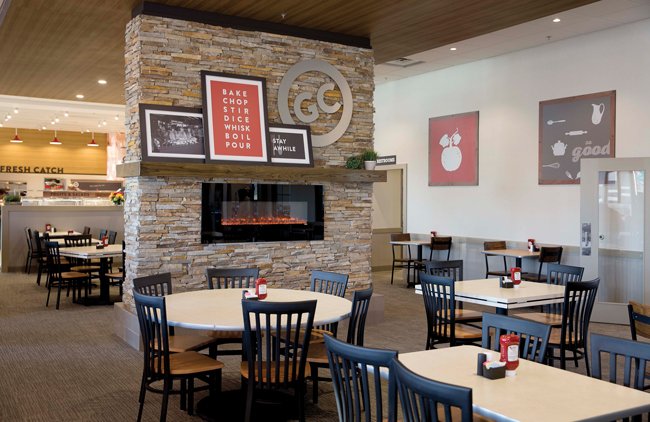 After studying existing restaurants and even building a mock-up of the restaurant design from cardboard to test it out, the new prototype for Golden Corral kitchens will be closer to 2,900 square feet, down from 3,700 square feet. Images courtesy of Golden Corral
"In doing that exercise, because there was a cross-functional team, it gave our operations people the opportunity to simulate operating a shift," says Darryl Webb, senior vice president of operations for Golden Corral. "It allowed us to see where there could be built-in efficiencies of less steps and less crossover of work, so we made sure it wasn't just about reduction of the square footage, but it ended up being a much more efficient kitchen from a labor and productivity standpoint, too."
Golden Corral worked with Profitality, a Miami-based company that works with restaurants to attain optimum functionality. Representatives from the company visited existing Golden Corrals, ran time-motion studies, and looked at where kitchen employees took extra steps and at inefficient locations of equipment. One big thing, says Conklin, was "they saw we used too much labor, even when things were quiet."
The result of the new design and the mockup is that, going forward, kitchens for the buffet brand will be closer to 2,900 square feet, rather than the former 3,700. So far, one is operational, in Greensboro, N.C.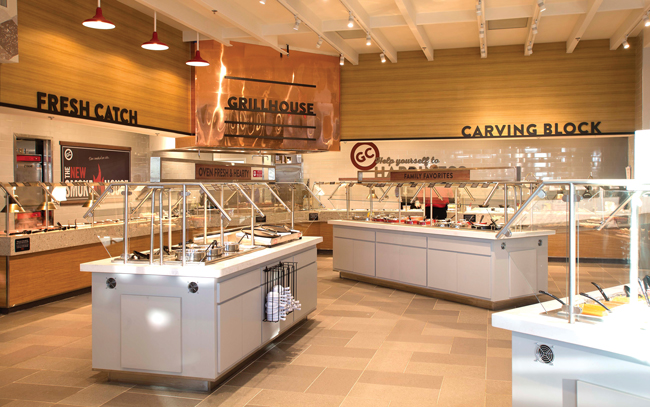 Another big difference this has brought is the length of the kitchens, many of which run the entire length of a building. "With the new design, it's at one end of the building, so it's not as spread out, and now employees can share duties and move a little easier," says Conklin. "So that helped with efficiency. It's also meant teamwork is improved as employees can share work and communicate better. And employees are happier because they're doing the same jobs, but they got easier since equipment is better placed. Walk-in coolers are now by the prep areas, for example."
Golden Corral has also eliminated some equipment. It's forfeited its rotisserie and replaced it with a smoker, which is about the same size. "This can do 8 to 10 different products, so we have a piece of equipment we can develop a menu platform and innovation around," Webb explains. "So it gives us a lot more efficiency out of one piece of equipment."
It wasn't just about floor space, either. The new design reduces the linear feet of hoods by about 10 feet, which has the double advantage of also saving money both on the hoods themselves and on utilities, thanks to less makeup air and less HVAC. This was accomplished by consolidating stations that needed hoods.
Examining Equipment
Johnny Rockets cut the size of its kitchens in order to allow the Lake Forest, Calif.-based concept to expand into more food courts and smaller locations. To do this, in these locations, it has an "express menu," which offers four or five core burgers. This allowed the concept to change to higher-efficiency equipment. Gone are flat griddles, and in their place are clamshell griddles and vertical toasters.
Just using the clamshell griddles, says Dominic Talavera, vice president of development, increases throughput at busy times. "They also provide consistency of product," he says. These clamshell griddles tend to be around 42 inches wide versus 72 inches for a flat griddle.
Davis is a big fan of cutting out equipment. "I hate one-trick ponies and love multitasking pieces of equipment," he says. He's a proponent of high-
temperature grills and six-burner ranges or French tops, "which are very efficient." Conversely, he avoids charbroilers "because of how limited they are and how much space they take up." Instead, he recommends a steakhouse broiler, "which gives you twice the space — it's like a charbroiler on steroids." You can even double stack these and still only have a 36-inch footprint.
But Davis' absolute favorite piece of kitchen equipment is the griddle — to replace the grill — because it's extremely versatile. Chains such as Five Guys, In-N-Out Burger and Chipotle have all switched to these, he says. "It's a multi-use item, and you can cook more things faster and more consistently."
Also popular are combi ovens instead of convection ovens. "They can do everything a convection oven can with the same footprint, but they can do more," Davis says. "They are more accurate, faster, use steam so they keep things moist, and can have recipes programmed in."
And there's cook-and-hold ovens, which can braise and hold food and, most important, don't need a hood, which takes up a lot of space.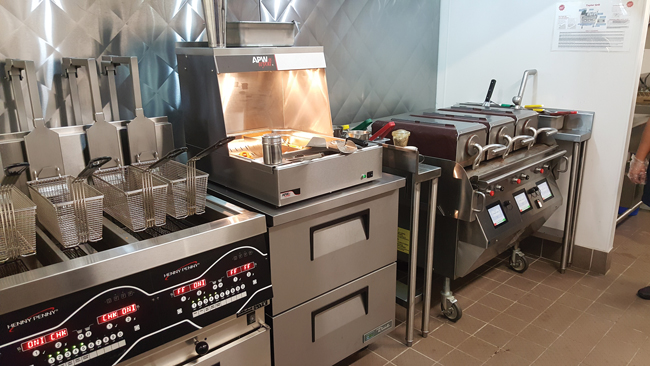 Johnny Rockets cut the size of its kitchens in order to expand into more food courts and other smaller locations. In the smaller unit, the chain offers an express menu, with four or five core burger offerings. Images courtesy of Johnny Rockets
Multifunctional Spaces
By changing how kitchens function, they can be made smaller, says Ted Doyals, principal with Ricca Design Studios in Fort Worth, Texas. If all prep work is done early in the day, it can be done at the chef's counter as opposed to requiring a separate space, he says, which requires a little reconfiguration to give the area some more room.
Likewise, a beverage area during dinner can convert to a station for wrapping and rolling silverware and preparing table settings before service. Doyals says, "We also tend to try and design in more mobile prep tables, as well as refrigerators and freezers on casters, in lieu of stationary pieces, so the space can be reconfigured as needed for different functions."
Prep tables on casters can be converted into room service carts in the evenings for hotel restaurants, Doyals points out, and the moveable cold storage can make it easier to plate for catered banquets.
And if food deliveries — dry and refrigerated — can occur multiple times a day instead of once, there can be huge savings in storage space, Doyals explains. "In smaller kitchens, dry and refrigerated storage tend to be the first areas reduced since they typically have a large footprint."
And while aisles are impossible to do away with, they can become smaller, Doyals says, bringing significant space savings. If they drop from 72 inches to 48, overall a kitchen can shrink by about 15 percent. This space typically goes back to the front of the house, he says, which also helps save on back-of-house construction costs.
Overall, Doyals points out, operators need to think long-term since a small kitchen may initially cost more, but the savings in terms of utilities, staffing, refrigeration and even just air conversion make an impact on the bottom line — not to mention the extra space given to revenue-generating tables in the front of house.