Here are five restaurants that are making statements in their lighting design.
Inspired by Lebanon's sandy shores and contemporary Mediterranean architecture, Studio Munge crafted a calming and curated space for guests to explore Chef Wissam Baki's modern Lebanese menu. Whimsical, 8-foot-wide light fixtures hang from the two-story ceiling. The oversized pendants, made from woven baskets, draw inspiration from the coconut husks found in a nearby grove.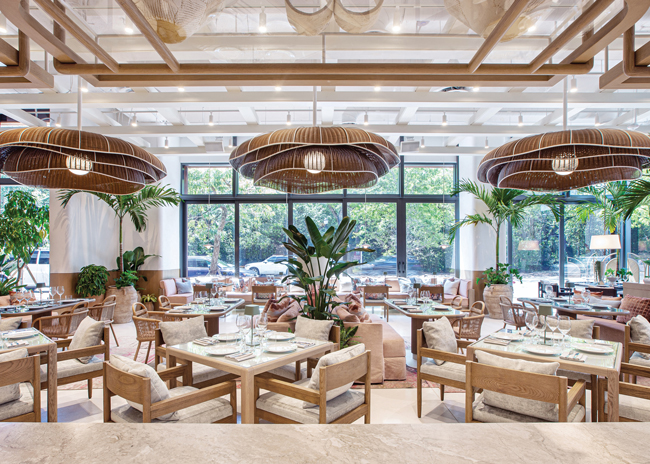 Images courtesy of Maxime Bocken
Learn more about this project in "Inside Amal Miami's Biophilic and Bohemian Design"
---
Smith Hanes Studio
designed the fun and floral Atrium at Ponce City Market in Atlanta. The custom light fixtures provide a sense of movement and fun above the bar, but the simplicity doesn't distract from the tile or murals.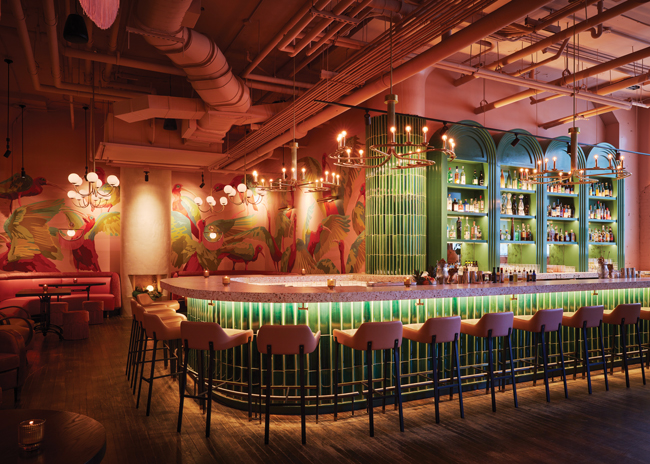 Images courtesy of Tim Lenz
Learn more about this project in "Atrium Enchants in Atlanta's Ponce City Market"
---
Designed by Jason Longo Interior Design, this playful Canadian comfort food restaurant, located at the garden level of a history building, is a hyper-feminine space outfitted in pinks and greens. A chandelier made of glass orbs evokes champagne bubbles. Other fun lighting elements include retro restroom and takeout signs. 
Images courtesy of Jason Longo Interior Design
Learn more about this project in "Garden Level Space is Transformed into Glam and Cheerful Poutinerie"
---
Designed by KTGY Simeone Deary Design Group, Monarch in Dallas is located on the 49th floor of the Thompson Hotel and Residences. The project team worked with Carroll Consulting on lighting to make a big statement. A large three-tiered flower chandelier in lime green, lavender and gold hues hangs from a double-height ceiling. The chandelier was originally conceived to be made from actual preserved flowers, but, for practical reasons, came together as laser-cut metal.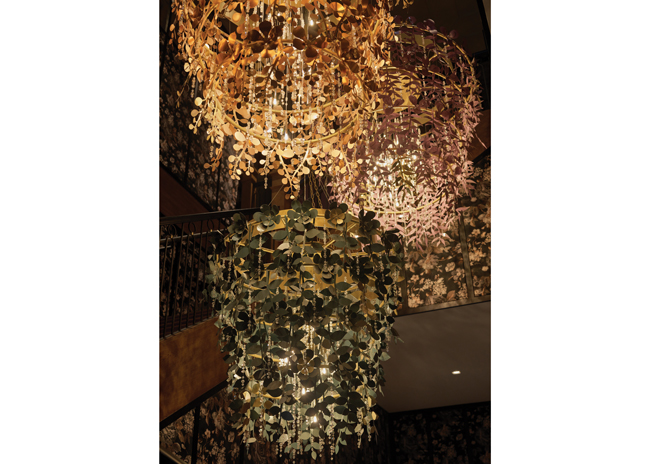 Image courtesy of Nathan Kirkman Photography
Learn more about this project in "This Texas Restaurant asks What If Fine Dining Isn't Dead?"
---
Designed by Seattle-based SkB Architects, The Anecdote is a 5,700-square-foot, two-story casual waterfront restaurant and bar with an open kitchen. This space transforms traditional globe lights by employing a softer shape with ropes and other nautical details that bring the waterfront vibe inside.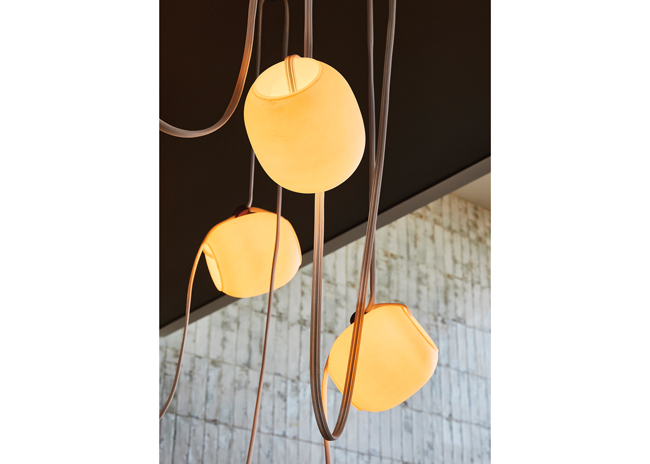 Image courtesy of Aubrie Pick and SkB Architects
Learn more about this project in "Two-Story Waterfront Restaurant Opens in New Bay Area Development"