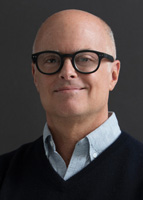 Vince Stroop, Partner and executive design director, Jeffrey Beers InternationalRemember when fine-dining experiences were all about starched white tablecloths, tuxedoed waiters and fancy food served in quiet rooms? Such traditional characteristics still define many operations in the segment, but they're no longer requisite parts of the experience. Fine dining is evolving, with chefs and operators loosening their ties and letting their hair down a bit when it comes to creating experiences that better resonate with consumers today. Stellar, creative cuisine is a constant, but design priorities have shifted to creating fine-dining experiences that are less fussy, less intimidating and more engaging.
The challenge, says Vince Stroop, partner and executive design director at New York-based Jeffrey Beers International, is to balance luxury with approachability. "Interiors in this segment definitely need to feel elevated and luxurious but absolutely not intimidating," he says. "An element of intimidation always seemed like an accepted factor in traditional fine dining, but that's no longer appropriate or desired by clients or by customers."
Stroop shares insights on design trends in the segments and favorite strategies for creating elevated yet approachable interiors.
The Look-Up Moment. "Be it gravity-defying wine towers, striking light installations or art, we find that patrons of fine-dining restaurants want to be wowed by a big idea that presides over the restaurant and makes it instantly (and Instagrammably) identifiable. We used this design ploy at Sequoia in Washington, D.C., where a series of cascading light fixtures holds court above the lofty space overlooking the Potomac River," Stroop says.
Solutions: Statement lighting, custom ceiling treatments with unexpected materials, dramatic mobiles, suspended sculptural art installations
Mood Lighting. While statement lighting creates drama and adds a wow factor, other, more discrete lighting is equally important in fine-dining interiors. More than in any other segment, designs here require a sophisticated, layered approach to lighting, Stroop says. "You need to be able to set a mood, to create mystery and romance. Even if they're at a business dinner, fine-dining guests want to have that sort of magical experience. Lighting, much of which they don't even see the source of, is critical to creating that effect," he notes.
Solutions: Programmable dimmers, combined/layered light sources sources (ambient, focused and accent), architectural lighting, LED bulbs carefully selected for proper color temperature and dimmability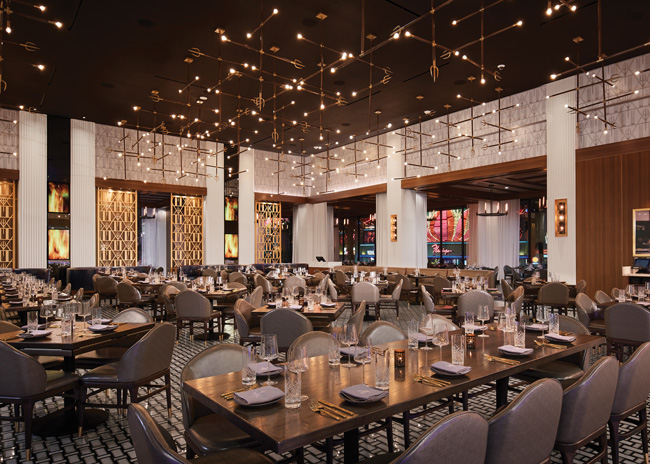 Hell's Kitchen's design incorporates both "look-up moments" and an artistic approach to enhancing flexibility. Sliding metal screens incorporate the concept's logo and can be left open or pulled closed to create more private dining zones. Image courtesy of Dave Burk
Personal Space. Lofty spaces and big-impact features need to be tempered with design elements that lend a feeling of intimacy and personal space. "Guests want to feel that they are somewhat shielded from others and in their own exclusive zone when they sit down to eat at an upscale restaurant," Stroop says. "In Hell's Kitchen at Caesars Palace, a passion project we worked on for celebrity chef Gordon Ramsay, as well as at Waterside District in Norfolk, Va., we had screens and bookshelves and clever divisions. In Atlantis Sanya, we used artwork to divide a central dining venue from the surrounding circulation space, effectively creating a restaurant within a restaurant. These same art panels also lend privacy between seating groups."
Furnishings, too, can be selected to give guests a feeling of personal space, Stroop adds. Durability matters, but quality and craftsmanship are paramount as are details such as proper table and chair heights. "We do mock-ups, a lot of testing and prototyping to get those heights and the ratio between them right," he says. "It's important in any restaurant but especially critical in fine dining."
And, while other segments may be seeing dining-room spaces shrink, that's not the case in fine dining. "The spatial requirements for fine dining haven't changed. Guests at these restaurants typically spend a lot more time at the tables. Materiality and finishes become really important, and guests need and deserve more space around them in order to be comfortable, have private conversations and enjoy the full experience," Stroop says.
Solutions: Different flooring types to break a space down into smaller zones, custom screens that incorporate art and/or subtle branding, bookcases, artistic suspended panels, drapes, partial walls, high-back banquettes, right-size/right-height tables and chairs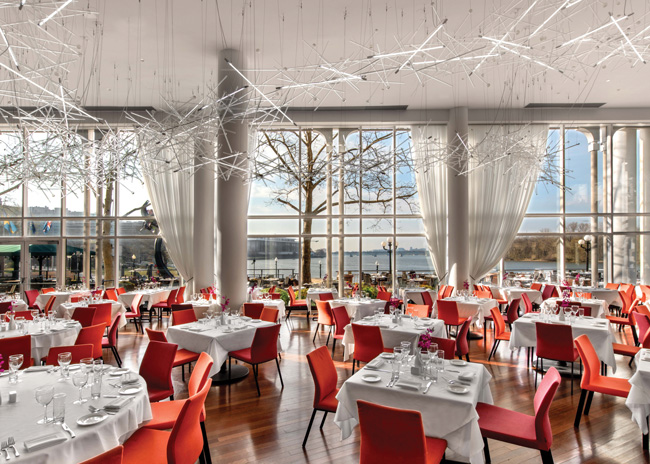 A series of cascading light fixtures holds court above the dining room at Sequoia in Washington, D.C., adding wow factor and Instagram worthiness to the soaring space. Image courtesy of Eric Laignel
Multiple Experiences. Fine-dining patrons increasingly appreciate the ability to enjoy different experiences with multiple visits to a single restaurant, depending on their mood or the occasion. "In several projects, we've created various rooms, each of which has a distinct flavor thanks to different design approaches and materials used. They might be of equal weight in terms of their level of luxury — or one area might be very exclusive and high-end, while another might be a bit more casual," Stroop says.
"We also often use screens that pocket into walls to give an operator more flexibility to create different zones or areas within a single space," Stroop adds. "When they're fully open, they can act as art pieces, but when you close them, they can divide a room and create privacy. And we enjoy creating a focal point for each subdivided room. It can be as simple as an interesting wall finish dramatically grazed with light or a soaring bookshelf kitted out with hand-curated accessories that accentuate the concept or have local relevance. It's fun from a design perspective because you can have more than just one point of view."
Solutions: Cohesive but varied design approaches to different areas (furnishing styles, flooring materials, colors, lighting, artwork), screens or partitions that can be expanded or hidden to create flexible room configurations, curated accessories that give each area a distinct flavor.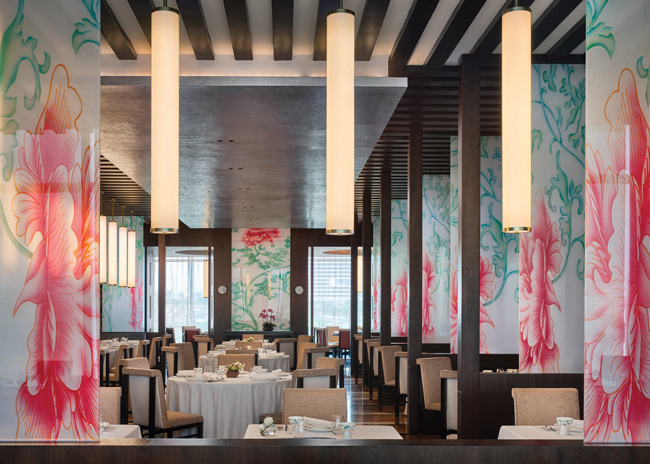 At the Atlantis Sanya resort in Hainan, China, the design team used art panels to separate a central dining area in the property's signature TANG Cantonese restaurant from the surrounding circulation space. The same panels lend privacy between seating. Image courtesy of Owen Raggett