In January 2022, Oliva Restaurant Group opened the doors to Atrium, a new offering in Atlanta's mixed-use Ponce City Market. Conceived of as an eclectic, vibrant but comforting oasis, it serves modern American cuisine with Mediterranean influences that reflect Proprietor Tal Baum's childhood in Israel and years studying architecture in Italy before settling in Atlanta.
The opportunity to create Atrium started in mid-2020 when celebrity chef Jonathan Waxman opted to close and relocate Brezza Cucina, an Italian concept he'd opened in 2015 in Ponce City Market. Tal Baum and her team at ORG saw an opportunity to add another concept to their portfolio in the newly available space. The team were already operating Bellina Alimentari, an Italian market, restaurant and wine bar, within Ponce City Market. They also had Aziza, Falafel Nation and Rena in other Atlanta neighborhoods, Baum knew the location, vibe and clientele well. And despite the high-anxiety pandemic timing, she and her team couldn't resist the temptation to secure and reimagine the large, open space in a prime location within the market's bustling Central Food Hall.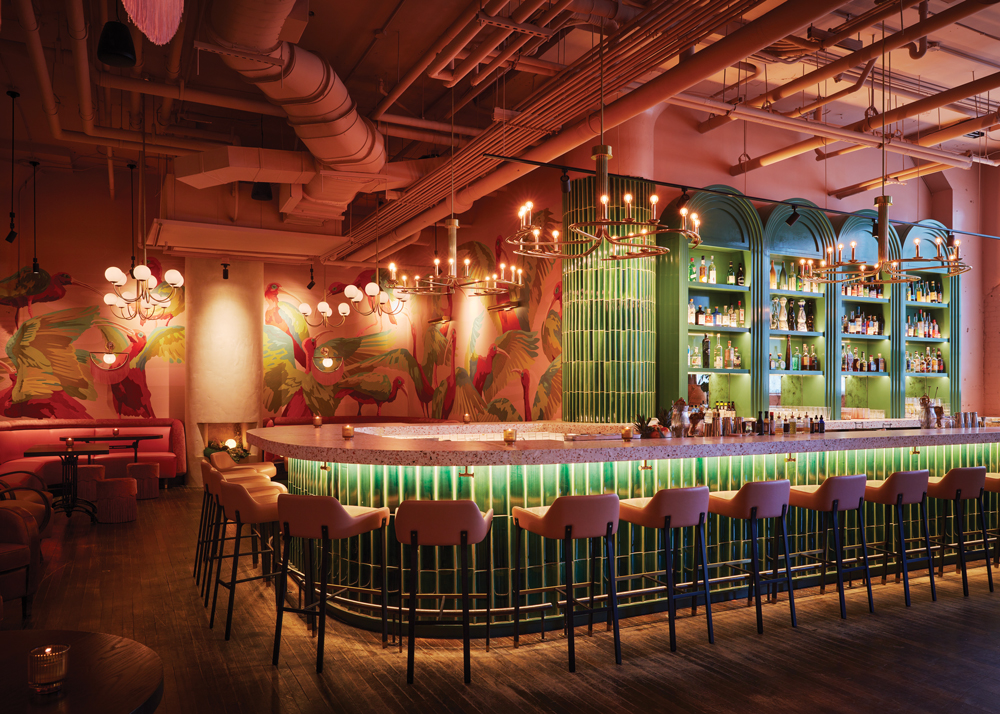 Atrium's design overall is colorful and whimsical, with a primary palette of pink and green. Pink dominates in the bar, where a vibrant tropical bird mural adds visual excitement to the room. Images courtesy of Tim Lenz
At roughly 5,600 square feet, the space offered plenty of wow-factor elements — soaring exposed ceilings, huge factory windows, bold structural columns and existing hardwood flooring from the historic building's past life as a Sears, Roebuck and Co. catalog and warehouse complex. But it also had a beautiful, chef-designed open kitchen and generous bar, both in turnkey condition.
Transforming the former Brezza Cucina into Baum's vision for Atrium would be relatively straightforward, as no demolition or major structural or mechanical changes were needed. Rather, the project would be one of design creativity, of adding calmness and intimacy, and going just far enough — but not too far — to surprise and delight.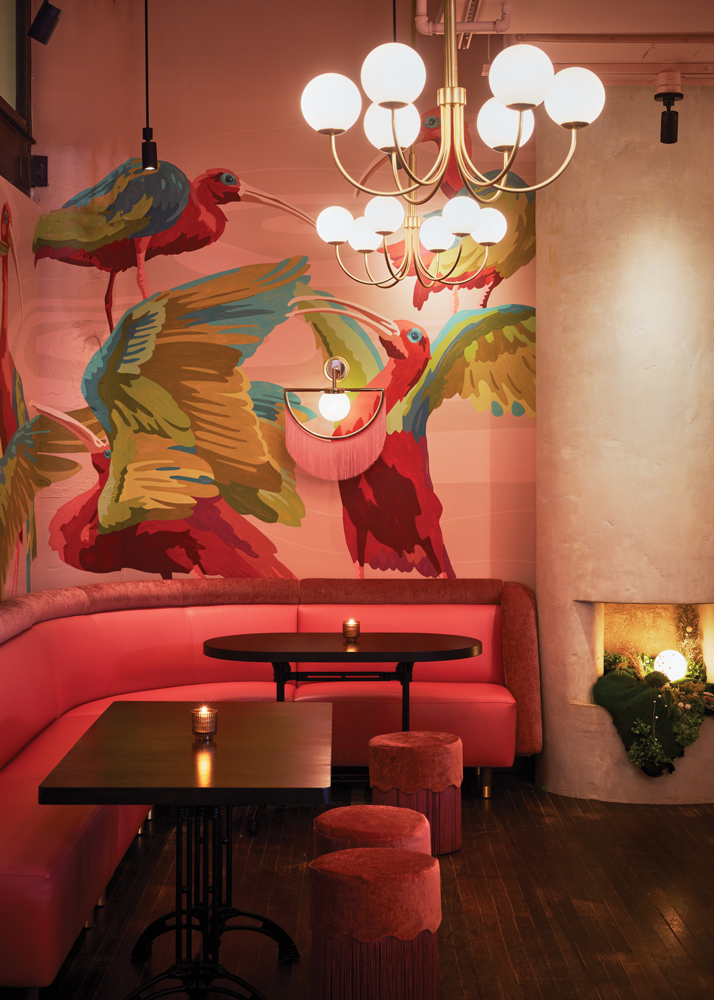 The dining room features low lighting, dark woods and a mix of softly rounded furniture styles. A new service station there was designed around a structural column."It was a very unique and difficult time to be opening a restaurant, in part because we just didn't know what the future of the industry was going to look like," Baum notes. "But we dreamed about a space that would provide a pause, that would transport guests to another world and help them forget about the day-to-day and chaos going on in the world outside. And the market itself is very industrial, busy and noisy, so we wanted Atrium to be a calming, enchanting sort-of bubble. When I approach any new concept, I try to imagine in my head how we can turn this void into what the community is looking for. We felt this concept was right for the space and for the times."
Baum's training as an architect helps inform her vision for every space that ORG takes on. For Atrium, as for her other concepts, she and her team developed an initial mood board for the project to present to Atlanta-based Smith Hanes Studio, with whom she's worked to design several of the group's restaurants.
"We always have a very clear vision of what we want to achieve," Baum says. "The mood board has a lot of colors that inspire us, images of elements from other concepts that we pull from places we like to visit, of foods that we like to eat. It tells a project's whole story in a few slides, and we use it as a checkpoint throughout development to make sure that our design elements and everything we're doing match up to that original vision for the space. That's why I like working with Smith so much. We present to him and his team our vision, our concept and they take our dreams and turn them into reality."
Previously a single large, open space divided largely by furniture type, Atrium now includes three distinct but connected experiences — a 50-seat bar, a central vestibule area with clusters of low lounge seating for 24, and a 4,000-square-foot, 95-seat dining room with expo kitchen. The only significant structural changes made during the remodel were the addition of two walls with large arched openings leading from the center vestibule area into the bar on one side and the dining room on the other.
"We felt like the arched openings lent a historical touch, like something that could have always been there," notes Smith Hanes, founder of Smith Hanes Studio. "They helped us to delineate the spaces. Once we did so, each space started to develop its own unique personality and type of guest experience while still feeling very connected conceptually."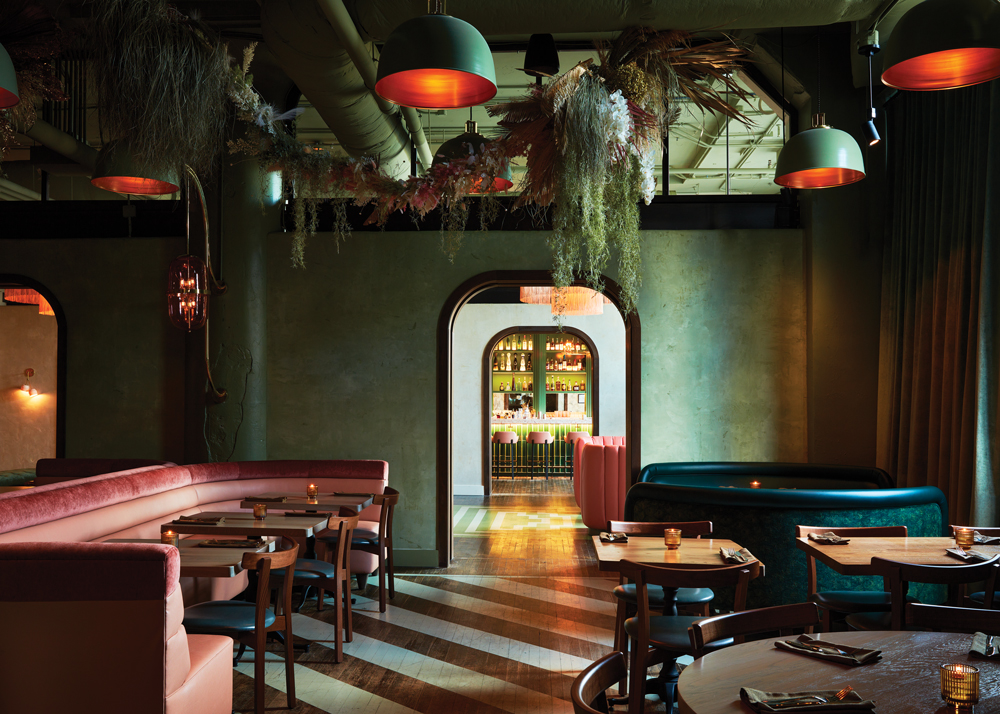 The dining room features low lighting, dark woods and a mix of softly rounded furniture styles. A new service station there was designed around a structural column.
Atrium's overall design is colorful and whimsical, saturated in a palette of pink and green. In the bar, pink is the dominant color with green as an accent; in the more subdued dining side, the scheme is reversed, with green being dominant and pink the accent. An eclectic mix of textures, furnishing styles and custom light fixtures, many exaggerated in scale, are layered in throughout. The materials palette is eclectic as well. Pink and cream terrazzo tops the bar; large tropical-patterned velvet curtains line a dining room wall; vintage pink marble is used for select tabletops; soft pink, green leather and velvet cover rounded booth and banquette seating.
Against that backdrop, signature design elements done by local artisans add dramatic flair in each of the three areas. These include hand-crafted convex, green ceramic tiles covering the bar front and select structural columns; a vibrant mural of tropical birds enlivening the bar; and large permanent floral arrangements installed on the dining room ceilings and around signage at the entrance to the center vestibule space.
Velvet curtains along one dining room wall lend a cool, tropical vibe while also softening the space and absorbing sound.While most of the design elements and furnishings are custom and new to Atrium, the Smith Hanes team was able to incorporate a few existing items. Almost all of the freestanding tables were kept and reused, for example. And hanging dome light fixtures in the dining room were repurposed. "That was a big help from a budgetary standpoint," Hanes notes. "Initially, they felt a bit generic, but we painted the domes the same color as the ceiling and applied gold leaf to the underside, so they shine gold and really add to the room's ambience."
Existing hardwood flooring, too, was retained and given creative new life with paint and pattern — cream on green in the vestibule area and cream stripes on dark wood in the dining room.
A major advantage from a budgetary standpoint was the fact that the existing bar and kitchen equipment could be reused, with no mechanical or layout changes needed. The only modifications made from an operations standpoint, according to Baum, were the addition of a service station designed around a large structural column in the dining room and a service bar.
"Because of the size and layout of the restaurant, adding that satellite bar on the restaurant side was really smart," she says. "It's out of sight in the back of house, but it makes service so much easier to have the drinks for dinner coming directly from the restaurant side instead of the bar side. You don't have servers going back and forth between the spaces, which means the whole experience is more efficient for staff and calmer for guests."
A sense of calm and enchantment, after all, is what Baum was after from the start. But she wanted that feeling created in surprising, nontraditional ways — through pinks and greens, fabulous florals, tropical motifs, eclectic materials and artisan craftsmanship. The biggest challenge, she says, was finding the right balance between whimsical and fabulous, soothing and comfortable.
"Throughout the project we were always walking a fine line, making sure the concept wouldn't feel tacky. It could have gone from great to over-the-top very quickly," Baum says. "We wanted to keep it refined and elegant and comfortable but to push boundaries without ever pushing too far."
"From the beginning, Tal wanted something with a sense of panache and swagger expressed in color and creative expressiveness," Hanes adds. "Every surface is a beautiful color. The philosophy behind the whole thing was, yes, this feels like an explosion of color, but once you're inside that pink and green world, it begins to normalize and is no longer arresting. The pink bar room begins to feel neutral. The more the team worked on it, the more exaggerated they got with all of the design elements. Tal was constantly encouraging us to not think traditionally, to come up with something more fabulous, to let this place become something new and unique. That's how the lighting and mural imagery became exaggerated in scale and how the floral arrangements ended up on the ceilings, for example. The florals cascade down and feel a bit like moss hanging from southern live oak trees, evoking something real but definitely pushing boundaries and adding something completely unexpected and whimsical."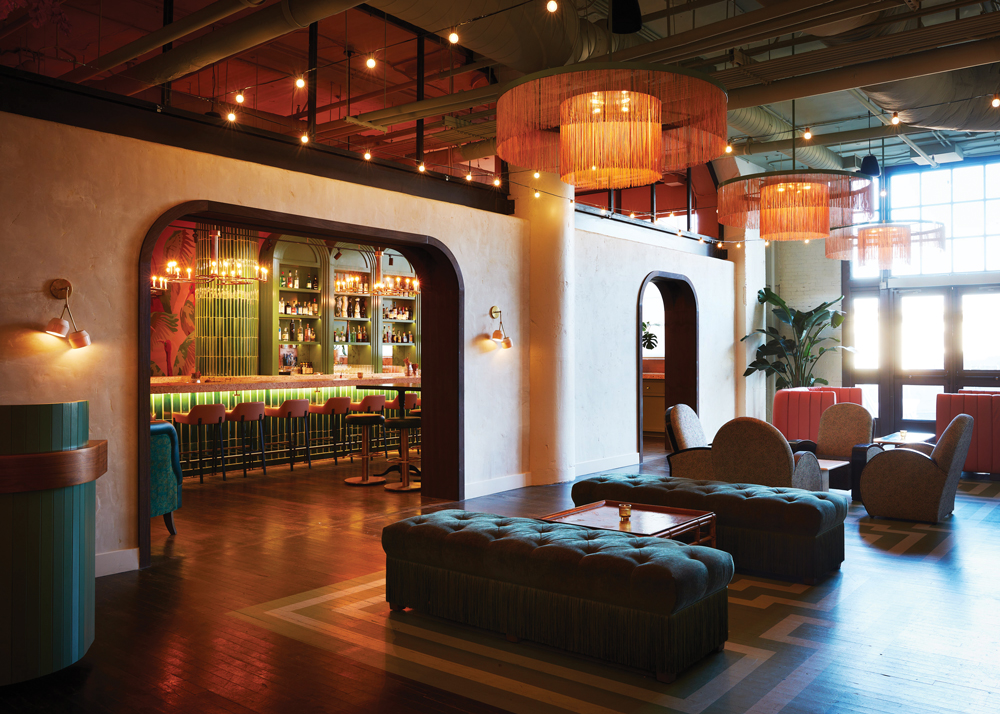 From the quieter center vestibule lounge, guests enjoy sightlines into the buzzy bar through arched openings in newly installed divider walls.
Snapshot
Location: Ponce City Market, Atlanta
Project type: Full rebrand
Opened: Late January 2022
Size: 5,600 square feet
Seats: 95 dining room, 50 bar, 24 vestibule
Average check: $65 (appetizer, entree, one drink)
Project duration: 1 year
All-inclusive cost: $1.6 million (interior, graphic and web design, construction, FF&E)
Design highlights: Pink and green color palette, custom permanent floral installations, hand-crafted ceramic tile, tropical bird mural, pink terrazzo bar, custom light fixtures, painted hardwood flooring, high exposed ceilings, large factory windows, mixed soft seating, tropical-patterned velvet curtains, open kitchen
Project Team
Ownership: Oliva Restaurant Group (Tal Baum, Brandon Hughes, Joshua Riddle)
Interior design: Smith Hanes Studio (Janine Mackenzie, Patrick Dirito), Tal Baum
Custom lighting, furniture design: Smith Hanes Studio
Construction: Morrison Shearer Inc.
Ceramic tile: Charlotte Smith Studios
Wall plaster: Super Delicious Walls
Mural art: Kipper Millsap
Florals: Pinker Times (Skye Lin)