Hi-Pointe Drive-In (downtown location)
Opened in April 2019 by Mike Johnson and Charlie Downs, this second location for Hi-Pointe Drive-In serves as a flagship and pushes the boundaries of a typical burger joint with a quirky design and a playful menu that includes taco burgers with Cool Ranch Doritos. The design by Oculus Inc. leverages '50s drive-in nostalgia, cartoon art and a Space-Age-meets-punk-rock vibe. Located in a converted bi-level storefront in the MX district, the interiors feature bright pops of reds, blues and oranges with polka dot-laden dividers. Funky graphics by Guy Burwell and murals by Killer Napkins are flanked by industrial notes in the form of high, exposed ceilings, steel beams and concrete flooring. The 3,200-square-foot space also features two dining rooms on the second floor with 100 seats total in addition to an open kitchen behind the counter on the first floor. There is also a floor-to-ceiling corner tower of red-painted metal and a 20-foot-high sci-fi mural that serve as visual cues, guiding guests through the space. Existing warehouse lights were augmented with design elements that look like comic book rocket explosions. Two-story windows in the front of the restaurant bathe both levels in natural light and offer fun sightlines from the street into the dining area.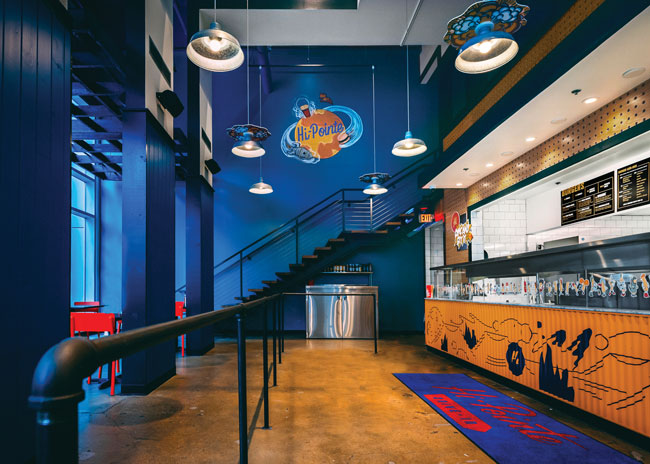 Image courtesy of Oculus Inc.
Cinder House
Chef Gerard Craft's Cinder House at the Four Seasons is an ode to his Brazilian childhood nanny and "second mother," Dia, who taught him how to cook her native cuisine. Designed by Aleksandr Sasha Malinich, co-founder and design principal of R|5 DESIGN AGENCY (a subsidiary company of CASCO Corporation), it features a 96-seat dining room and a 60-seat patio. The main dining room draws inspiration from the mountainous regions of South America and layers wood and stone textures that include white oak chevron flooring, pigmented lime-based polished plaster walls and elegant wall coverings — chosen for their similarity to textured tree bark. Designers incorporated rich, turquoise leather upholstered sofas complemented by chairs with muted tones. Blackened brass custom chandeliers pair with blown-glass globes. The walls feature blackened-blue polished plaster, custom sconces and blue antique mirrors. The dining room also features dramatic floor-to-ceiling windows to give guests a view at the city's celebrated monuments, including the Gateway Arch. The co-located Cinder Bar has its own separate entrance with 59 seats and an outdoor patio that features a firepit and seats another 120.
Image courtesy of R|5 DESIGN AGENCY
Mellow Mushroom Pizza Bakers
Located in the suburb of Cottleville, this Mellow Mushroom features interior and exterior designs by Oculus Inc. Each location of this chain is locally owned and operated and features its own unique decor. At this 5,400-square-foot outpost (176 seats inside, 57 outside), the interior of the building features separate U-shaped bar and dining areas as well as private dining rooms adjacent to the kitchen and service lines. The restaurant also has a separate takeout entrance and counter, which is a new feature for the franchise. With approximately 10% of the orders being takeout when this location debuted, the special entrance mitigated wait time and overcrowding in the dining room. Inside, a retro '80s vibe sets the tone with a bright palette of neon purples, pinks, and yellows and neon lighting. Guests entering the restaurant are greeted by door handles with a bright pink "M" and a statue of the pizza chain's mascot, named Mel O. Mushroom. The dog-friendly patio features a fenced-in courtyard and synthetic grass for putting and cornhole games.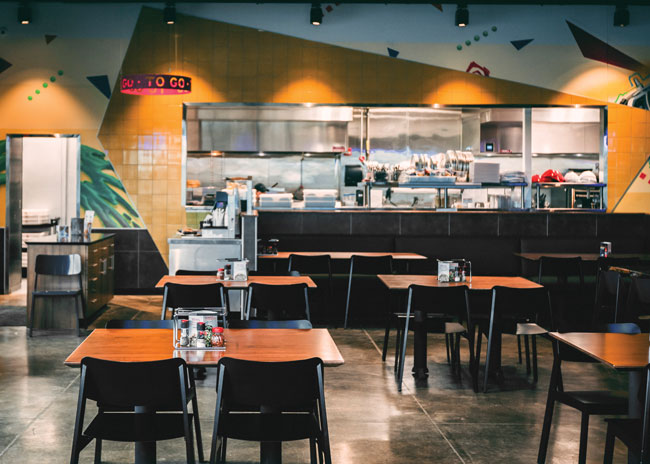 Image courtesy of Oculus, Inc.
Vicia
This vegetable-forward restaurant by acclaimed chef Michael Gallina was designed by Aleksandr Sasha Malinich of R|5, who chose an organic, modern and clean design concept to highlight natural textures and light while letting the food shine. The 48-seat dining room features a glass-encased open kitchen and 14-seat bar area, flanked by a 46-seat, covered outdoor dining room with a large wood-fired grill and surrounding edible garden. The garden, where herbs, figs, peppers and elderberries are grown, was designed and implemented by Custom Foodscaping and provides a focal point of the restaurant when viewed through the dining room's many windows. Black, white and bleached white oak populate the 4,300-square-foot space, which also features statement, seasonal floral arrangements on an antique Indian farm table, plenty of natural light, and a window display of preserved plants and flowers from the on-site garden.
Image courtesy of Kevin Roberts