Though it's got nearly 70 locations in two countries, Earls Kitchen + Bar doesn't consider itself a chain. Instead, this polished-casual operation thinks of itself as "a collection of individually compelling restaurants," offering guests a relaxed, yet casually sophisticated experience, says Managing Director of Design Wendy Tait.
One of the newest Earls locations is in the Dallas Suburb of Plano, Texas. Built with architectural design support from Orlando-based Interplan, the restaurant's overall look is influenced by mid-century modern design and is meant to be bright, colorful and lush, imparting feelings of abundance and plenty for guests.
These design elements can be seen in the bar/lounge, one of the restaurant's three main sections (along with the dining area and patio). The space is well lit, with brightly painted walls, light hexagonal tiles, and original artwork by local artists.
To impart a more luxurious feeling, Earls goes beyond the minimum with its furnishings. Tabletops are made of thick hardwood in the bar and either hardwood or granite in the dining room. All seating has well-padded upholstery with light colored fabric or leather, along with mid-century modern touches like fluting or tufts.
Overhead, guests can see hardwood beams laid out in a diamond pattern. According to Tait, these beams work in conjunction with the bar's acoustic ceiling to help control sound. They also show diners how much attention the restaurant pays to detail.
"It's something for the guests to appreciate and notice, 'Oh, look at the amount of thought they put in the design. They probably put that much thought into the food.' We want people to know that we're taking care of them," says Tait.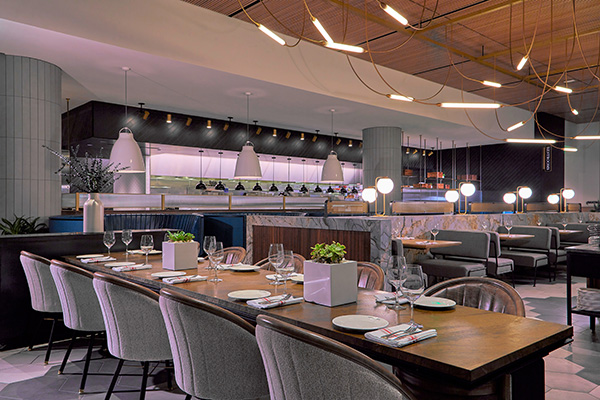 Earls dining area carries on with this lush look, with plenty of granite, thick hardwoods and well-upholstered chairs. Energy is added to the space through an open kitchen, which adds an element of theater and drama, Tait says.
Like the restaurant's other sections, it also has rich green plants and eye-level lighting, imparting the feeling of abundance as well as comfort that Earls wants its guests to experience.
The dining area also includes custom-made brass light fixtures that hang from the ceiling like ropes. Such features, Tait says, help distinguish Earls from other operations, as well as one Earls restaurant from another. "Restaurant design is something that increasingly matters to people and lighting is part of that. We've always used custom lighting to differentiate the chain...We're a collection of individually compelling restaurants and custom features like this are a huge part of that."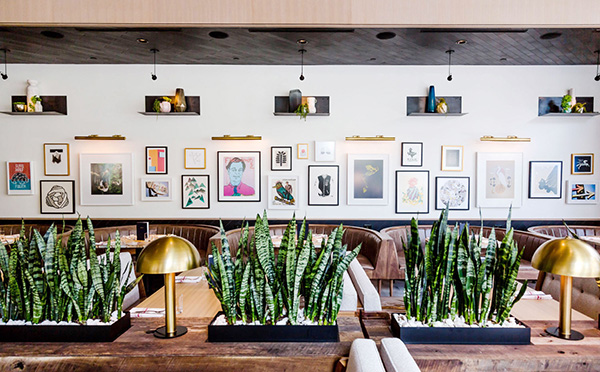 As a rule, Earls supports artists local to each restaurant. Both large pieces of art in the bar/lounge are by Texas artists. The same can be said for all the works on this operations gallery wall. The styles and mediums vary, from cartoon-y drawings to whimsical watercolors. Like the diamond-patterned rafters in the bar, says Tait, these piece are designed to "surprise and delight" customers.
The restaurant's third main area is the outdoor patio. Some patios have simple, no-frills design, Earls continued its lush and plentiful look outside, extending the full restaurant experience into a new space, says Tait.
Highlights of the space include fire pits and two mature trees with string lights. There are also multiple seating options, offering guests different experiences. These include benches, booths with granite topped tables and 6-inch thick soft seating.
"We wanted to have a really comfortable setting with lots of areas for people to lounge," Tait says. "We wanted the comfort of home, with plants and midlevel lighting. We even have pillow and offer blankets."