James Beard-nominated chef and restauranteur Brad Kilgore newest restaurant, KAIDO in Miami celebrates Japanese culture and flavors with small plates, tasting menus and cocktails — a specialty of co-owner Nico de Soto — and features a secret bar, the invitation-only speakeasy AMA.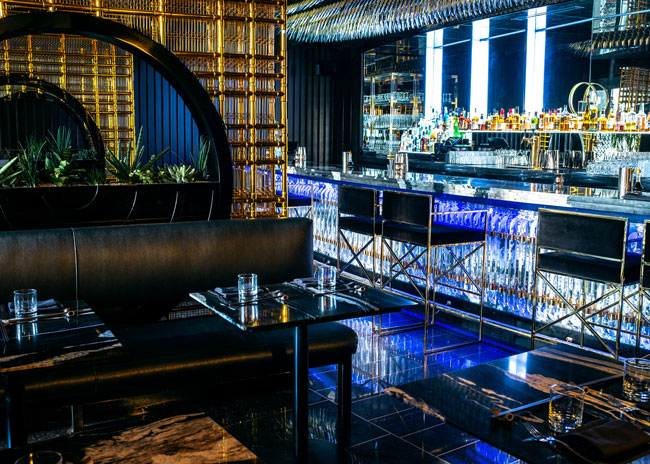 Kaido and AMA Images courtesy of Juan Fernando Ayora
The 2,200-square-foot space seats 75 and was designed by Mark Alan Diaz of MAD Designs, who took inspiration from Tokyo's cocktail bars. And the women who fish for sea urchins. Here Diaz offers up some of the design inspiration and details behind the glamorous space.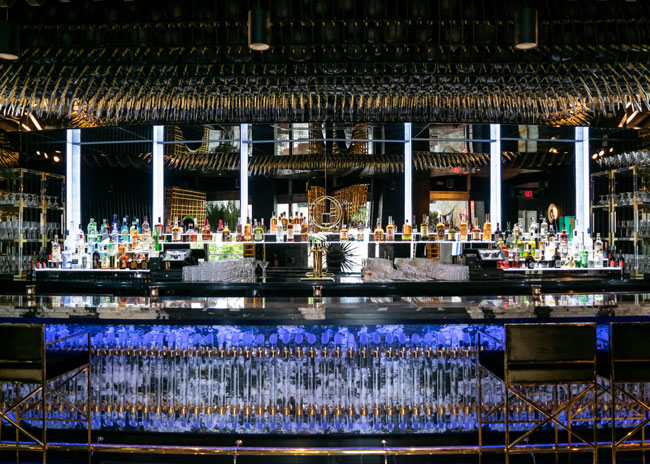 What was the overall design concept for the space?
MD: The project was an exploration in the duality of​ ​lux/punk​ and​ colorful/nobility​, inspired by a collection of experiences in Japan. KAIDO​ explores celebration and the hierarchy of femininity in nightlife culture with a youthful, rebellious and glamorous grit. It is a collection of experiences, refined details and materials that showcase a dark and edgy inspired take on Japanese nightlife. After exploring Japan's diverse nightlife culture, I wanted to create a venue that expresses the beauty I found in local sea urchins, which I think are jewels of sea, and transport that beauty into the abyss of nightlife and entertainment.
AMA Bar
Tell us about the speakeasy.
MD: This invitation-only lounge with a secret entrance expresses the warmth and legacy of the sea-diving women of Kuji, Japan. AMA is named after the proud, self-made, mature-glowing ocean guardians, who were the original hunters and collectors of sea urchins. A year ago, in Kuji, I spent time with ama's while they dove for urchins and these women are bright and lively fishermen. They are as strong as they are bold, and as bold as they are proud, and are literally glowing happy beings who are the stewards of legacy and tradition.
Tell us about the kitchen.
MD: The kitchen is located to the right side of the restaurant when you walk in but is not open. There is a black-lacquered succulent circular porthole planter within a nine-foot [tall] glowing golden screen for people to be able to look through, if they wish.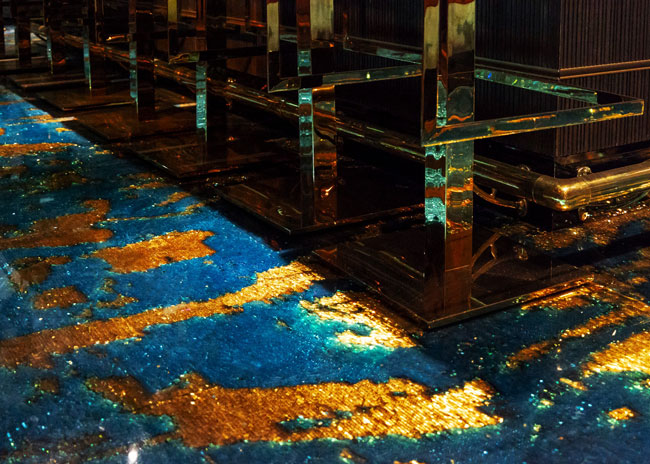 AMA floor details
How would you describe the color schemes and flooring?
MD: We used a combination of blacks, golds, grays, whites, and ebony woods for both spaces. At KAIDO, the floors are a high-polished, resin-filled dark galaxy of silver whimsical sand overplayed by gold geometric radial symmetrical lines meant to resemble rays of light and inspired by movement of the sand on the sea floor and the radial symmetry found in sea life. At AMA, we reinterpreted the shimmer of light reflecting off the scales of the mermaid/divers into another high-polished, resin-filled floor with two-toned electric blue and gold sequin coloring. Throughout both spaces we also used black velvet and gold-framed bar stools.
Kaido chandelier
How important was lightening in setting the mood?
MD: Very. At KAIDO, the focus is a chandelier that explores the physical manifestations of the lux/punk duality. We collected 1,2000 butterfly knives to create what I would call my rendition of a Japanese sea urchin. The black spines of the sea urchin protect the golden uni, modeled by the gold butterfly knife exterior and black-globed shell interior.
Were there any challenges with the development of the restaurant and how did you overcome them?
MD: The most challenging aspect of the project was acquiring those 1,200 knives for the chandelier!
Did you incorporate other artwork or custom pieces?
MD: Aside from the chandelier, we created a ribbed ceiling to model a wave captured in time. A wave has many moments and articulations, so I wanted to capture that image, cut and divide it into sections to represent its impermanence. The face of the bar at KAIDO represents the constant movement of the sea and the ghost of the fisherman's oar on the way out to sea. The choice of clear acrylic represents reflection and the sensation of movement over the water. The distorted reflection is in a constant state of motion as you move throughout the space. As an avid fisherman in my youth, I was always fascinated with the reflection of light under water on sea life, and that's how I created the "Golden Fish Eye." The fixture reminds me of a fisheye or octopus' eyes. At AMA, we hung a series of sepia-toned photographs of Japanese amas.
AMA pachinko machines
How did you bring gaming into the space?
MD: We installed Pachinko machines at AMA. While traveling in Japan, we ran across droves of these Pachinko gaming dens, which felt like the dive bars of the gaming world, and they brought out an active, bright and loud paradise of distraction. After our experience, I wanted to bring the fun of gaming to AMA and bring a bit of my history in as well. Having and playing one of these gorgeous machines as a child I was so very happy to visit the Mecca of all thinks Pachinko.