Page 3 of 3
The Henry
Los Angeles
Images courtesy of Fox Restaurant Concepts
The tagline for The Henry in Los Angeles is "the greatest neighborhood restaurant," so when it was being designed, Fox Restaurant Group's founder and CEO Sam Fox knew it had to deliver.
Fox's intentions were to create "a community space that would be used differently than a typical lunch and dinner spot — a restaurant that needed to seamlessly transition from day into night," he says.
"I wanted it to feel warm and welcoming, so I probably overthought every detail," Fox says. "When it was all said and done, we created a space that was comfortable and approachable for the morning crowd while also upscale and elegant enough for the diners going into the evening."
The Henry's day starts with coffee and pastries and ends with dinner and cocktails. All of these — plus lunch, brunch and anything in between — are served in a large, elegant restaurant with an open feel but outfitted with different furniture in areas creating zones: smaller spaces within the overall space.
Lots of greenery brings the place alive, and the energy travels around freely from the coffee and pastry area, with its clean lines, to the green leather and suede banquettes in the dining room to the more casual area next to a wall of pop culture magazines.
Because this space was designed to be used from dawn until way past dusk, Fox wanted it to feel different depending on daypart. In the morning, the focus, naturally, is on the coffee bar. Guests tend to congregate there as well as the adjacent lounge areas and at communal tables. For lunch and dinner, however, hosts seat diners in the main dining room, which naturally pulls people away from the coffee bar — though it's still open.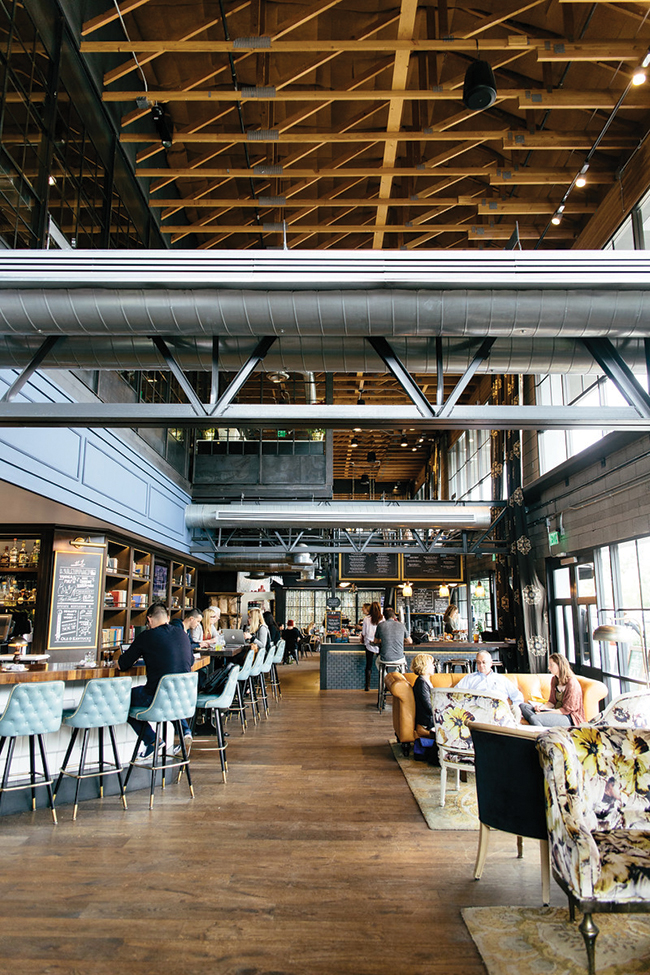 At night, the bar is highlighted — and it's worth looking at — with greenery and cascading globe lights. The open kitchen allows the energy to flow into the dining room during lunch and dinner while also giving guests a glimpse of the nighttime action.
To emphasize the change, natural light pours into The Henry through large floor-to-ceiling windows during the day, and the music is calmer for coffee drinkers still trying to wake up. In the evening, the manager dims the lights, turns on the patio string lights and gets the outdoor fireplace going.