Page 1 of 3
Patent Coffee/
Patent Pending
New York City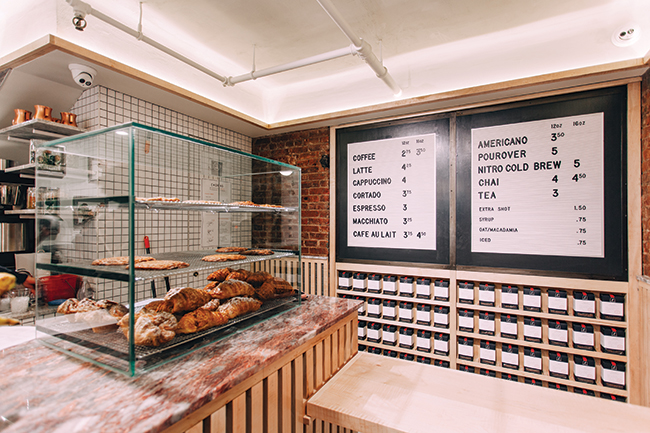 Images courtesy of Simmer Group
Patent Coffee in the NoMad district is bright and sleek, with white and gray tiles, light poplar wood, lots of straight lines and a brick wall original to the building along one side. It's crisp and clean with fresh flowers in frames alongside the counter.
But there's a different world to Patent. Come 4 p.m., the coffee shop closes and the doors are locked. An hour later, the venue starts welcoming guests back in — for cocktails and dinner. There's no sign outside announcing this: You have to be in the know.
Evening guests are allowed into the coffee shop via a buzzer and then enter the darkened space — now lit by candles — where the hostess awaits. Guests are guided toward a dark hallway via a door that is concealed during the day. Pre-war tiles from the original building line the hallway floor from the coffee shop "because we wanted people to feel transported in time," says owner Ryan McKenzie, "and we're trying to keep an antique vibe for the place without it feeling cliched." Along the hallway, lanterns cast a dim light. Copies of some of Tesla's patents, as well as pictures of old cocktail patents, adorn the walls.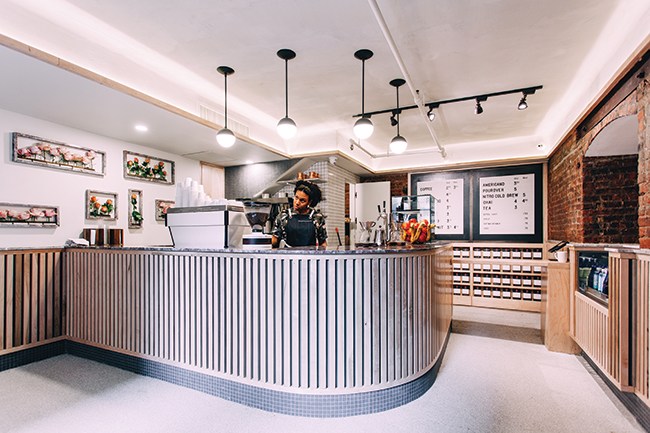 At the end of the hall is Patent Pending, a 34-seat speakeasy-style bar that takes full advantage of the building's arched brickwork to create a cave-like atmosphere. Dark wood is used throughout, and there's a metal cage containing booze above the bar, as well as bird cages and naked lightbulbs.
McKenzie, who opened Patent in January, deliberately didn't want crossover of these two concepts "because people don't want to drink coffee in a cocktail bar or cocktails in a coffee shop." Also, it's hard to do that operationally, he says, "and it would have ruined the experience of walking through the candlelit coffee shop."
McKenzie loves the contrast between the front, which makes up about 30 percent of the space, and the back. "The coffee shop creates a plot twist — it sets it up. It's fun to see people's faces when they see the menu board open up."