Restaurant menus are increasingly moving into the digital universe and onto customers' phones. Such was the case even before COVID-19, led primarily by fast-casual and QSR operations. Efforts to provide contactless transactions and convenient to-go ordering may have accelerated the trend, but physical signage and menu boards continue to serve critical roles in sales, merchandising and branding — particularly in QSR and fast-casual operations. Whether outside at the drive-thru or inside at the counter, compelling, easy-to-read menus convey everything guests need to know to make ordering decisions quickly and keep lines moving.
Digital solutions have changed the game and added tremendous flexibility — even next-gen artificial intelligence capabilities — to menu and signage systems. But digital or old-school, there's much to accomplish within a relatively small amount of real estate. Beyond simply listing items, key ingredients and pricing, menu boards, for instance, require strategic engineering to promote high-profit items and add-ons, and their design and graphics must complement and enhance brand aesthetics.
Getting it right is no small task, and today operators can choose from more options and types of signage that go way beyond menu boards. Consider wayfinding, which in many operations must now guide customers visiting for on-site ordering and dining one way and those picking up orders placed via mobile devices to a separate drive-thru line or inside pick-up area.
Signage has also become critical to communicating safety in the wake of COVID-19, as restaurants work to rebuild customer trust. Brand-consistent signage conveying messages about sanitation practices, capacity limits, and guidelines for mask wearing and social distancing have become important signs of the times — at least for now.
---
Weatherproof Digital Display Protection
The TV Shield PRO is an alternative to bulky or complex outdoor digital menu display panels. It enables operators to use a standard low-cost or high-tech TV or digital display, with all the video, image, text and sound desired, in an outdoor menu board. The TV Shield PRO is a weatherproof and secure protective outdoor TV enclosure and digital signage cabinet.
Protective Enclosures Company
---
Customizable TV Content
Equipped with full access to the Google Play store, the new Philips ProTV B-line features unlimited control and customization options. Built-in CMND features give restaurant operators the flexibility to manage their TV content for all locations, remotely. The line comes in sizes ranging from 50 inches to 75 inches.
Philips Professional Display Solutions
---
Digital Drive-Thru Solutions
Revel, a line of outdoor digital menu board solutions, allows operators to choose the number of monitors, size and frame color desired and National Sign Systems handles the rest. Operators can customize menu board enclosures by combining them with overhead canopy design options and choose from more than 20 models of back-lit LED drive-thru menu boards. The Revel Hybrid features a modular design that can lower upfront costs of going fully digital while providing the ability to convert later.
National Sign Systems
---
Straight-to-Smartphone Technology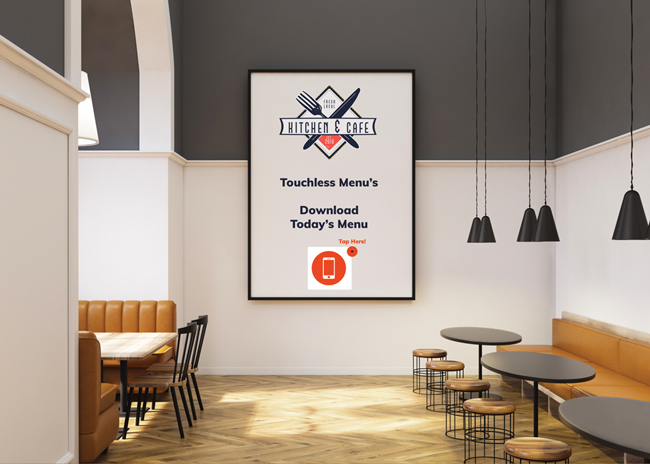 InfoLnkX by SpeedPro connects signage to smartphones using Near Field Communication (NFC) technology. Embed the technology in signage and menus to deliver a restaurant's website, video, audio or other media directly to a customer's smartphone, touch-free and with no app necessary.
SpeedPro
---
Ultra-Stretch Display Signage
The 88BH7D signage format from LG features a 32:9 stretch wide-screen aspect ratio plus Ultra HD 4K resolution. The Ultra-Stretch 88BH7D is suitable for use in numerous restaurant and bar designs.          
LG Electronics USA Inc.
lgsolutions.com
---
Customizable A Frame
The versatile, 23.5-by-39-inch chalkboard A-frame sidewalk sign is suitable for indoor and outdoor use. Increase bar or restaurant brand exposure and keep patrons up to date on daily specials and seasonal offerings with this on-premises promotional product — chalk included. The high-quality laminated wood frame features a rustic finish, and the chalkboard panel can be direct printed with your operation's logo.
Hanover Branding
hanoverbranding.com
---
Easy-to-Manage HD Displays
The Q-Line of HD professional displays provides signage that's easy to set up with no additional hardware, per the maker. The Q-Line's command and control feature allows users to manage, maintain and play content through a single interface. The displays are ready to wake from standby mode to play the content users want, then return to standby when playback is done.
Philips Professional Display Solutions
usa.philips.com
---
Digital Menu Boards
Custom digital menu boards help operators promote specials, cross-sell and upsell key menu items. Graphics drive company branding while informing and engaging guests. Make updates and price changes in real time, or schedule content to run on specific days or at specific times. Spectrio can also create franchise-level digital menu boards that allow for corporate messaging and uniformity with location-based customization.
Spectrio
spectrio.com