Front-of-house trends may focus on Instagram and experiential design, but in the end, every successful restaurant experience comes down to the quality of food and the service. And an operator's odds of scoring high on both of those fronts increases exponentially if the back of house is designed and equipped in ways that empower employees to produce the very best version of every menu item efficiently, consistently and safely.
Increasingly, three overarching trends continue to drive back-of-house design and equipment decisions. Each brings with it unique challenges, opportunities and demands for creative solutions.
Smaller footprints: Thanks to a combination of rising real estate costs, labor costs and changing consumer dining habits — i.e., consuming more food off-premise via takeout and delivery — many restaurant brands continue to shrink their overall footprints and dedicate less space to the back of the house. As a result, demand for more compact, flexible, self-venting equipment continues to rise. Increasingly strategic in their approach, designers and consultants continue to find ways to get sufficient firepower under smaller hoods, to utilize every available inch of vertical space for dry and refrigerated storage and specify multi functional cooking equipment that saves on both space and labor.
Exhibition kitchens: Impacting experiential design for guests, operations and staffing issues, open or exhibition kitchens continue as one of the hottest restaurant trends. Everyone loves the transparency and the energy these features add, but such spaces require extra-careful consideration. They not only have to perform well, they have to do so while on stage, which makes functionality, sanitation and aesthetics key drivers of design and equipment selection. In some municipalities, additional permits become necessary when bringing kitchens out front, and in all instances, strategies for controlling noise, light, odors and heat generated from open kitchens must come into play.
Technology: As more restaurant brands put self-service and mobile technologies into customers' hands, more thought needs to go into the potential impact on back-of-house operations. Juan Martinez, president of Profitality, a Miami-based industrial engineering and foodservice consulting firm, suggests kitchen designs increasingly need to account for virtual consumers in the production cycle. For some brands, he says, that might mean creating segregated production areas for mobile takeout and delivery orders. For others, it means designing better integration and systems into existing kitchens. But for all, it means planning ahead and taking steps to ensure that mobile orders can be produced and delivered quickly, seamlessly and consistently — without negatively impacting the rest of the business.

---
Self-Contained Fire-Suppression Hood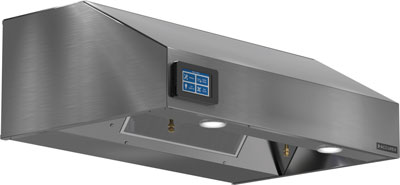 The Fire Ready Range Hood has been engineered with features designed to make the experience easier for both installers and users. Key features include a UL 300A wet chemical fire-suppression system, electronic fire detection and actuation, an audible safety alarm, a hood- or remote-mounted touch screen, and a fully monitored control package. The unit has a flexible fan with EC motors and a mesh grease filter that's easily removed for cleaning.
Accurex
accurex.com
---
Space-Saving, Multi-Chamber Oven
The compact and ventless Vector H Series Multi-Cook Oven features up to four ovens in one. Operators can control temperature, fan speed and time in each independent oven chamber, allowing them to simultaneously cook a variety of menu items with no flavor transfer, per the maker. Operators can use multi-step programmable recipes that ensure consistency. Custom exterior color options can enhance visual appeal in front-of-the-house applications.
Alto-Shaam
alto-shaam.com
---
Digital, Ventless Convection Oven
Cadco's redesigned Bakerlux is a heavy-duty digital countertop convection oven series with more features. Bakerlux features dual fan speed options, dual door opening options and is Energy Star rated. The unit also includes a compact ventless hood. Available in half and full sizes and with USB programmability.
Cadco
cadco.com
---
Ventilated Kitchen Ceiling System
Ventilated ceiling technology developed in Europe is now available in North America. Ventilated ceilings eliminate obstructed sight lines resulting from traditional hood systems. Halton's ceiling system, engineered for light- and medium-duty commercial cooking environments, consists of a modular exhaust pod or pods installed in a grid that's custom sized and designed for each project.
Halton Company
halton.com
---
Wood-Burning Hearth Oven
Beech Hearth ovens are constructed with heavy-duty materials able to withstand high temperatures. Oven floors feature high-density bricks that won't crack in extreme heat, per the maker. Operators can customize the Beech Hearth to fit any size space and kitchen style.
Jade Range/Beech Ovens
beechovens.com
---
Custom-Fab Z Racks
Lynndale offers custom-fabricated Z racks, an efficiency enhancer and space maximizer in any commercial kitchen or bakery. Featuring a state-of-the-art nesting style, the racks can easily be stowed to save up to 60 percent of floor space. Operators can design and personalize Z racks with choice of casters, spacing, and aluminum or stainless-steel welded construction.
Lynndale Stainless
lynndale.com