Selection and installation of effective, efficient HVAC (heating, ventilation and air conditioning) systems is expensive and not exactly sexy compared to other key elements of restaurant design, but it's among the most critical to get right.
Done cheaply and unprofessionally, HVAC and air quality measures — or lack thereof — can result in offensive odors, uncomfortable temperatures for guests and staff, and even unsafe conditions. What's more, energy costs soar in restaurant environments where insufficient thought and investment have been put into air quality systems.
With kitchens increasingly open and cooking moving out from under fixed hood configurations in the back of the house to front-and-center display stations, and with barriers between outside and inside dining spaces coming down, managing air quality and reducing energy costs is tougher than ever.
Smart new products are designed to be highly effective and energy efficient, using technology to take the guesswork out of HVAC controls. But even if your HVAC system is old and inefficient, there may be simple, affordable steps you can take to improve its performance. Prism Energy Services, which specializes in the evaluation, design and installation of energy efficiency measures for commercial, industrial and municipal customers throughout New England, offers several tips for improving HVAC efficiency:
Schedule a professional energy audit to assess the condition and efficiency of your HVAC system. Many utilities offer complimentary audits and can help you assess whether replacement or repair is the best strategy.
Install an economizer to take advantage of cooler temperatures outside by bringing that air in versus mechanically cooling warmer air.
Implement controls, including programmable thermostats, timing automation systems, demand and occupancy sensors, and more. They optimize heating and cooling functions during peak hours as well as after hours.
Reduce load capacity to ease strain on existing systems. Strategies here include proper insulation and building envelope sealing, energy-efficient windows and window film to reduce solar heat gain, energy-efficient lighting that gives off less heat, and upgrading to ENERGY STAR-certified equipment.
Follow proper HVAC system maintenance schedules.
Educate staff on the importance of energy savings and their role in controlling/reducing costs.
---
Self-Cleaning Hood System
Accurex's new self-cleaning Auto Scrubber Hood System cleans both sides of filters in place along with the inside of the exhaust plenum. This eliminates the need for daily removal and cleaning, dramatically reducing operating costs and increasing worker safety. The reduction of grease buildup on filters, ductwork and fans decreases fire risk as well. The Auto Scrubber is ideal for charbroilers, woks, fryers and griddles; facilities with long duct runs; and facilities with long operating hours. It can be used with a variety of filters and includes a 2-inch gravity drain and single control panel that controls multiple hood sections or duct sumps. Tool-less access panels provide easy access for maintenance and inspections and allow for safe removal of filters.
---
Smart Kitchen Airflow Management
Gaylord's AirVantage revolutionizes the way kitchen airflow is managed. It now features SmartAir to intelligently monitor and control makeup and replacement air. Accurate control of kitchen air delivers the additional benefits of comfort and hood performance with significant energy savings, reduced operating costs and extended equipment life.
---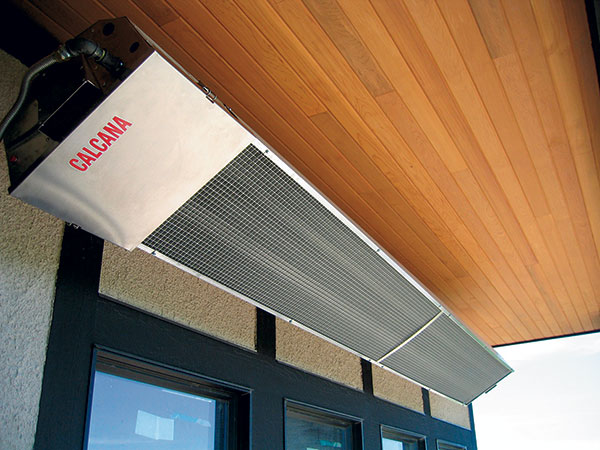 High-Performance Patio Heaters
Calcana's remote-controlled patio heaters with modulating control allow heat levels to be set for ideal comfort, from 50 percent to 100 percent of capacity. The infrared heaters are fueled with either propane or natural gas and provide broad heat coverage from sources that are up and out of the way, not occupying precious floor space. Wall or ceiling mounting is available for covered or uncovered spaces.
---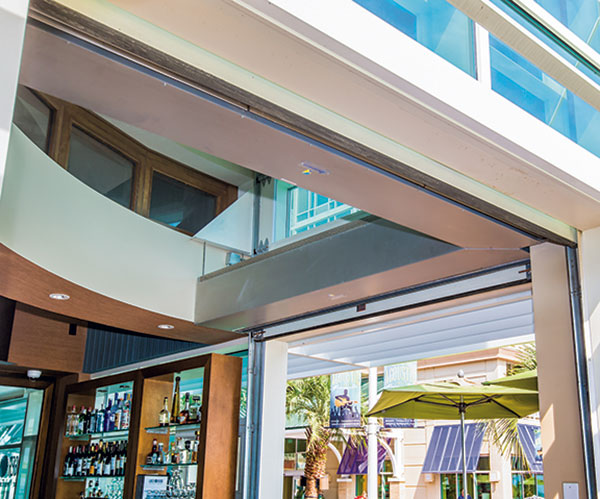 Temperature-Protecting Air Curtains
When it's hot outside and the patio doors are open, Berner Air Curtains keep restaurant and bar interiors cool and insects out. Air curtains use a controlled stream of air aimed across an opening to create an air seal that separates different environments while allowing unhindered flow of traffic and unobstructed vision through the opening. The airflow keeps flying pests out and helps to reduce energy costs by protecting inside temperatures.
Save
Save