Hospitality Group Noble 33's newest dining concept, Sparrow, serves as a modern coastal Italian restaurant located inside Hotel Figueroa in Los Angeles. Sparrow marks Noble 33's first venture into Italian cuisine, joining the hospitality group's portfolio of high-energy, fine-dining concepts, including Toca Madera West Hollywood, Toca Madera Scottsdale, soon-to-be-open Toca Madera Las Vegas, and soon-to-be open Casa Madera West Hollywood.
"Sparrow was created from the foundation of what we have built in our other markets while also drawing inspiration from our experiences in coastal European countries, focusing on rich culinary history and aesthetics," says Noble 33 Co-Founder Mikey Tanha. "The restaurant offers a transportive experience that begins the moment guests step through the door."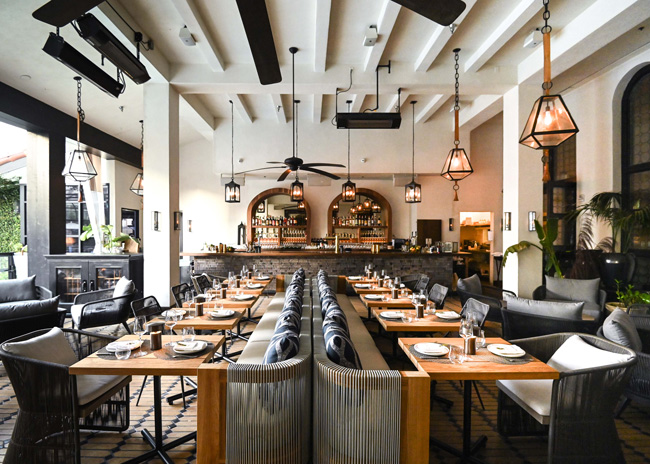 Located adjacent to Hotel Figueroa's iconic coffin-shaped pool and imbued with Mediterranean-inspired elements offering a resort-like respite, the interior of Sparrow evokes the enchanting southern European coast. With cathedral-like arched entryways and an original 1920's limestone fireplace, the restaurant features velvet draped arches and modern light fixtures mixed with traditional Coastal Italian and Mediterranean styles characterized by simple yet romantic features, a neutral color scheme with touches of blue accents, as well as the use of marble, tile insets, and wood. A forgotten skylight excavated during the hotel's recent renovation spills natural light into the sprawling room, while doors open to the pool deck and outdoor dining space where the downtown L.A. skyline provides a stunning backdrop.