Bojangles has more than 700 locations across the Southeastern and mid-Atlantic United States.
The brand has three locations in Honduras and some nontraditional units in airports, on college campuses, in football stadiums and in other entertainment arenas. The average build is an approximately 3,800-square-foot stand-alone unit with a drive-thru. The chain rolled out its newest prototype in 2017.
What's your background, and how long have you been with Bojangles?
I handle construction, both franchise and company-owned new builds and remodels. I've been in the restaurant business — and I'm giving a little bit away here, but this is my 40th year in the business. I started when I was about three years old. Ha! Anyway, I've worked for a couple of different brands over that period of time, but I've been with Bojangles for about nine years.
My background is more from an operator's perspective. I've been a multi-unit operator up to the vice president of operations level with other brands, and I have experience opening dozens of restaurants over my career — dozens and dozens. So, I approach development more from an operator's perspective in looking for return on investment. There's the science part of it, and some of it is intuition and some is the experience piece. You try to use all those tools in development. Of course, we use all the tools that companies use for demographics and traffic counts to tell us what are growing areas and what are new areas of interest. There are a lot of people at Bojangles that bring a common-sense approach to development.
What are some of the best parts of your job?
Anybody that's in development has a great sense of accomplishment when seeing a new restaurant being built and you see your chain growing and new locations opening. That certainly gives anyone in this business a sense of satisfaction when you're able to step back and see the finished product. More importantly, I enjoy the opportunities it provides for people: the local jobs as well as the franchisee's livelihood and watching them making a lifetime commitment to growing their business and our company. That's one of the things I enjoy most about what I do: seeing other people be successful.
Bojangles rolled out a new prototype recently.
The first of our new prototypes opened in 2017. As we look back at our history, we had three distinct prototypes over the years, and it was time for us to take another step into the 21st century. This new building really helps us do that.
It hearkens back to the heritage of our brand with awnings over the windows and the use of some of the orange and canopies we used to use as well as the use of brick. But we've also incorporated a lot more natural light. We've got more windows in this model. We're using all LED lighting, both on the interior and the exterior with very few exceptions. The building itself, from the exterior, really gives us that crisp, new, modern look without being a radical departure from what a Bojangles traditionally looks like. It's still recognizable as a Bojangles building compared to some of our other prototypes.
On the interior, some of the big changes are a lot of different seating options with a mix of high-top and community tables. We've got some banquettes and booths and some two-tops and some high rises and low round tables. So, there's a lot of options to come in and relax and find a comfortable spot while they enjoy their visit. We also have some charging areas for people to stay connected. We have Wi-Fi in the restaurant, and there are a lot of areas to recharge your device while you're recharging with breakfast or dinner.
What were some of the impetuses behind these changes?
We partnered with restaurant design firm Tesser, out of San Francisco. The process started about two and a half years ago. We just knew it was time for us to have a new design for our restaurants, and we really wanted to be able to have a fresh look for our stores in a new century. At the same time, we knew the design we came up with had to be able to fit with remodels and reimaging of our existing stores. We had an eye to the past as well as an eye to the future during this redesign process. So, as I said, it's not such a radical departure that we can't remodel and reimage our existing stores using the same design elements as in our new prototype. That was something that was very important to us as we came up with this new image.
Since you just implemented the new prototype in 2017, are you continuing to fine-tune it?
We are, and the tweaks thus far have been minor in terms of the use of some materials or how we placed something. You move a thing a few inches here or a few inches there. One of the things we've done is have our customers tell us what they notice we are implementing. We just completed a study of that last week. It's important to note not just what we think but what our customers are telling us. That feedback will apply to new builds and remodels.
We have remodeled three restaurants. So, we have three new ground-ups and three remodels completed. We have three more ground-ups under way. We're still in the very early stages of this new prototype, but we're very encouraged thus far. It's too early in the process to tout return on investment, but from a customer receptivity standpoint, the customers are very excited about the changes we've made.
What were some of the biggest changes in terms of the customer experience at the new prototype?
All during the design process, we also did consumer research to tell us what they felt was important in the restaurant, and we found that having an open kitchen area was important to them. Now, as you walk up to the queue, you can see over the cashier's shoulder and straight into the kitchen, where you see the biscuit theater area where you can see our biscuit ovens and our master biscuit maker making biscuits from scratch every 20 minutes.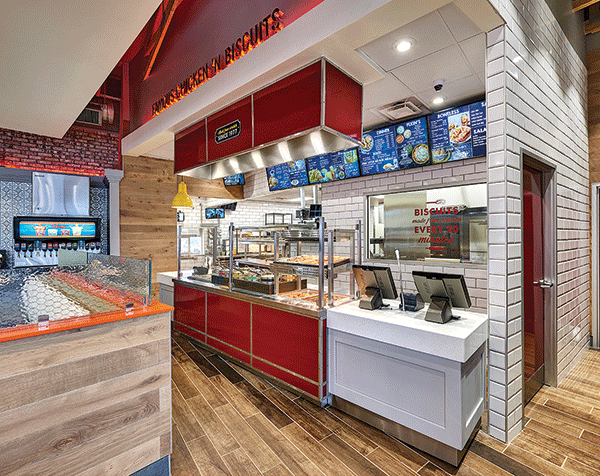 As you move down the line, all of our food is beautifully and artfully displayed behind glass panels, and we have really nice round crocks where our food is displayed (as opposed to stainless-steel insert pans). It really elevates the look of the food to match up with the quality. There are no microwaves in a Bojangles. We're cooking from scratch. We're marinating chicken for 12 hours right there. We really wanted to make sure our food was displayed properly.
People want to know that their food is authentic. That really means a lot to consumers, and it's been part of the Bojangles DNA forever. We've always had fresh chicken and biscuits made from scratch. It really gives us an opportunity to show that off.
What does the Bojangles pipeline look like right now?
We are continuing to grow at a very healthy pace. Bojangles is really a Southeastern, mid-Atlantic brand. We have restaurants from Pennsylvania down across West Virginia and Kentucky and across Tennessee, Alabama and Florida. We're continuing to grow inside that footprint, but we're looking to grow more in some of the outer areas where we are under-penetrated.
We are disciplined about our growth, and we try to establish on-the-ground presence in markets before we move to the next one. We'll continue to grow out across Northern Florida, and we're looking for new growth along the I-20 corridor from Jackson, Miss., to Shreveport, La. We had a new group sign up in the Memphis, Tenn., market. We have some new growth going on in Louisville, Ky., and parts of Pennsylvania as well as in West Virginia, Northern Virginia and Southern Georgia. We've got plenty to do in our existing footprint.