One of the capitals of dining in the U.S., New York never disappoints. There's everything from restored old restaurants to restaurants that transport diners to another place. The Big Apple is awash in creative restaurant design.
Limani
LimaniA white onyx bubbling reflecting pool serves as the centerpiece of Limani, an 8,000-square-foot restaurant that opened last November in New York's Rockefeller Center. Above the pool and under the sweep of a giant sail, a 6-foot spiraling sculpture of 250 lustrous nickel fish — each bent in a different direction — hangs from the 14-foot ceiling, suggesting a flying school of fish.
Yianni Skordas, principal of Skordas Design Studio, is behind Limani's interior, and he wanted to reflect the "seaport" translation of the restaurant's name throughout the space. White marble floors and white tiles surrounding the proscenium to the open kitchen appear to draw the water out of the bubbling pool to swirl under and around diners, while custom-grooved sandstone walls and columns represent rocks soaring out of the water. Intricate cutout brown fabric partitions flowing from the ceiling symbolize fishing nets plunging into the water.
Ibis Mediterranean Restaurant & Lounge
Ibis Mediterranean Restaurant & LoungeIbis Mediterranean Restaurant & Lounge makes its home in a 10,000-square-foot restored opera house. The restaurant opened in late 2014.
Wanting to create a Hollywood-like setting, "we opted for a warm and cozy environment using noble and muted colors," says Andres Escobar, president and CEO of Andres Escobar & Associates. "We used a lot of faux-finishes, gold leaves with engraved feathers on the wall of the staircase leading to the lounge area, as well as art deco motifs to emphasize the central dome."
The bar floor of Ibis is mosaic, and there's a transitional art nouveau mosaic floor from the bar to the dining room.
All that remains of the original opera house is the ceiling in the main dining room, which is emphasized with art deco motifs and faux finish.
GENUINE Superette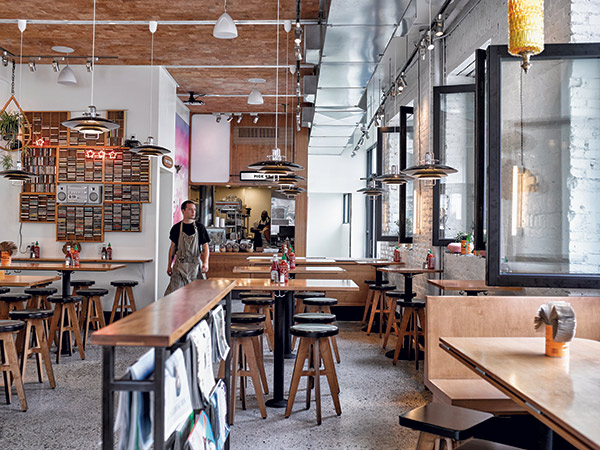 GENUINE SuperetteGENUINE Superette is a 1,255-square-foot fast-casual restaurant that opened in SoHo in April.
Offering California roadside foods with a gourmet twist, the restaurant is open from 8:00 a.m. to midnight. Because of this, it has light fixtures that can create both daytime and more intimate evening atmospheres by physically moving up and down and by offering varying light levels.
AvroKO designed GENUINE Superette, which features a lot of white and a lot of wood. "The added warmth of the mid-toned woods helped create a feeling of approachability and familiarity while the white brick and other light details kept things bright and fresh," says AvroKO partner Greg Bradshaw.
For fun, there's an old cassette player lodged into the wall, with tapes, that can be used by guests to recreate the road trip feel. "We wanted to give diners the feel of that in a slightly retro and funky way," says another partner, Kristina O'Neal.