Located in Washington, D.C., Astoria is a craft cocktail bar/Sichuan restaurant that opened its doors in the summer of 2019. Designed by Core Architecture and Design, the operation's look takes inspiration from a number of sources, from passenger train cars to early 20th century New York City to Chinese design, says Allison Cooke, principal and director of hospitality design at Core.
Guests encounter a number of these influences as soon as they enter the operation. The entryway floor includes a custom tile mosaic, designed by the bar's owner, Devin Gong. This piece, Cooke says, includes a Chinese icon for railroads along with three stars for Washington D.C.
Beyond that is a wooden screen. With a train car-like curve, it hides the rest of the operation, allowing for a true reveal, like opening a door at the end of a passenger car.
This space can also hold Astoria's host stand. This piece has a brass base, recalling New York City luxury, paired with a softer but rich blue that's a signature color for the operation. Notably, the size of this stand has made it a good fit for the pandemic, Cooke says.
"This is a minimal host station that you can move around, which is big because they just recently opened their outdoor patio. They have quite a deep sidewalk space for additional seating. During COVID they have moved the host stand outside to accommodate that extra seating."
The train car feel hits home just past the entryway, where a curved brass screen on the left runs from the ceiling down the brick wall, copying the curve of a passenger train. While the brass adds more NYC-inspired opulence to the space, the brick wall is a call-out to Chinese design, which can contain both ornate and rough elements, Cooke says.
"In Japanese design and architecture everything is tightly buttoned up," says Cooke. "Chinese is different. it's more rugged and scrappy and very hands-on. There is a lot of ingenuity there. This was a combination of the Chinese ruggedness along with this train car and opulent turn of the century New York inspiration."
The bar's train car inspiration can also be seen clearly in its booths, which are designed after passenger train seating. These booths have durable vinyl seats with velvet backs that recall the mohair seating of older train cars. They also boast a number of conveniences, including coat hangers on the end, outlets for phone chargers and cubbies built into the wall where guests can store phones and other personal items without cluttering up the table.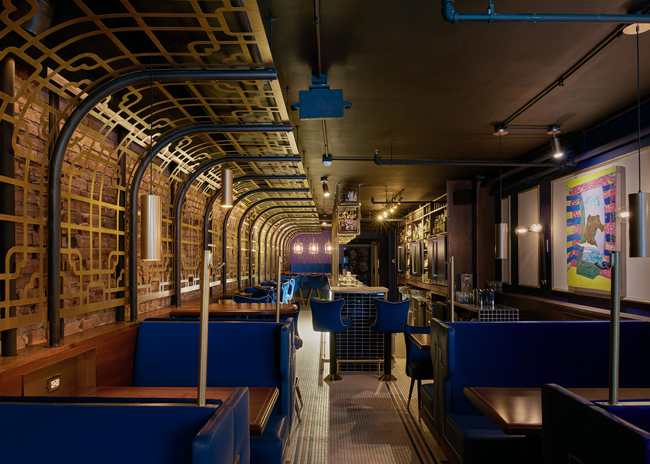 Additional seating is found toward the back of the bar. This area can be used for general seating or for small private parties, which can make use of a high-top table for six as well as a horseshoe booth.
This booth serves as one of Astoria's more clever pieces, featuring two folding seats that make the most of the operation's tight footprint. "On the right and left hand side there are seats that flip down, almost like you would have a temporary conductor chair on a train car. It allows people to climb into the booth, then fold the seat folds down for additional spaces on either side," says Cooke.
As a craft cocktail concept, the bar design is focused on highlighting the work of the bartenders. While there are seats located on either end of the bar, its middle is open, with no stools and no overhang that would even accommodate a stool.
"It really is meant to be the showcase where you can watch the bartender's work from the front as you are passing by. Mini peninsulas that stick out from the brick wall nearby also allow people to watch the show," Cooke says.
To help speed drink production, refrigeration units are actually built into the back bar area at counter height, making it easier for bartenders to access everything from frosted glasses to chilled ingredients. While this approach cost Astoria some storage, the bar compensated with brass-framed shelving above the front of the bar.