All restaurants, regardless of concept or industry segment, need to get one fundamental right: Provide good food and good service at a price their customers feel is fair. That's always been the case. But well before the chefs, cooks, managers and service staff take the stage on which to execute that fundamental element, developers and designers are busy building and setting the stage for success. For these behind-the-scenes professionals, doing so — now more than ever — means creating restaurants that, by design, can do and be more.
Indeed, restaurant designers have had to become masters of more, working to create spaces that reflect greater authenticity; that are more sustainably designed and constructed, more photogenic and experiential, more multi-channel, more accessible and more welcoming to all types of guests as part of the industry's collective reboot. And they're doing all of the above in the face of rising costs, supply chain challenges and construction delays. How do they do it? For insights and updates on strategies and trends, rd+d's 2023 Designers Dish! checks in with four principals of studios from around the country.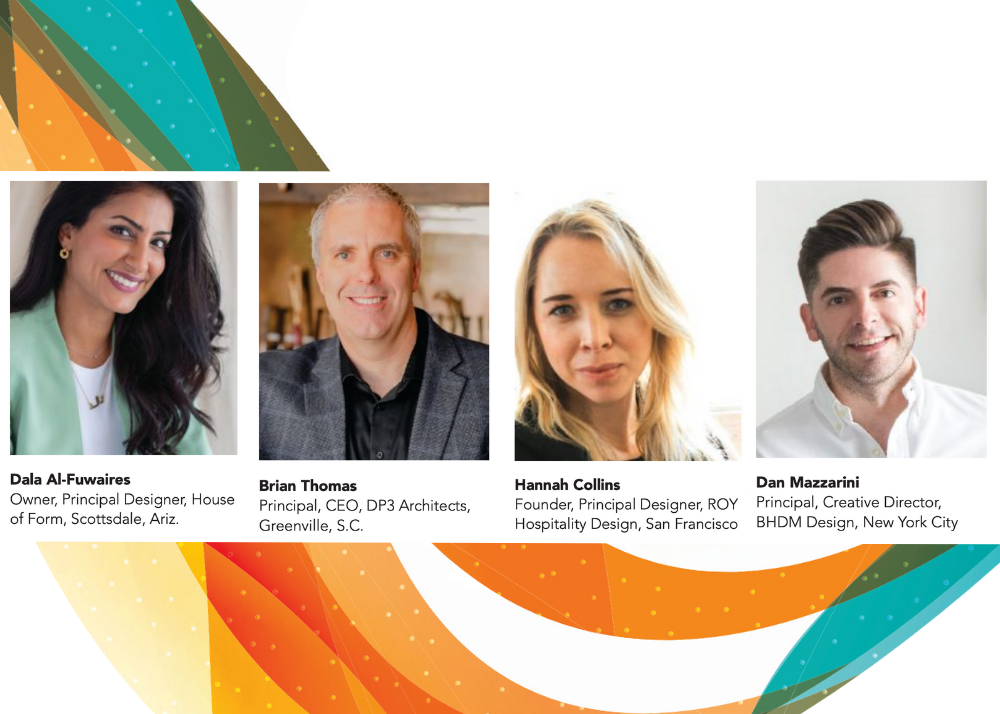 Experience took a back seat to 

off-premises dining the past few years. Is the pendulum now swinging back? How are you helping clients reconcile with the need to provide both?
Thomas: We are seeing things swing back, but it's not going to swing back all the way to pre-pandemic levels. A lot of operators have learned how to do off-premises very well, and it's become a large part of their volume. So part of the task, and what designers can help with, is focusing on how to give guests picking up to-go orders an experience that's on par in terms of brand distinctiveness and support with what they'd get if they were dining in. It all needs to be seamless and smartly integrated. Another big thing slowing the swing back to experiential, in-restaurant dining is the fact that, while guests may be ready to come back in, labor is still very hard to come by. There isn't the manpower for most restaurants to be able to offer traditional, full-service experiences. As such, integrating technology continues to be critical for operators, and we have to be very cognizant of how all that comes into play in the design and the overall experience we create.
Mazzarini: The narrative is continuing to evolve. It's about welcoming guests in again and making sure that the restaurant properties we invest in are invigorated with people. After what's been a couple of years of very high focus on technology, the narrative starts with a refocusing on service and guest experience and on how we can overlay those elements with technology solutions. How can we provide very human-centric experiences at various touch points in the restaurant as people seek to come back in? From a more direct design standpoint, we're also leaning heavily into the outdoor dining element, which became so important as a revenue generator the past three years. We're focused on how we can make that indoor-outdoor aspect a four-season experience, even in cold climates. That's something that didn't exist before, but restaurant partners have been able to double their seating capacity, get great exposure and do much more with the kitchens they have. It's all exciting, so let's keep it going.
Al-Fuwaires: The pendulum is swinging back to somewhere in the middle. Clients want to bring back that feeling of being surrounded by activity and excitement, but they're also being cautious. They're modifying floor plans to provide more personal space, making takeout a more seamless and intentional part of the design picture, and working toward giving off- and on-premises channels equal importance in terms of brand experience. As dine-in does return, we're increasingly looking at space planning strategies. Rather than being an open field or sea of tables and chairs, which was never good design anyway, more restaurants are opting for rooms within a room, or spaces within a larger space. That might not mean walls dividing things up, but some visual or other kind of physical break that gives a party the sense of being able to see everything but also a sense of ownership of the space they're occupying. We all cocooned at home during the pandemic, and that became comfortable and safe. It's important to be able to incorporate those feelings of comfort and safety in public spaces.
Collins: The pandemic taught us that restaurateurs are among the most agile, adaptive people out there — and their endurance has been amazing. I don't really see a shift in the way we're approaching design moving forward: It's still very concept-driven and hospitality-focused. Where I do think we've seen a shift is in people's ability to accept more casual moments in high-end experiences and vice versa: enjoying high design in casual-dining environments. Guests have become comfortable with QR codes and ordering off their phones, even though they're having this really wonderful experiential moment, for example. It seems the line between fine and casual has blurred, and the upshot is there's more creativity that can happen, regardless of which side of that line you're designing for.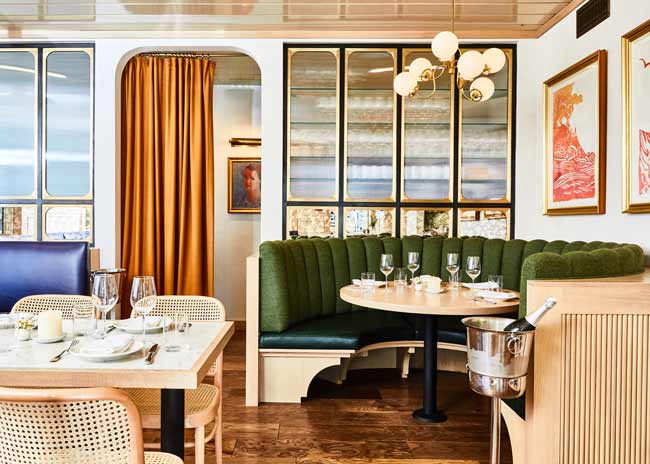 Collins sees a blurring of the line between fine- and casual-dining environments, enabling greater creativity on both sides. At Chez Noir, her team created an unfussy yet fine-dining experience using rich colors and both luxe and natural materials. Image courtesy of Erin Ng
Can you share examples from work that illustrate the power that small 

design elements and accessories have in bringing conceptual narratives to life?
Al-Fuwaires: In a recent bar project, 36 Below, we worked to incorporate technology that created the feeling of a garden, and a small touch we added was the sound of running water. It was so simple, but it really changes the experience of the space. In another, Peixoto, a specialty coffee cafe, the beans that they serve are from the owner's family farm in Brazil. It's a "crop-to-cup" concept, and our idea was to use hyper-personal belongings to help tell the story. On one wall, for example, we displayed sun hats worn in the field by members of three generations of the owner's family. It's such a storytelling moment, and one that creates opportunities for staff and guest engagement. Everyone wants to know about the hats.
Thomas: It's always important to give small, even subtle links in the design to what the concept's philosophy is all about, and in some cases, they might not even be tangible. In high-energy restaurants, for example, making sure every table has a view of the bar helps enhance the experience and ensure that people in the dining room still enjoy the vibe. In QSRs, design strategies that let guests move through quickly get priority because that's mission critical. In themed restaurants, the details are about integrating authentic elements, colors and art. We do work for Bahama Breeze, for example, where we layered in design details from the Bahamas and old rum factories to help build the narrative. At Fireforge, a craft brewpub in Greenville, South Carolina, we used their flames logo as a jumping-off point to create a warm, industrial-feeling space with details like salvaged wood, I-beams, and a sheet metal bar.
Collins: This is a great example of why it's so critical for clients to have a very tight concept. Without that, we don't have the opportunity to layer in all those really fun moments that speak to the concept and create a strong connection for the guest. It could be something as simple as the pen used to sign the check. It might be a custom wallpaper that, when you get up close, you realize is telling a story. We recently did a redesign for MIXT, a fast-casual multi-unit salad concept in the Bay Area, and we focused a lot on little custom moments that help express the story and the brand. One of those is a wallpaper that illustrates different lettuces. MIXT works with lots of local farms to source incredible produce, and we wanted that story told within the design language in the space. The wallpaper supports the narrative in a fun and distinctive way.
Mazzarini: We really lean into art as a way to get conceptual narratives across. At the Waldorf Astoria in Atlanta, for example, we built a narrative around Atlanta being a "city in a forest." We worked with a muralist who created a ghosted canopy of trees over one of the dining spaces. It's unique, it's bespoke, but it also carries the narrative for guests and creates an opportunity for the staff to educate and engage. At that same location, we integrated what looks like blossoming dogwood branches into a custom chandelier. As the light shines down, it creates a romantic, dappled kind of effect on the tables that again is part of the experiential narrative. At the Hyatt Regency San Francisco Downtown SOMA, located right across from the Museum of Modern Art, we wanted an art-centric narrative. But rather than just put a lot of art on the walls, our idea was to lean in to the mediums of artists. So ceramics, textiles and paint became important in the architectural details. And rather than just go to artists or an art consultant, we partnered with the Academy of Art University in San Francisco to curate and showcase works by students and alumni. It speaks broadly to San Francisco's art culture and was another way to bring local voices in and create engagement.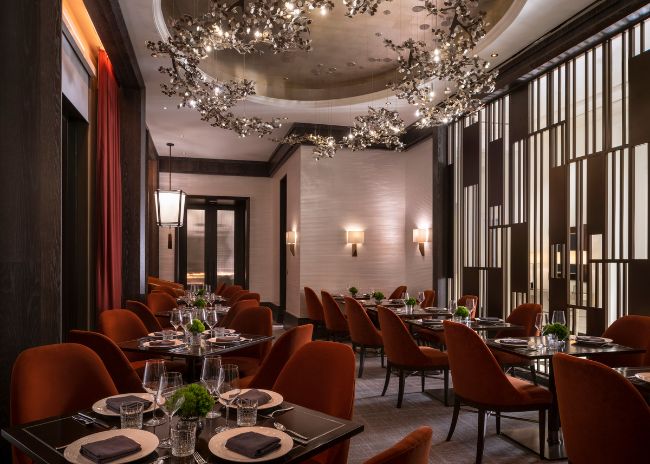 Atlanta's nickname of a "city in a forest" inspired BHDM's design narrative at the Waldorf Astoria, where the signature restaurant's chandelier is adorned with blossoming dogwood branches. Image courtesy of Adam Macchia
What advice would you offer to clients on how best to work with a designer to achieve project success?
Mazzarini: Come to the table with a clear direction and menu concept. Sure, things will adjust and change along the way, but the more specific and committed you are about what you want your restaurant to be, the more special and specific we'll be able to make your design. The most successful projects we've worked on are when there's a commitment to a food program, to a level of service and to a design narrative. If one of those changes after we get started — say, the chef significantly changes the food program — what we've been designing was driven by the initial vision and now no longer makes sense. So, my call to action would be to commit to your vision, and we can then bring that vision to life.
Collins: Have concept clarity and hire people who understand the restaurant business. Some of the bigger horror stories I've heard are from operators who've gone with really amazing residential designers. It's just not the same ballgame. And one of my favorite tools for helping ensure positive outcomes in relationships between designer and client is a responsibility matrix. We put one together for every project outlining everyone involved, all of the decisions that have to be made and who's responsible for what. It's extremely helpful.
Al-Fuwaires: Trust in the process of the design firm you've partnered with. Trying to change the way we work to fit your process or maybe the process used by another design firm you worked with in the past won't allow us to produce the best product possible. Also, understand that the supply chain landscape has changed. We may need extended timelines for specific tasks or phases of the design process now because of unexpected delays and workflow interruptions.
Thomas: Know your brand, what you want to produce, the experience you want to give your guests — and be able to explain that to us in very clear language. It's extremely difficult for us to start from a blank sheet of paper. One thing we do, especially if it's a new concept or a first restaurant, is ask the client to cut out pictures of looks and experiences they like so they can start to narrow down what it is they're after. Also, be willing to be engaged in the design process. Have all of the stakeholders in on initial meetings. Sit down with us at milestones to look at things and give honest feedback. We're designing for you, so the more honest feedback we get, the more successful your project is going to be. And if you're an established brand trying to re-energize, be willing to take a fresh approach to really make an impact. "This is how we've always done it" is a difficult pill for designers to swallow, and it doesn't serve your brand well when it's time for change.
What's one course or area of study you wish you would have taken that you feel could have helped you become a better designer or leader?
Collins: I'd have included study of the real estate development side of things to understand how developers work, what they're looking for and how to collaborate with them to get the results they want.
Thomas: I would have taken more art classes to explore different media, different ways to express myself artistically than just through a building forum. Ceramics, woodworking, painting — anything to look at design through a different pair of glasses. And now, being a business owner, I could have benefited from some business courses. You really don't get those in in the architecture or design curricula.
Al-Fuwaires: Gaining a deeper understanding of marketing and the way the human brain operates in response to marketing is a big one for me. Designing spaces really is, at the end of the day, creating a marketing tool for the business. How can we, as designers, directly influence, anticipate and prepare for the human response, whether to a space or navigation of a space or a color, etc.?
Mazzarini: I'd retake classes in architectural and art history, and history in general. I have a great visual memory but not a great memory for reading. I feel like when you're in school, everything means so much, but it's all so ephemeral. I'd retake those courses because they're so informative for giving projects a sense of heritage. Even if it's a modern project, it's getting its roots from something. And just for fun, I'd join a choir. I would not take a computer rendering class.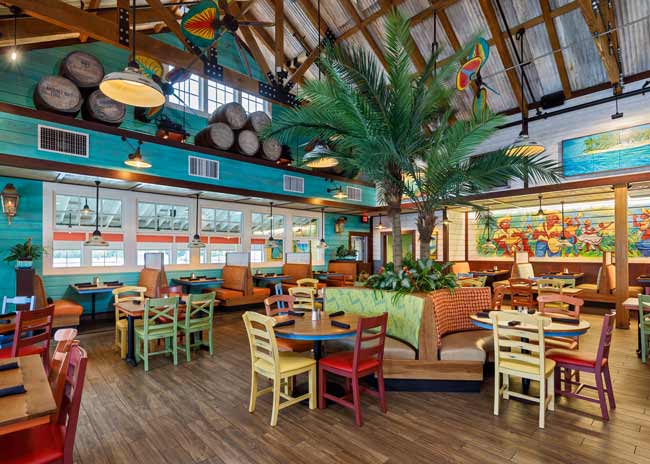 DP3's work at Bahama Breeze layers in design details from the tropics and old rum factories to build a casual, distinctive Bahamian vibe. Images courtesy of Kris Decker, Firewater Photography
What are some of your biggest restaurant design pet peeves?
Mazzarini: Bad lighting — lighting that is not responsive to the guest experience and is just random or ambient — is a big one. So is clutter on the backbar or other spots where stuff just gets put because there's nowhere else to put it. How did a designer not think through or ask questions around all the parts and pieces and plan the space so it's as clean and beautiful in 10 years as it is on day one?
Al-Fuwaires: The idea of an Instagrammable wall. What ends up happening is a lot of time, effort and money are put into one area of the space and the rest is ignored. We understand the concept behind it in terms of having something that begs that a photo be taken for marketing purposes. But we like to think of the entire restaurant as an Instagrammable space, with special moments throughout. Also cringeworthy to me: those industrial-looking chairs and wood-look tiles you see everywhere, both of which send a subconscious message of inauthenticity or lack of originality.
Thomas: I have a process-related one, and it's when front- and back-of-house are treated as separate entities. Visions for front-of-house design and back-of-house operations and flow really need to be in sync early on in every project. Too often, you see designs that were developed with those areas in separate boxes, when there really needs to be a holistic view of what that space is going to be.
Collins: One is just a general lack of concept clarity, when you're trying to be all over the place and are picking up design trends and throwing them in a space that has no cohesive point of view, no storytelling or rationale behind it. That just irks me. And we do sometimes get a client who pushes for an Instagram wall. While those moments can be helpful for marketing and making an impact for your brand, they shouldn't be drivers. They should be rooted in the design narrative that runs throughout the space and integrated to feel authentic.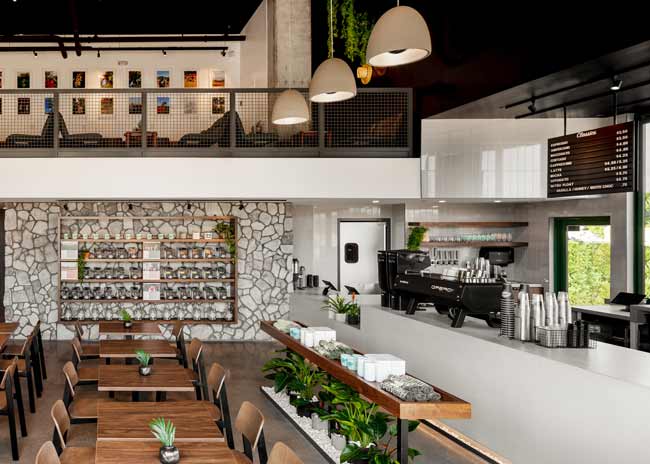 At Peixoto Coffee, House of Form used hyper- personal belongings to help tell a crop-to-cup story. One wall displays sun hats worn by members of three generations on the owner's family farm in Brazil. Image courtesy of Kevin Brost
Where do you see the biggest opportunities for design and materials innovation in restaurant projects?
Collins: One segment of the industry I believe could benefit from more design innovation is the very high-end, Michelin-star-type restaurants. They are often so focused on the food that the background canvasses are stark and blank. I'd love to see them use more storytelling and narrative exploration to enhance the experience. As for materials, we've come a long way in coming up with ways to deal with sound absorbency, but it's always an issue — and a very technical one. If we could have materials that really look like the ones we want to use on walls, ceilings, or floors but that also have great sound absorbency, that would be great. There's also a lot of room for innovation in finishes. We need more super-durable finishes that look and feel like natural finishes.
Mazzarini: I go back to integrating high-tech and high touch as a big opportunity for innovation. Think about QR code menus on tables. There has to be a better way, and it's probably more operational than design-related in terms of how that's made part of the experience. But even as designers, how do we start to think though and help clients integrate such simple technological solutions with more elegant design and service solutions? On materials, I agree we need more durable finishes. Even in high-end projects, clients are steering away from organic materials, and we're losing the beauty of woods and other natural surfaces because they damage more easily. I'm reaching out to vendors, asking for products that are heat-proof, scratch-proof and durable yet still beautiful. I know it's very niche, but that's what we need.
Thomas: We're all having to be a bit more innovative and flexible when it comes to materials due to ongoing supply chain challenges in some categories. Electrical panels for HVAC systems and refrigeration equipment are tough to get. And we've had to pivot in terms of furniture plans because foam for booths can be hard to come by. As designers, the best we can do is roll with the punches and work closely with the contractor. If they say you can't get option A but suggest option B, you have to be able to get your team on board quickly and decide whether or not it can work. Pre-pandemic, usually around 95% of what we chose as plan A ended up in the finished product. Now, if we're lucky, it's probably around 65%. Technology is also a big part of the innovation equation, even if not customer-facing. More advanced HVAC systems, for instance, can ensure fresher airflow and help guests feel more comfortable coming back in. And there's a great need for innovation around service models, especially considering the ongoing labor shortage. What kinds of technologies should we be looking at to help a restaurant operator alleviate the need for someone physically coming to check on a table every 10 minutes?
Al-Fuwaires: In general, there's a desire and opportunity to make commercial spaces feel more like our homes. Translating that to materials, more of the types of luxe products that we're seeing in residential spaces are being rated for commercial use. Manufacturers have done a good job so far, but there's definitely room for additional growth of that library of luxe materials and furnishings suitable for commercial spaces. And to repeat the theme, there's a big need for design innovation around technology. It has become so big in restaurants, but we need to take it a step further and begin to integrate it in ways that support brands without screaming "Tech!" In one or our projects, 36 Below, the client wanted guests to feel transported to a garden, even though it's a basement space with no natural light. Technology helped us to do that, with specialized lighting systems capable of mimicking natural daylight and audiovisual integration that makes it appear as though you're looking out into a vast garden.