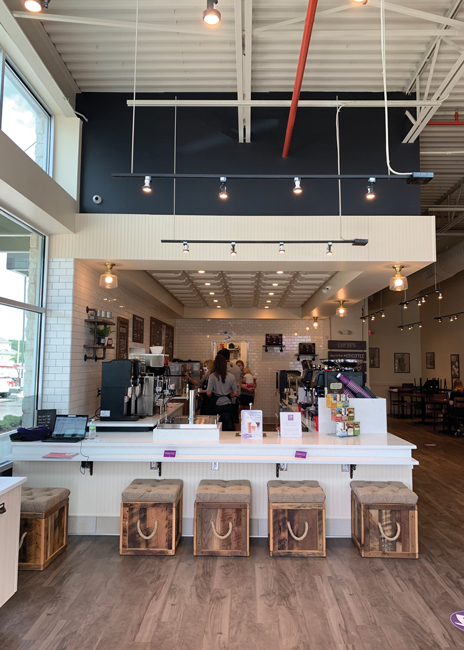 PJ's Coffee of New Orleans recommends a contingency fund of at least 15% to cover any unexpected hurdles. Image courtesy of PJ's CoffeeTwo factors can derail a restaurant construction project: time and money. Those factors can affect each other, too. If a project doesn't move forward in a timely manner, it can lead to rising prices as contractors wait for equipment to arrive or have to seek more pricey alternatives.
It's always a good idea to plan for things to go awry, says Mark Verges, director of location development for PJ's Coffee of New Orleans in Mandeville, La., and he recommends a contingency of at least 15%. Otherwise, he says, "you might run out of funding before you get the restaurant open. There will always be an unexpected condition."
Work Smart with Contractors
The contractors you select can have an enormous effect on your construction project. So, get at least three bids from contractors, Verges advises. And have a general idea of how much things cost so you can compare them.
Have expected completion dates for milestones of construction from start to finish and have them in writing, Verges says. "This helps keep the contractor honest and held to a definitive schedule for completion and certificate of occupancy." And contractors, he says, must ensure their subcontractors can complete everything in time, and have the needed inventory in stock.
It's also a good idea to have cost-plus contracts or "not to exceed" contracts, points out Troy Tracy, chief operations officer for Huddle House, Atlanta, Ga., which means the contractor is likely to do more due diligence. These contracts mean the general contractor is financially penalized for going beyond a restaurant's schedule, often a set amount per day or per week.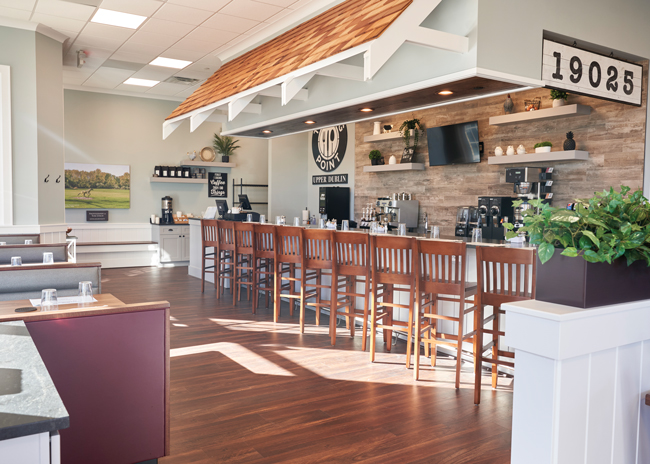 Turning Point restaurants capitalize on second-generation restaurant spaces. They maintain as much as possible from the existing space, even the layout in some cases. They also keep as much intact in the back of the house as feasible to keep costs in line. Image courtesy of Turning Point Restaurants
Due Diligence
"Most of the cost of delay and most of the challenges in keeping projects on budget can be mitigated by doing the necessary due diligence," says Tracy.
The front end of a project, Tracy says, "is not where you want to cut costs." He recommends thorough reports on the site first, with "a solid geotech report and more soil borings than you think you want."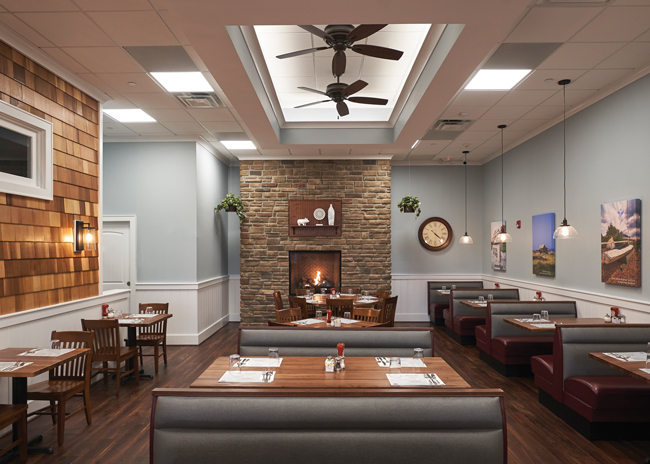 Image courtesy of Turning Point RestaurantsSecond-generation buildings typically have fewer surprises, Tracy points out, but they still require a level of due diligence. "It's almost always a good idea to look behind the walls through an infrared scan, but especially if you're in a hot and humid area where you might have mold and mildew. You might also want to check the load-bearing ability of the roof, and that the walls are actually exactly where the plans say they are," he says.
"With conversions there are unforeseen conditions. This means you may choose not to do some version of due diligence because it was very low probability and then — whoops! — guess what happened?" Tracy says. "Due diligence will slow you down but will pay off on the back end."
Kolache Factory, Katy, Texas, compares projects to its standards so it can check for anything that's out of place, and it's best to look at the front end, says James Ortiz, corporate project manager for the 58-unit chain.
This could be something as simple as making sure the correct type of power outlet is specified for a piece of equipment. If the wrong one's put in, says Ortiz, "they have to uninstall it and reinstall the whole thing. It's usually in the details, and if a lot of details are missed it adds up."
He recommends reviewing drawings and reviewing a lot. "In the design stage, we do the floorplan, layout and equipment list and make sure everything is there," says Ortiz. "We send that to the architect and they send it back to us for reviewing a final time and make any changes before it goes to permitting. We always catch stuff and it's always cheaper to fix that in the design phase than when the store's in construction — that due diligence upfront is so important."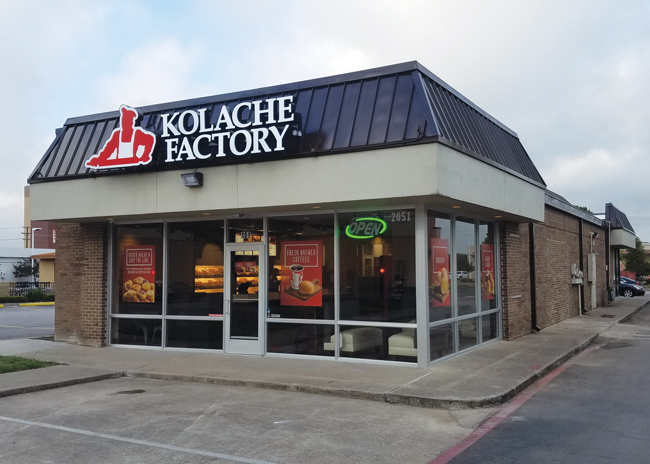 Kolache Factory typically retains millwork in remodels to save money on projects. Image courtesy of Kolache Factory
Reuse What you Can
Reusing elements of a former restaurant in a second-generation space not only saves money and time, but it just makes sense.
Kolache Factory typically retains millwork in remodels, "which saves us substantially," Ortiz points out. The brand keeps the millwork in place, then reskins the front and adds new laminate. Ortiz says this typically saves $10,000 to $15,000.
Christina Crin, founder and director of design with Perpetuum Designs, Chicago, finds table bases are always reusable in restaurant projects. "We can clean them, paint them, make them brand new. These can run $125 to $700, so it's a good savings considering how many are required," she points out. She puts the saved money into tabletops, which can be more expensive, and make a huge difference to the restaurant. "No one will notice the bottom and everyone will notice the top," she says.
Simple things like keeping the same layout can save a lot of money on a buildout, says Matt Alkon, new store development and facility director for Turning Point Restaurants, a daytime concept with 22 locations, headquartered in Eatontown, N.J. "If we can design our restaurant to keep the kitchen in the same place that can save $20,000 to $30,000." And, if he can, he'll retain fiberglass wall coverings or flooring and bring in a cleaning crew, which is a lot less costly than buying new.
He also likes to save as much equipment as possible, so evaluates everything from HVAC ductwork to grease traps. Also keeping these all in the same places saves a lot, too.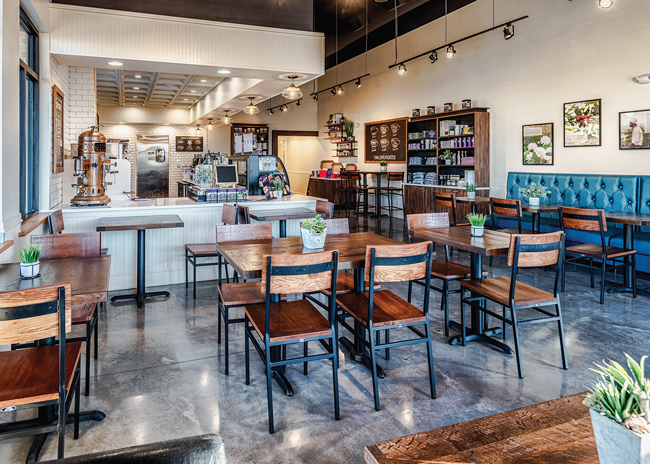 The team at PJ's Coffee prefers to secure at least three bids and to make sure everything related to the project is in the contract. Image courtesy of PJ's Coffee
Consider Substitutions
Being open to substitutions for a restaurant buildout can save vast sums of money, but it has to be on the right things.
"As a general rule of thumb, I won't budge on the items that will affect my customer or staff," says Alkon. "I will budge on behind-the-scenes items like a different color on my closed kitchen or finishes. I don't want to compromise what the guest is actually seeing."
Alkon also doesn't mind substituting front-of-the-house items that don't affect the guest experience, so a ceiling fan might be switched out, for example. "But when it comes to a booth or my wall sconces, those are the things you wouldn't sacrifice."
Beyond saving money, being open to substitutions can also save time and get your restaurant opened faster. "We spec equipment like our HVAC, but sometimes you have to make the sacrifice and get a different brand because you can get it much faster and at the end of the day they're going to provide the same function," Alkon points out.
It's even worth spending more on a piece of equipment if it's going to save time waiting for another piece, Alkon adds, just to get your restaurant open.
Huddle House is also open to change. "We look for the core essence of what our brand standard is and don't deviate from that," says Tracy. However, the brand has switched from wooden to metal seating because it came in the right color, and it's gone with some different colored chair backpads.
If the brand considers a different piece of equipment, first it will put it into its test kitchen to make sure it works for the brand. "In order to stay on time and on target we'll analyze different equipment and furniture so long as they maintain the intent of our brand," says Tracy. "If it doesn't impact our guest experience or our employees' ability to produce and serve guests and can speed up the supply chain, we'll look at it."
Timing is everything for the seasonally-focused Rita's Italian Ice. Image courtesy of Rita's Italian Ice
Be Diligent
Jonathan Baske, senior director of development for Rita's Italian Ice, Trevose, Pa., keeps a close eye on timing. "Any time you lose time upfront is time and a half on the back end and that's been proven over and over." At the same time, he points out, any time you can cut off on the front end means you can bring the opening of your restaurant forward.
Rita's, he points out, is very seasonal, so if the concept is trying to open a shop in April or May, "it would be advantageous to spend a little money upfront to allow a general contractor to work overtime. It's worth the additional money and effort upfront to open two weeks early."
Ordering products and navigating the snail's pace of the supply chain is one of today's biggest construction project challenges. The lead time on ovens is typically more than six months right now, for example, says Ortiz, whereas it used to be closer to four weeks.
To cut down on delays, Kolache Factory orders equipment as soon as a franchisee signs, even though they're not yet ready to build, and has its vendor hold them for a while. Equipment for corporate stores is also ordered in advance of construction, and held in a warehouse.
Don't forget to factor in the weather, says Tracy, building additional time into your schedule, for example, if you're building in the Northeast in October. Also consider the rainy season in the south, as well as hurricane season.
"We might add six or seven weeks because of rain. You won't be able to compact the parking lot then lay the asphalt. It's anticipating that delay with weather and having good strong contractor networks within that region — you don't want them to overpromise and under-deliver."