Bluestone Lane expects to have 56 coffee shops in the U.S. by the end of 2021, which makes it a tiny player when compared with a behemoth like Starbucks.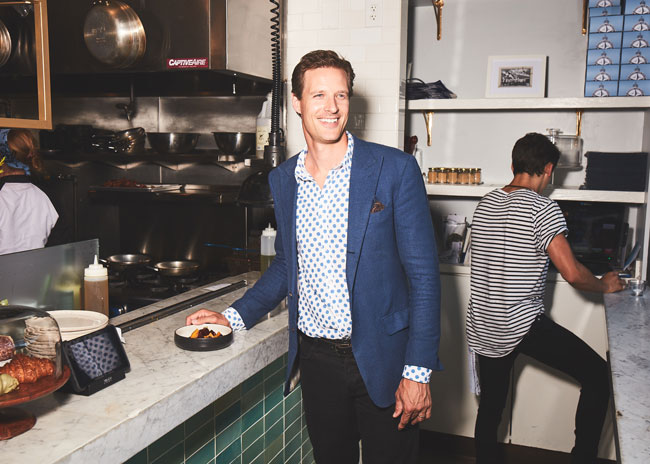 Nick StoneBut founder Nick Stone doesn't want to be another Starbucks. Instead, his goal is to operate a chain of coffee shops that each feel individual, unique and boutique.
But how do you develop a chain of restaurants — since chains thrive on uniformity, consistency, and a cookie-cutter quality — and have each one feel like it's a standalone?
Stone, who launched Bluestone Lane in his native Australia in 2015 (all stores are now in the U.S.), tells rd+d what it takes to grow a chain full of boutique stores.
1. Be open to any location.
No Bluestone Lane location is the same as another. The coffee shops have opened in traditional stores but also locations as diverse as a former railway station (Los Altos, Calif.), a church (New York City), a library (Foggy Bottom, D.C.) and a surf shack (Montauk, N.Y.).
Bluestone Lane's Upper East Side Café in New York City"We don't have to create a uniform box that conforms to the space," says Stone. "We frequently conform the Bluestone so it works in the original space, and use creativity to bring out unique elements in a location, and often that means you have an unusual column or variation in the ceiling height. The big chains eliminate those things, but we see them as a point of differentiation."
2. Bring in local touches.
"We add salient touches to honor and acknowledge the environment we're in, in each location," says Stone. This might be acknowledging historically what a building might have been previously used for — in Los Altos, for example, the store features a caboose. In West Hollywood, a coffee shop in a former florist features a mural of native Australian flowers.
Famous local landmarks, sports teams and celebrities might be featured too, he adds.
3. Adapt each store to the location.
Stores do not have uniform hours or even identical menus. Some stores have kiosks for customers on-the-go, others have larger seating areas for hanging out. "Everything depends on the behavior of the locals," Stone points out.
"We have a lot of sources for data on our customers including social media channels (Instagram, Facebook), review sites (Google, Yelp, Tattle), customer surveys and our proprietary data that comes from our tech channels, including our app."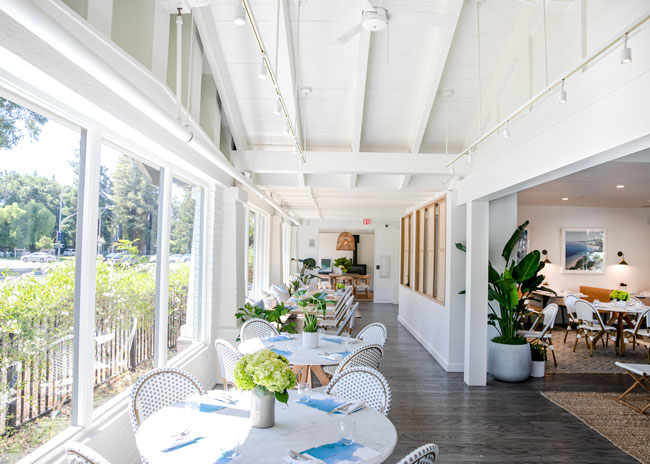 Image courtesy of Bluestone Lane Los Altos
4. Focus on service.
Every Bluestone Lane location's consistency comes in the form of service. "We focus on hospitality, recognition, human relationships," says Stone. "That means when [customers] go in, they get that feeling that the team knows their name, face and order. That's what makes our stores feel special and boutique."
Making great coffee and great food requires discipline and creativity, says Stone, "but it's not as hard to execute as service. And service is what people remember."
5. Hire for personality.
Bluestone Lane's Chelsea Pier location in New York City. Image courtesy of Ben HiderEverything Bluestone Lane does is customer-centric, so every team member has to want to put customers first. "They have to want to make people feel happy and to be part of a team where you're an encouraging and happy teammate," Stone points out.
"You have to be dependable. You have to have flexibility. You have to love working with people. You have to have resilience because there are bad days. It's got to be your dedication to being service-led and making people feel they're a local, not a customer."
Stone also hires internally as much as possible. "We have a development program for where people might want to move in the organization," Stone points out. "We're always promoting opportunity from within. Employee engagement is everything."
6. Train and train some more.
All new employees go through an in-depth two-week training program at Bluestone's "coffee lab," which has a strong focus on service. Training takes place in stores and the company offers a full training library that staff can access digitally at any time. This includes videos, pictures and slides showing exactly how everything is done. This archive is helpful, Stone says, because it means employees don't need to remember everything during their initial crash course.
Bluestone also does ongoing training through its coffee lab and multiple training stores. "Training is relentless, and you need repetition," Stone says.
7. Review performance.
Bluestone Lane has a twice-yearly review process to review employees' performance and discuss changes in compensation. "We have two formal reviews a year, so everyone knows what they need to work on, and we know internally where they see themselves," says Stone. "They might be a barista but have ambitions to move into culinary or management. Having that formal process of two reviews a year gives us that feedback."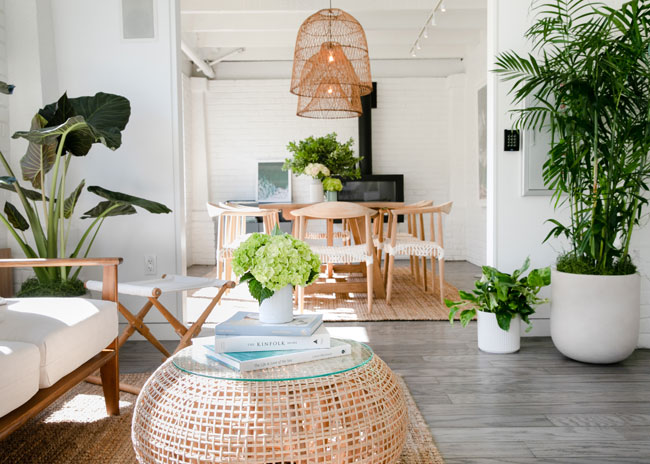 Bluestone Lane Los Altos
8. Keep some things the same.
Bluestone Lane's core customer doesn't want everything to be different — many surprises can be too much of a good thing. "They want the beverage profile, the plating, the fulfillment speed to be uniform in all stores," Stone notes.
"But they love this notion of going to their Bluestone. It's not going to a Bluestone, but to their Bluestone."