Multiconcept operator Fish & Fire Food Group opened The Point, a sustainably focused restaurant featuring a menu of seafood, coastal cuisine and American fare.
Situated at the tip of Buzzard Point, where the Potomac and Anacostia Rivers meet, the expansive restaurant operates in the former U.S. Coast Guard headquarters and shares a building with the new RiverPoint Apartments. The restaurant operates from a well-trafficked area that includes James Creek Marina, Audi Field and Nationals Park.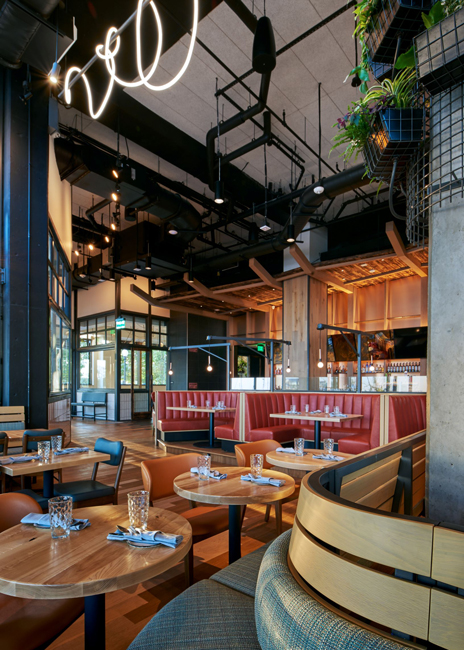 Seating at The Point includes a mixture of banquettes, two-tops and booths.The Point's contemporary interior designed by CORE architecture + design pays homage to fire and water throughout the decor and hues. Diners can find accents of sturdy fisherman equipment throughout the space that express their adventurous spirit. The outdoor patio and open-air bar seats more than 140 guests with views of the waterfront. The Point also features several private dining options and what the restaurant describes as a unique Green Room, where a private party can take place inside and out.
An added amenity, Beside the Point serves as a store and marketplace, offering to-go food like soft-serve ice cream, calamari cones, lobster rolls, and hand-cut fries as well as sushi, bagels, spreads, coffee, and take-and-bake meals.
Other Fish & Fire Food Group concepts include recipient The Tavern at Ivy City Smokehouse, Tony & Joe's Seafood Place, and Nick's Riverside Grill.