Dawn ArcieriWith more than 30 years of experience in food and beverage design, Dawn Arcieri, NCIDQ, RID, senior associate at Gensler, has worked on more than 200 restaurants ranging from small-scale dining to prototype roll-outs for fast and casual restaurants alike. A short list of her projects includes Local Pour, Jaxton's Bistro, Baker Street Pub, Karbach Brewery, The Landing Cafe, Amerigo's, JCI Grill, Max Bowl, Galveston Mid County Annex Building, Brix and Brixology.
"It's easy to see that Millennials are having their moment," says Arcieri. "They are taking over buying power from the Baby Boomers and encouraging businesses to adapt to their unique desires along the way. In the dining scene, specifically, research shows that Millennials eat out three times a week. As restaurant developers and designers, it is up to us to analyze this generation and deliver spaces and experiences in line with the trends that attract them."
Below, Arcieri offers up some ways she designs with Millennials in mind.
Design for community. While Millennials are known for being glued to their phones, research shows they prefer eating out in large groups rather than going out with one or two close friends. With the idea that Millennials see dining as more of a social event, communal tables and food halls have had an increased presence across the market. We are encouraging restaurateurs to consider communal seating options, essentially bringing back the concept of a community-centered eatery. Millennials want to eat in large groups, but they all might not be craving the same meal. Food halls have the ability to offer diverse cuisine from independent vendors, from local restaurateurs to larger brands or celebrity chefs.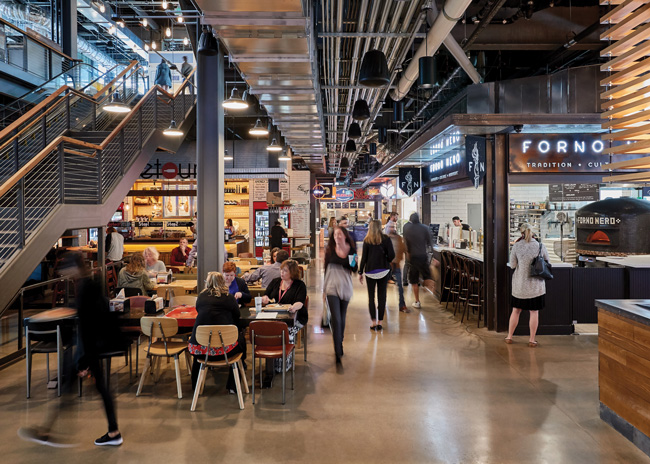 Legacy Hall in Plano, Texas. Image courtesy of Garrett Rowland
Design for health. Whether a whole foods restaurant or burger shop, it is now crucial to include healthy living or wellness elements in your branding, especially when targeting Millennials. We recently completed a new restaurant prototype design for Burger Boy in San Antonio, and it was made clear that their use of healthy ingredients needed to be included in the new branding displays. On Burger Boy's website and social outlets, customers can see through the layout, branding and displays that the quality of its burgers is the number one priority. Whether you are going organic, local or sustainable, Millennials are willing to pay a premium for fresh and healthy food, and they'll go to great lengths to find it.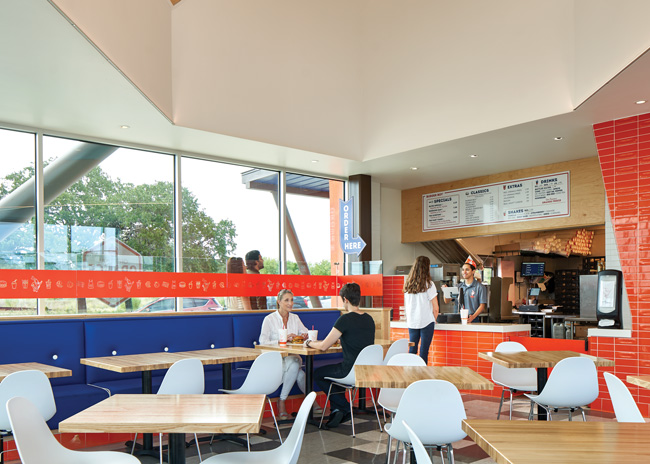 Image courtesy of Dror Baldinger
Design for experience. We are living in a world of Instagram influencers and brand ambassadors. If you want your restaurant to gain credibility with Millennials, it better include an Instagrammable experience for them to capture. More than just unique plating, as designers, we are encouraging restaurateurs to give this generation even more content to snap photos of. Think colorful, patterned floor tiles (see the hashtag #ihavethisthingwithfloors), the ubiquitous neon signs — and you better not forget the iconic selfie wall. This generation is looking for craftsmanship and elegant attention to detail from art expressions to bathroom tiles, creative cocktails, thematic music, relaxing scents and discrete technology. No pressure, but every element in your space is now part of a greater experience that this generation is paying attention to.
El Barro in Austin, Texas. Image courtesy of Elena Grey
Design for space. It is becoming more common for people to get their food delivered or take it to go. Because of this, when we are designing a space to appeal to Millennials, we are typically designing with a smaller footprint. Large restaurants that seat hundreds of people are becoming more and more empty, and small authentic restaurants and cafes are becoming more prominent. Restaurants should work to create distinctive spaces that not only evoke a custom, "only here" feel but also create perfect opportunities for image sharing on social media. This can come in different forms, from quirky menus to separate rooms to unique floor tiles — anything to make a restaurant and the spaces within stand out.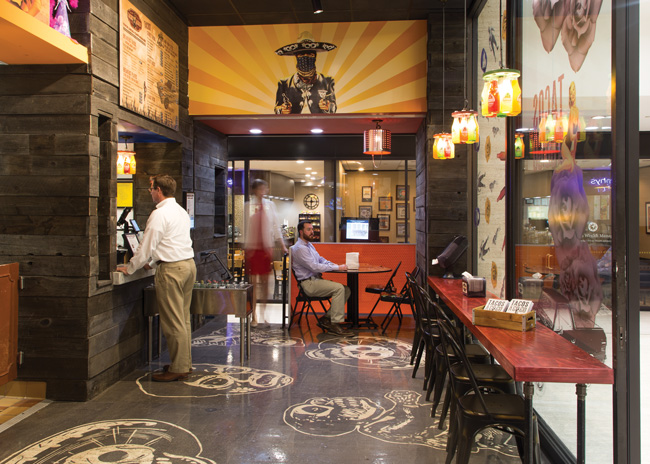 Tacos A Go Go in Houston. Image by Prithwiraj Ghosh Roy
Design for convenience. Millennials crave convenience. If they didn't, platforms like UberEATS and DoorDash would not be as successful as they are. When designing for convenience, it is important to remember features like curbside parking for to-go orders and drive-thrus. Drive-thrus are not just for fast food restaurants. We recently encouraged Orleans Seafood in Houston to include a drive-thru in their new location despite being known as a dine-in restaurant. After polling their clients, Orleans Seafood discovered their customers would, in fact, visit the restaurant more if they included a drive-thru option. Moving forward, you will continue to see many more restaurants redesigning to accommodate delivery and takeout, even if it means creating separate drive-thrus solely for delivery drivers.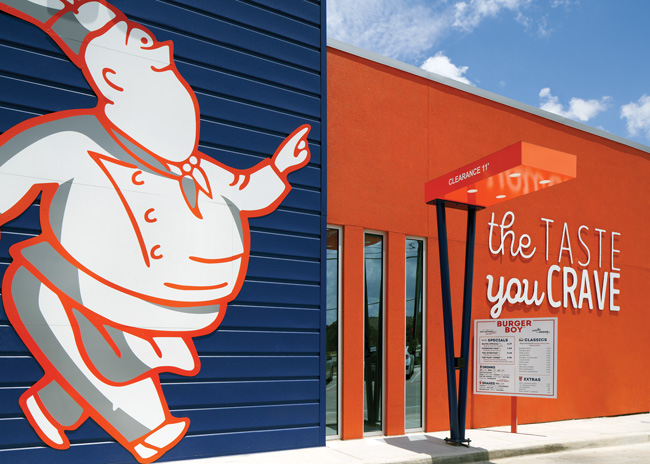 Image courtesy of Dror Baldinger