For our complete profile on America Eats Tavern click here. 
 Design Insight: Vincent Celano, Celano Design Studio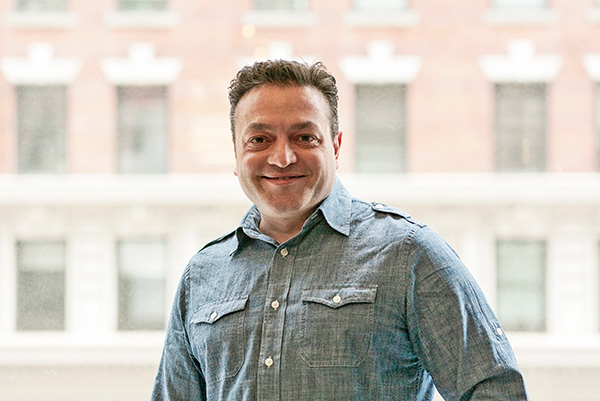 Client Vision. José's vision and personality drove a lot of the design directions. The private dining room is a good example, with the big reproduction of "Sugar Overload" and the chairs that look like upside-down chairs. If we were to follow a literal interpretation of his vision, the table would be upside down on the ceiling and with the chairs glued around it, but we didn't think that would work. I have a feeling he may eventually figure out how to pull that off. But that's sort of how he pushed us to think outside of the box. It's relevant to his cooking, and for us it was very exciting.
White. Early American colonial detailing is very intricate, so we thought that if the private dining room is white and clean, we'll have a modern, fresh, minimal feel that is juxtaposed with the detailing that's the next layer. It was very intentional to have a clean, white backdrop. It's a bright space, but at night, with the lighting, it picks up a nice warm glow.
Graphics. The graphics package was an important layer in this concept. For example, the tabletops in the bar are a solid white, modern surface but with custom graphic decals of farm animals embedded into them. They take this idea of celebrating farms and country life while making it a little modern, clean and somewhat understated. Graphics also come into play in the oversized script over the expo kitchen. It's an excerpt from the preamble to the Constitution — "We the people . . ." We liked that because it fit the Americana concept and also in an abstract way it speaks to José's passion, which is cooking for the people.
Challenges. When you're working with an existing space or restaurant and you propose to move the bar, it's not always as easy as you think because of the structural flow, what's below, etcetera. So really pushing for a layout that made sense was the challenge here because, what we thought we could do, we couldn't. It's also always challenging to work in a hotel that's operating, to make sure the construction schedule works with the hotel schedule.