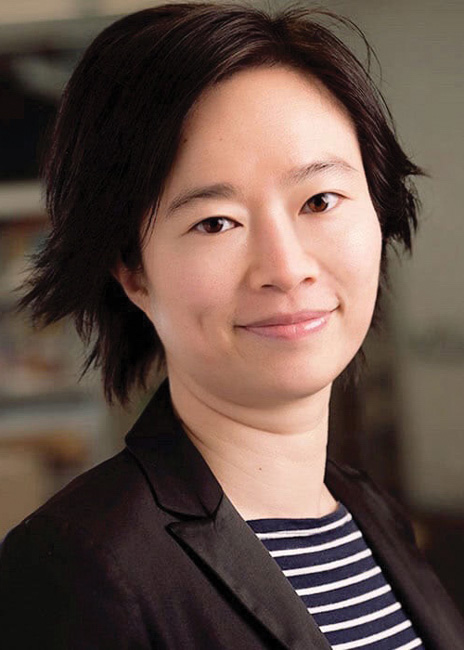 Yuwen Peng's expertise in hospitality, retail and entertainment design has contributed to the development of many award-winning projects around the world. Based in CallisonRTKL's Los Angeles office, her human-centric approach to a wide variety of social spaces has resulted in numerous cross-sector innovations and a long list of prestigious clients such as Wolfgang Puck Restaurants, W Hotels, Lucky Strike Lanes and Hyundai Department Stores in South Korea. Here, she discusses some silver linings she's seen emerge despite the challenge of the last two years.
The last year and a half has been complicated for everyone, and restaurant operators have taken on tasks that were far beyond their usual responsibilities and concerns. Given how challenging this time has been, what have you seen as the key innovations and/or silver linings that have emerged in the restaurant arena?
YP: The one silver lining that's near and dear to my heart is witnessing a variety of chefs become so resilient throughout the pandemic. During the initial lockdown many lost their jobs, but they used the time to pivot and come up with their own innovative micro pop-up concepts. As long as you have a strong sense of creativity, there will always be an audience willing to try something new. Thanks to the efficiency of ghost kitchens and the benefits of social media, many chefs' voices are now easily heard. Additionally, the Black Lives Matter and Stop Asian Hate social movements boosted minority confidence. These factors have combined into a beautiful rising tide of diversified subculture cuisine. Lastly, I am also happy to see that cities are taking back the streets and converting driveways into outdoor dining patios. The pedestrian-friendly streets make our neighborhoods more walkable and lively.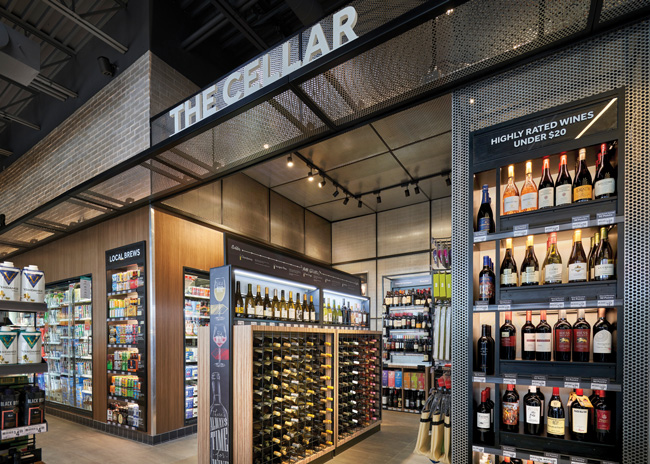 7-Eleven's test lab store, developed by CallisonRTKL, features upgrades to the c-store experience including a wine cellar. Images by Dror Baldinger, FAIA, courtesy of CallisonRTKL Inc
Alternately, what are some pandemic trends happening in restaurants currently that you'd like to see go away as the pandemic is (hopefully) brought under control?
YP: I'd love to see the plastic divider go away or be better designed. I'd also love to see more plastic bags and utensils go away, and be replaced by reusable, biodegradable,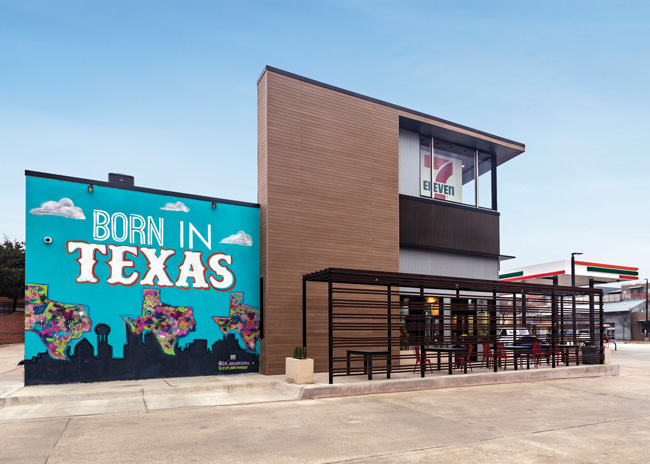 An elevated facade includes a reminder that 7-Eleven was created in Texas. and/or minimum takeout packaging.
Your firm has a lot of experience blending restaurants and retail. Is there a formula for success in melding the two? And, if there is, what does it entail?
YP: Both retail and restaurants are trying to make customers feel like part of their family. A savvy brand doesn't stop at one transaction but extends the experience to encompass all the values that the brand represents. Whether it is social responsibility or local representation, customers are the ones buying a culture behind the products. The formula melding the two for me is in designing a safe and relaxed environment that allows patrons to stay and explore at their own pace. When done successfully, this atmosphere won't be overloaded with products but will be loaded with the good vibe of what the customer associates with the brand.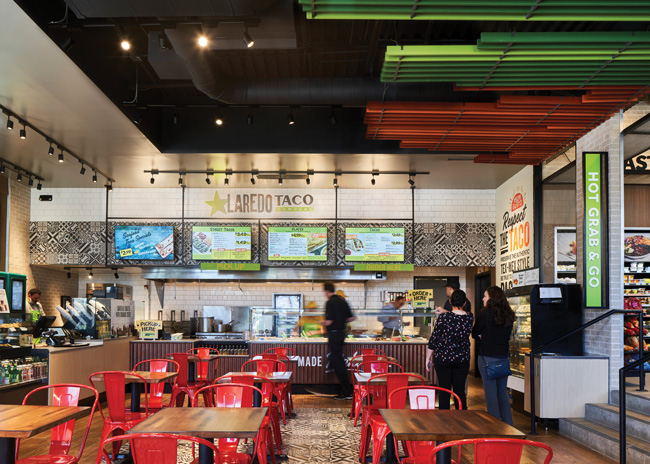 Laredo Taco Company is part of 7-Eleven's aggressive push into the QSR space, further blending lines between convenience, retail and foodservice.
Launching 7-Eleven into the QSR space further blurs lines between convenience, retail and restaurants. How was your firm's work on 7-Eleven's test lab different from other restaurant/retail hybrids you've worked on?
YP: Our design of the first 7-Eleven test lab store is close to the original store location in Oak Cliff, Texas. We created a store that showcased the local Texas culture alongside 7-Eleven's brand legacy of a convenience-meets-friendly neighborhood vibe. This included collaborating with local taco joints, showcasing specialty/unique products, and incorporating custom murals and signage pieces, like the Heritage Wall that highlighted the region's history and culture at the center of the store. This created a tiny social space where all sides of merchandise are accessible to your line of sight, with full transparent food prepping in front of your eyes. It's an organized capsule, pleasing to the eye, and it elevates the shopping/dining experience, eliminating traditional high shelves of cramped products.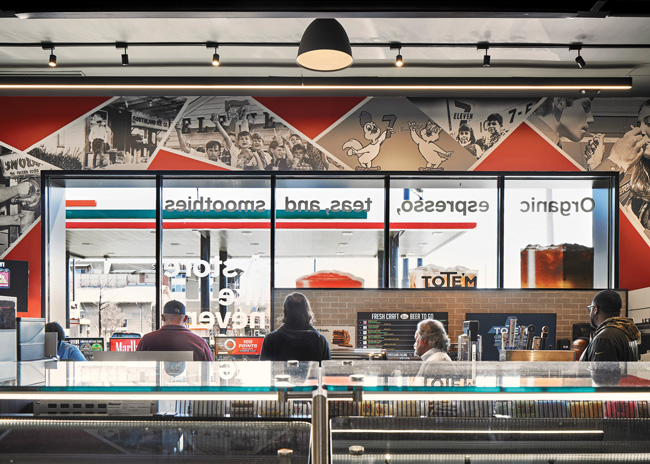 Food prep is done in front of the customer at 7-Eleven's new in-store QSR.
Finally, what are you most looking forward to in the next year?
YP: I'm looking forward to all of the microconcepts that will emerge within the F&B and retail industry as well as exploring the brands that pay attention to more sustainable and human-centric approaches. These brands are agile and fearless to try something new and crosspollinating to help each other succeed. In my opinion, the more we cross boundaries to ask questions and learn from each other, the more innovation strikes out. We can all benefit from the newfound humanity we've seen emerge during the pandemic by celebrating cultural diversity — and the joy of social gathering and living sustainably one meal at a time.