There are a lot of benefits to being part of a well-established restaurant concept. Name recognition, a loyal customer base, economies of scale in purchasing, a process for expansion, and more.
But being well-established isn't all champagne and roses. Having a legacy, and legacy stores can present its own challenges.
The leadership at Mountain Mike's Pizza can attest to that.
Based in Newport Beach, Calif., just south of Los Angeles, the first Mountain Mike's location opened in 1978. Today, the chain has more than 200 restaurants in California, Oregon, Nevada and Utah. The concept bills itself as premium pizza in a comfortable, welcoming environment where people can gather.
"Mountain Mike's is really about community engagement and having a passion about our guests and giving them a space where, pre-COVID, we could come together. Kids can play arcade games. Mom can grab a beer and watch whatever game is on television. It's really about celebrating life and community," says President and Chief Operating Officer Jim Metevier.
Metevier is part of a group of leaders who joined Mountain Mike's after it was sold in 2017 to co-CEOs Chris Britt and Ed St. Geme. He was drawn to the company, he said at the time, by its strong leadership and franchisee base.
Like all new leaders, though, he saw some areas where the chain could improve. One that stood out was Mountain Mike's design. While the look and feel was generally on point, there was a systemwide lack of consistency, says Metevier.
"We are a 40-plus-year-old brand. With that old of a brand, you have 40 years of different expressions of the brand out there. When we came in we saw an opportunity to create a little more standardization, so we could deliver that consistent brand promise regardless of where our restaurants are."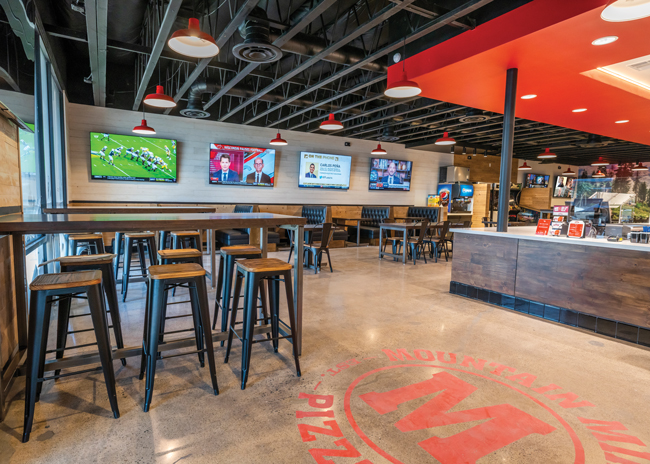 Outsider to In
This effort didn't begin with Metevier coming in and starting the redesign on day one. The chain, after all, was succeeding. The design team instead leaned on the knowledge that was already in the system. That attitude helped the franchisees accept and really embrace the redesign effort.
"It wasn't like we came in and tried to force something down their throats, like, 'We're the smartest people in the room, and this is what you're going to build.' Instead it was 'You are the Mountain Mike's family, you built this brand. We're going to take the best of what you do and standardize it. I think that taking people with us through the process really paid dividends."
Listening to the existing Mountain Mike's team involved a close partnership with the chain's territory development agents, many of whom have worked with the chain for decades.
In the Mountain Mike's system, these agents, says Metevier, are responsible for more than franchisee identification and support. In many cases, they've also been charged with handling restaurant design.
Mountain Mike's leadership asked these agents to identify the best stores across the system, including in different geographies, to figure out the common design elements that connected the restaurants to the brand, the contemporary consumer and to the communities where they operated.
At this point, Mountain Mikes brought in outside help, working with two different design firms to help generate design ideas and elements. This included a brand exploration, looking at different colors, and pictures related to the concept. The design team made sure not to get too abstract, though.
"When you have over 200 restaurants, what you don't want to do is go from A to Z and then find you've left behind who you truly are as a brand," says Metevier. "You've got to do things in an incremental way. Maybe you press the envelope here and there on little things but nothing that is going to be so dramatic that you are all of a sudden something that you weren't."
These exercises eventually led to Mountain Mike's new design, which rolled out in two stores in the Newport Beach area — both just a quick drive from company headquarters — in 2020. Both have operated under multiple sets of pandemic guidelines, including carry-out/delivery only, outdoor dining only and indoor dining. One store was a "cold gray shell," says Metevier, while another was a second-generation restaurant space, allowing the chain to see how the design could be implemented in different types of real estate.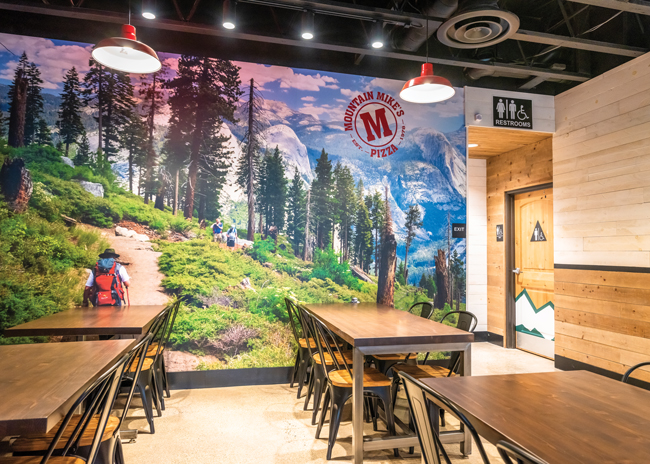 A large vinyl wall covering of an outdoor scene is one of the chain's "brandatory" elements." Franchisees can choose from multiple versions.
New Prototype
The typical Mountain Mike's store is between 2,500 and 3,500 square feet and is located in a shopping center of one type of another (such as a power center, lifestyle center, etc.).
That means there's no single set prototype. Instead, Mountain Mike's locations are designed to fit their real estate and, in the new design, expected to have a set of "brandatory" elements.
These elements are meant to bring together two aspects of the Mountain Mike's brand: the pizza and the great outdoors.
"How do you tie those two together?" asks Metevier. "Mountain Mike's is more of a lifestyle, an aspirational feel of embracing outdoor adventure, but at the end of the day we are all about the pizza. We try to weave all those together so people have a place where they can congregate."
Connecting the outdoors with a pizza restaurant, for Mountain Mike's, means combining natural, almost rustic materials with plenty of strong branding elements.
The chain's new flooring specification calls for polished concrete, replacing a number of different floors used throughout the system, such as carpet and wood-look tile planks. The chain chose this finish, says Vice President of Development Garrett Snyder, because it is cheaper and easier to maintain than other options, as well as rustic and natural.
A few steps into the store is another brandatory piece, a large red floor logo, helping to announce the store to guests. This piece, placed slightly off center, actually serves as a subtle wayfinding cue, pointing guests toward the POS station. At the POS station features another new essential design element, a red soffit with the chain's "Pizza the way it oughta be!" tagline along with an alternate version of the chain's logo.
"We always want to make sure people know they are inside a Mountain Mike's, that our logo is very relevant," says Snyder.
The POS counter is topped with quartz, while the face is real wood planks. This is just one of several spots in the new design where real wood is put to use. The booths are wood, as is the wainscoting. Above the wainscoting on several walls is even more wood, in this case whitewashed planks that help add to the restaurant's outdoorsy aesthetic.
The POS counter curves, leading to two other key elements, the first being Mountain Mike's salad bar and pizza buffet. This section is designed to make Mountain Mike's a viable lunch option for people on the clock. A legacy offering, the buffet has traditionally also been offered for limited hours on some nights.
This new design was introduced during the pandemic, so the buffet in these new stores hasn't been used. Metevier is confident, though, that it will still be relevant post-pandemic. People will want to dine in, and want pizza at lunchtime.
Past this is the bar, which features a television — one of many in the restaurant, all playing sports — along with a red powder-coated tap tower with about a half-dozen offerings. The bar has just a handful of seats, allowing the chain to serve individuals who want just a beer and an individual pizza.
Bar seating is just an example of the many different customer and party types Mountain Mike's wants to support. Other seating options include high-top tables, booths (good for families, notes Metevier), floating standard-height tables and banquette seating.
When space permits, the new design will also include a small arcade area with three to five classic games as well as a party room that can host birthdays, little league teams and other gatherings. The chain, notes Snyder, won't build party areas if doing so impacts needed seating for regular guests.
In addition to seating and materials, Mountain Mike's graphics package plays a key role in the new design.
One signature element is a black and white vinyl wall covering creating the map wall.
"That has the actual city where the restaurant is in. We don't want to be cookie cutter, so every restaurant has a different map wall with landmarks that identify with that certain city," says Snyder.
A second vinyl wall covering is the nature scene, a large-format photograph of a mountain landscape with a company logo in one corner. There are five different landscape photos to choose from, once again allowing franchisees to individualize their restaurants.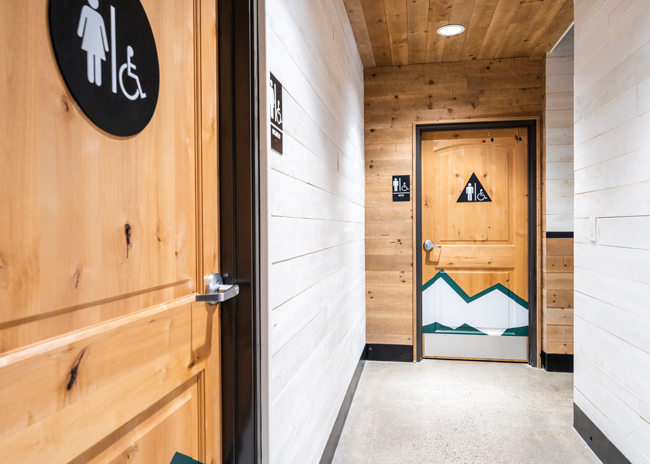 The chain maintained its outdoors theme throughout the space, even on the walk to the restrooms.
Revising the Redesign
The new Mountain Mike's locations have been up and running for over half a year now, and the chain is pleased with their performance, says Metevier. The second half of 2020 saw a few months of indoor dining in California, allowing the company to test basically all aspects of the restaurant, with the exception of the salad bar and pizza buffet.
That's not to say the chain is done with its work on its design. Mountain Mike's is now in the value engineering phase, says Snyder. Among the potential changes: The use of real wood, particularly on the walls above the wainscoting, is being reconsidered, as is track lighting, which may be replaced by something easier to maintain.
Other changes could end up being even more substantial. The chain is betting that the increase in third-party delivery and carryout will endure even after the pandemic recedes. To that end, Mountain Mike's is considering adding a third POS register, separate from the two it currently employs, to handle this off-premises business.
The company is also looking to expand its outdoor dining program. At Mountain Mike's, outdoor dining is a nice bonus if real estate allows it, but it's not required. Still, the chain is looking at ways to enhance the outdoor experience when possible. In some cases, the company will add smaller branding elements, such as wall/window graphics that enhance the outdoor experience. In others, it is exploring bigger investments, Snyder says.
"We are going to be doing some indoor/outdoor feel and indoor/outdoor bars, too. We're looking at maybe a standardized Mountain Mike's Pizza logo on umbrellas and standard
furniture and TVs."
These indoor/outdoor experiments will first be tried primarily in Arizona, a new market for Mountain Mike's. The chain is currently expanding into that state with multiple locations. As with its other stores, the company is targeting areas with lots of rooftops, such as the suburbs, where Mountain Mike's can be a part of the community.
The chain's expansion isn't focused exclusively on Arizona, though. It will continue to grow in its existing footprint in the Western United States. Any expansion of that footprint will be in the same general area, moving west to east, says Metevier. This approach makes it easier for the company to build/benefit from name recognition as well as support franchisees.
For existing franchisees, the chain is working on upgrade packages, treating each as a unique project. As franchise agreements come up for renewal, the company is making sure its redesign requirements aren't too onerous. The brandatory elements, such as the map wall, red soffit and furnishings, will be required, but a full gutting to match an ideal floor plan will not.
This, says Metevier, is part of the chain's culture, one that it's demonstrated throughout the redesign process, starting with input from the people with boots on the ground.
"We are only successful if [our franchisees] are. We go out, build relationships, understand their family stories, understand their Mountain story," says Metevier. "We ask them what works, what doesn't and what would they change. They trust us because they know we are here to make them successful."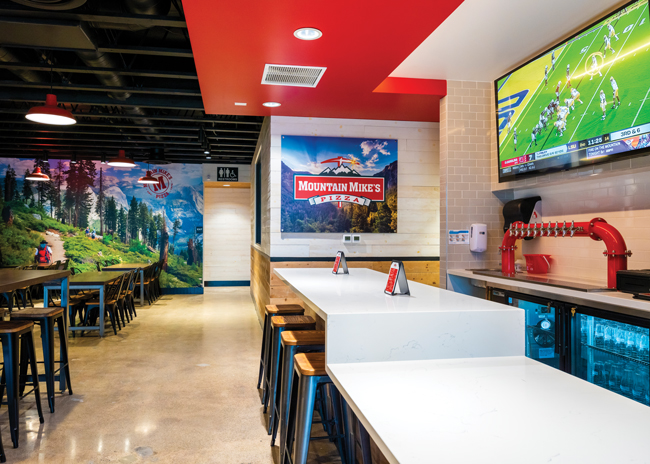 Project Team
Project lead: Mountain Mike's development team
Architect: Retail Amp
Kitchen supplier: Avanti Restaurant Solutions & Myers Foodservice Equipment
Interior design: Retail Amp
Kitchen design: MMP Operations & Development
Snapshot
Headquarters: Newport Beach, Calif.
Concept owner: Owners and Co-CEOs Chris Britt and Ed St. Geme
Concept: Counter service fast-casual pizza restaurant
Segment: Fast-casual pizza category
Unit count: 227
Average check: $40
Location of new prototype: Costa Mesa, Calif. (second-generation restaurant space) & Fountain Valley, Calif. (first-generation space)
Opened: Both opened 2020
Size: 2,400-3,000 square feet
Real estate: Costa Mesa – Freestanding pad end cap; Fountain Valley – inline space, grocery anchored center
Design highlights: Polished concrete floors, new wall graphic decor, updated color schemes, new furniture package with a good mix of seating, open ceiling floor plan, a new red soffit that wraps around the front counter and bar area
Build-out time: 11 weeks