Shuang Ba, which aims to offer authentic Chinese fine dining in an ultra-luxurious setting, opened December 8 at the Grand Hyatt Baha Mar Resort in The Bahamas.
"Our vision is to create an immersive dining experience that transports guests across the world through taste, aesthetic and ambiance," said Graeme Davis, president, Baha Mar.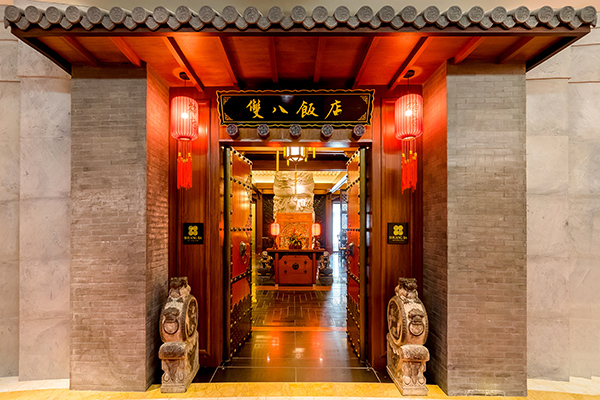 Shuang Ba sits at the end of a discreet hallway adjacent to the high rollers section of the casino floor in an exclusive area of the resort.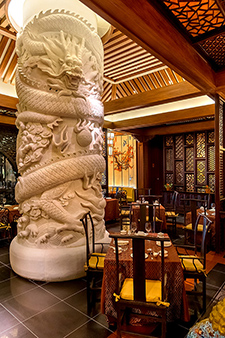 The design showcases symbols important in Chinese culture.
Shaung Ba means "double eight" and doubles are a symbol of good fortune in Chinese culture. The "double eight" idea permeates the restaurant's aesthetics and expresses itself in clever ways. For example, the restaurant seats 88 customers who can order from a menu with, you guessed it, 88 items.
In traditional Chinese fashion, deep red hues pair with dark woods and metal furnishings — along with ornate statues that appear in pairs. The focal point of the dining room is a 15-ton marble pillar of two intertwined dragons, which represent reverence for the emperor, wealth and heritage.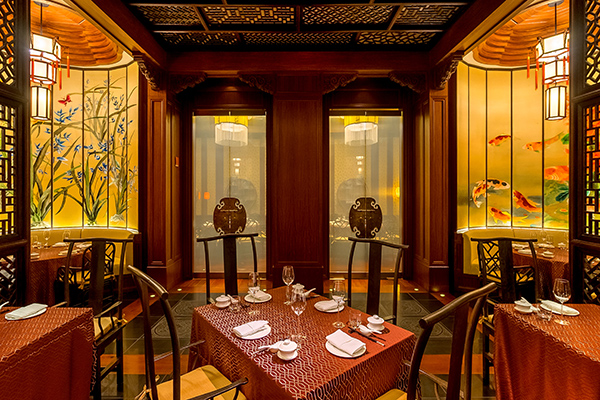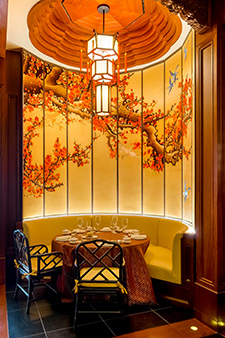 Four hand-woven silk tapestries in each corner of the dining room feature artisan detailing of a Chinese carp pond and water lilies, iris flowers, a bamboo grove and Chinese plum blossoms. These represent abundance in life, elegance and prosperity.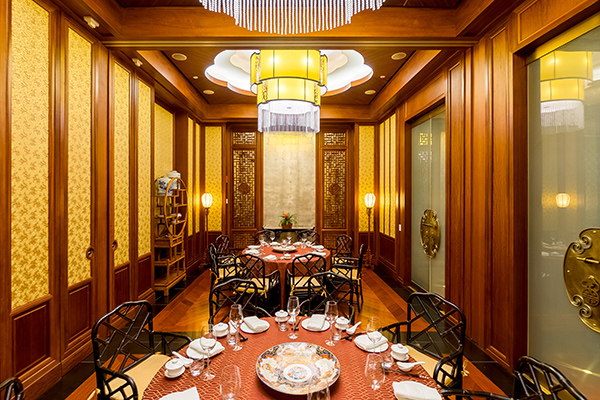 Symbols of the phoenix and dragon, among other mystical creatures representative of good fortune, endless wealth and yin and yang decorate four private dining rooms.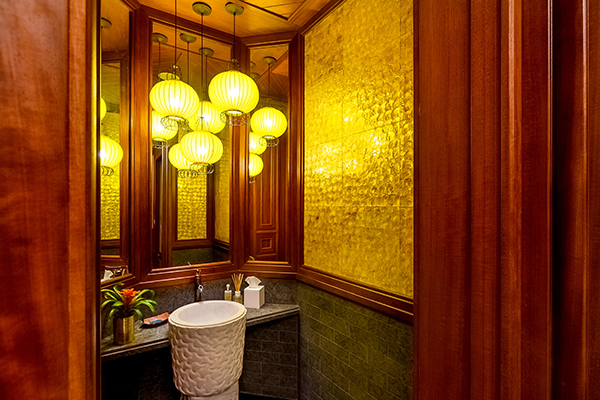 Each dining room features a hidden private bathroom, furthering the feeling of opulence.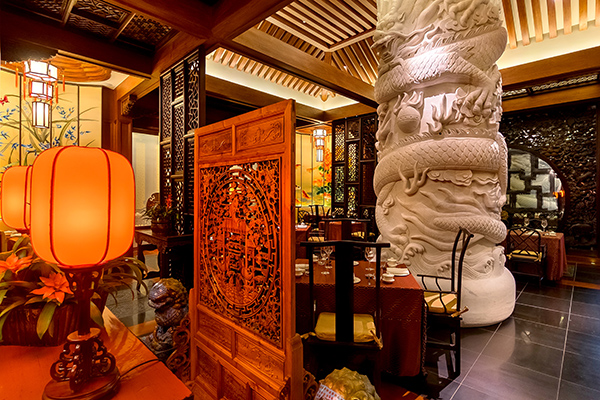 Customization serves as a key element in the aesthetic. Custom furnishings commensurable to traditional Chinese décor abound, and many of the restaurant's serving carts, trays and bureaus were purchased at antique auctions.
Executive Chef Brent Martin leads a team of 15 chefs to offer new Chinese haute cuisine that traditional and contemporary dishes such peking duck and fragran iberico pork with reserved tofu wrapped with crepes. Seafood will use locally sourced fresh catches. The kitchens feature specialized imported equipment, such as duck roasters. Traditional Eastern and Western tastes converge with Chinese five spice-infused cocktails that incorporate house-made syrups as well as a selection of Baijiu, a Chinese liquor bottled in decorated glass.