The Innovative Dining Group has expanded its portfolio with a third outpost of Katana, an upscale-casual sushi and Japanese chain, now in the River North area of Chicago.
The chain also has locations in Los Angeles and Dubai. Run by veteran restaurateur Jason Chan, the 13,000-square-foot restaurant, set next to The Hotel Chicago, takes over the former, long-standing location of Bin 36 with a brand-new design featuring various zones where diners can watch chefs at the island sushi bar preparing fresh fish, others grilling meats over robata grills, and bartenders shaking up craft cocktails at the centrally-positioned, square-shaped bar.
rd+d talked to Phil Cummins, partner of Innovative Dining Group, to learn more about the build-out and design of the new space.
What was the overall design concept?
Phil Cummins: We wanted to create a stylish restaurant that was also warm, inviting and encompasses a special experience for guests. Our original Katana concept in Los Angeles has been a staple on the Sunset Strip for more than 18 years and we replicated several key design elements in Chicago to pay homage. We also embrace Japanese culture and design throughout the space. Our menu is authentic and we wanted the ambiance to feel the same, and so we've paid very close attention to detail in sourcing furniture, fixtures, etc. For example, guests are welcomed into the restaurant at our antique oxcart hostess desk.
How is the space laid out?
PC: Our restaurant is large with high ceilings, so we were sure to design a space that was flexible, meaning it could increase and decrease in size to maintain an intimate feeling. Private dining is a prominent business in Chicago, and our goal was to create spaces that could comfortably accommodate various-size groups, while maintaining the same beauty and elegance of our primary dining room. We have two private dining rooms. The first sits on our mezzanine and it can be made totally private or adjusted to look over the restaurant. The second sits off the first-floor bar area, has floor-to-ceiling windows and red and brick accents. It's very sexy, yet still cozy. Also special to the restaurant, we've designed a stunning wood installation on the ceiling above the dining room that really makes the high ceiling feeling very intimate.
How would you describe the kitchen layout and sushi bar area?
PC: Our restaurant is pretty unique in the sense that food is effectively being prepared and delivered from three separate kitchens including the sushi bar, robata grill and our standard kitchen. We designed the space so that all three would be close to one another, yet with all dish-up stations in close vicinity to maintain convenience. We designed our sushi bar as a showplace, allowing the focus to be on the artistry of the sushi chef. His station does not have a case between him and the guests, and instead of guests just sitting side-by-side, we designed a countertop table where up to four people can face one another and still watch the chef prepare sushi delicacies right in front of them.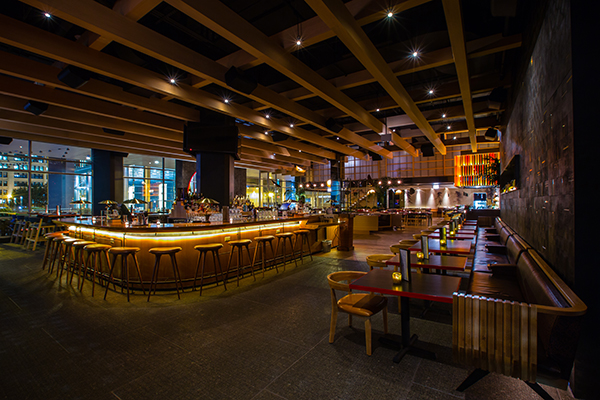 From what I understand, the seating in the bar is somewhat unusual.
PC: Our bar seats uniquely incorporate three different heights. Half of the seating includes high-tops with bar stools, and about 25 percent is at "tea" height that sits two inches lower than standard dining (perfect for eating in a slightly more relaxed manner). Lastly, traditional lounge-style seating rounds out the bar setting and provides a sanctuary for guests to gather and feel at home.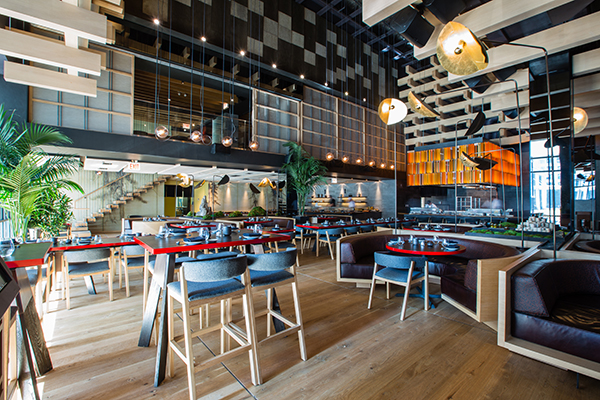 How would you describe the color scheme? What are the walls, ceiling and flooring like?
PC: The color scheme at Katana Chicago boasts a warm, inviting atmosphere with a few dramatic elements. Guests can look forward to an abundance of beautiful, polished walnut wood flitches and oiled quarter-sawn white oak, complete with natural tones and finishes throughout.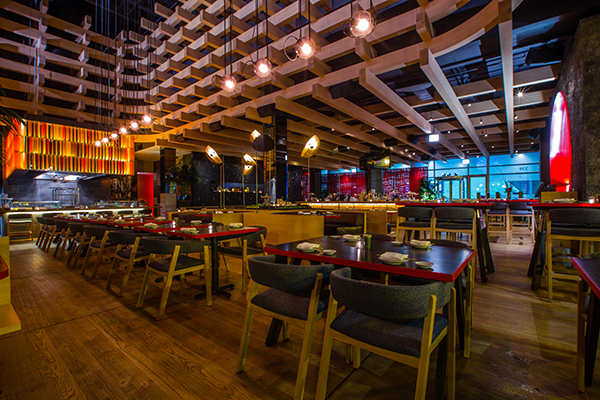 How would you describe the lighting throughout the space? What are the furnishings?
PC: We created custom lights throughout the restaurant that resemble trees with steel trunks amidst large palm-like leaves that serve as a reflector light source. There are about 20 of them total at different heights, angles and positions that give a sense of a "lighting forest." Since a good portion of our menu is meant to be shared, furnishings encompass both communal-style and cozy, intimate settings. Designed to stand out, our main dining tables have a bright red steel bank around each one — this creates a distinctive "pop" that is not only unexpected but also serves as a great identifier to guests' location in photos.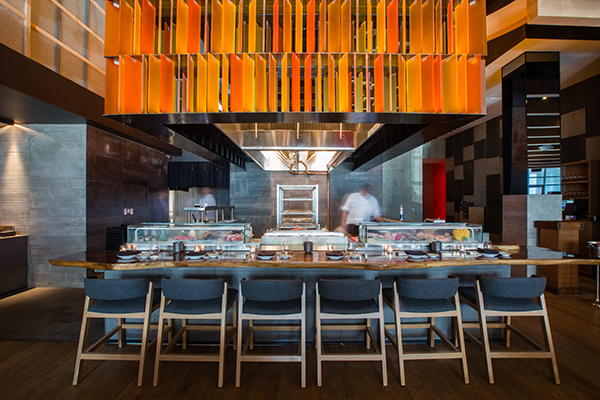 We noticed a really neat ceiling fixture above the robata bar. How would you describe that?
PC: Of course, a picture is better than a thousand words in this scenario, but it's become a focal point of the restaurant. An assortment of glowing, orange-hued chrome installations form a box over the robata bar, and while its primary function is to exhaust heat over the bincho tan grills, we've designed an artistic stage for the art of robata-making to be a well-lit focal point. Innovative Dining Group is all about customization. We recently had a local street artist, Jet Levant, curate a large mural for one of our walls that represents the urban scene in Kyoto, Japan.