Julie Babcock, Design Manager, Chipman Design ArchitectureCompiling an impressive portfolio that spans more than a decade, Julie Babcock is recognized for her inventive sense of design that scales from intimate projects to imposing volume. At Chipman Design Architecture, Julie is charged with design management, leading projects from conceptualization through completion. Below, she dishes on some of the hottest topics in restaurant design right now.
What is the biggest trend from 2020 that will have staying power post-pandemic? 
JB: I'd say that flexibility in terms of space planning is here to stay. It's something that we've been asked to incorporate for a while now (even before the pandemic), but COVID forced restaurants to immediately pivot and adapt their environments for extra, unforeseen measures no one was prepared for. Our team has come up with some pretty creative ideas for flexible, modular solutions with design in mind at in the forefront, versus a reactive afterthought.
Do you think restaurant designers are involved enough in the off-premises experiential elements of the brand experience?
JB: It still feels a little bit like an afterthought. Convenience such as curbside pickup is no longer a luxury; it is going to be an expectation moving forward. Just because it is not featured within the four walls of the restaurant doesn't mean that it isn't a key part of the guest experience. Instead of a hastily written sandwich board, a branded touchpoint that clearly defines the customer journey will have the impact necessary to leave an imprint on the guest.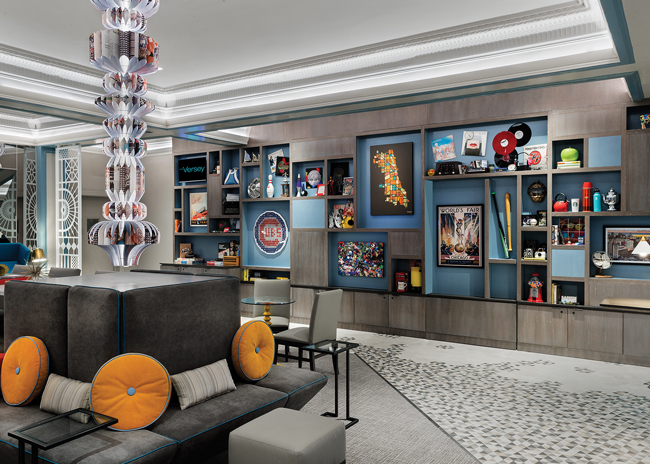 Image of Hotel Versey courtesy of Mark Ballogg
What's your best advice (or example from your own work?) of providing a big design bang on budget? 
JB: It's tricky to pinpoint one thing, but for real "wow" moments, my natural instinct is go big with graphic elements. For example, custom digitally printed wallcovering has come a long way over the years in terms of quality and affordability, and you're really only limited by your imagination. Or if you can swing it, working with local artists for true authentic moments is often more budget-friendly than you'd think. Sure, it takes extra research and coordination, but we achieved this with an amazing Chicago-based artist at the Hotel Versey in Lincoln Park and our client loved it.
When the pandemic is finally in the rearview mirror, what aesthetic trends or concepts do you think will emerge in response to it? 
JB: This is a little out there, so stay with me. I wouldn't be surprised to see concepts after the pandemic trend toward an escapist experience. Dining out will take on a whole new meaning where avant-garde environments feel like a mini adventure, a new form of entertainment, almost theatrical. On the flip side, in recent years the trend of casual minimalism has been executed very well. One might argue that post-pandemic, there will be a general movement toward enjoying the simpler things in life that could very easily translate to design.
What restaurant design trend will you be happy to see go away? 
JB: This is going to make me sound old, but let's take a break from the backless barstool. Sure, they look great, but we all know sitting in them for extended periods of time is not very comfortable.
Is there anything you'd like us to mention with regard to restaurant design or
overall trends? 
JB: So much conversation surrounding the pandemic has focused on the customer experience, but what about the kitchen staff in the back? Commercial kitchens are notoriously tight, and we need to think about how to safely plan for the entire experience for a better, safer future for all involved. +