Jeni's Splendid Ice Cream opened a new location in Alpharetta, Ga., in April.
The shop features a "jewel box" design in a new standalone building located in the center of a street in the Avalon mixed-use, multifamily development. For the 1,025-square-foot store, the owner wished to redesign the pre-approved plans for the building, which consisted of a sloped roof with windows wrapping around most of the exterior. MBH Architects was tasked with instilling the design with the Jeni's Splendid Ice Cream culture.
Jeni's Ice Cream is known for its sophisticated, specialized ice cream flavors and utilizes simple, "pure" ingredients. MBH opted for a "pure" white design to embody the brand's ethos. Details like wood accents and a chalkboard with a handwritten menu — a staple at every Jeni's location — add warmth to the interiors.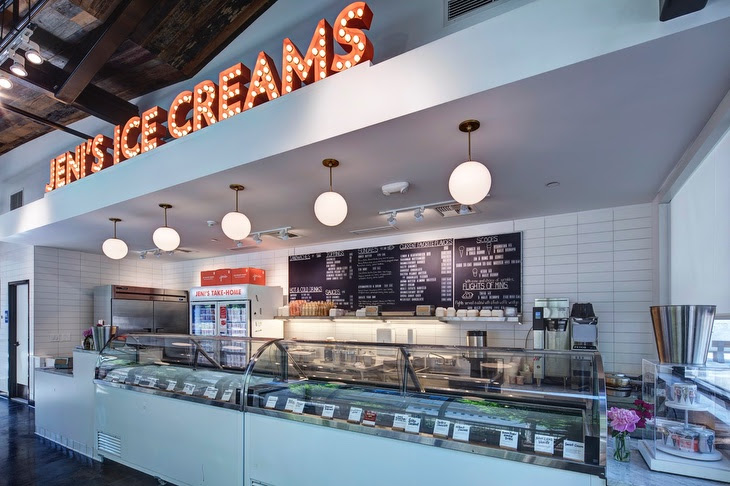 "We worked very closely with the Jeni's design and operations teams to understand how the space functioned and how they would provide service while interacting with the community," says Tom Dulik, project architect, associate for MBH. This included considering the shop's customer service model and providing space for "Instagram moments" in the store. The store layout and design is a direct reflection of that collaboration and implemented the latest standards as Jeni's evolved that service and operational model. Working closely with the landlord and [Jeni's] team, we ensured the design of the space capitalized on the location's unique features, such as the large expanses of glazing that provide ample visibility of the space's interior and unique opportunities for displaying signage and branding. We also worked closely with the Landlord and Jeni's to design the layout and furnishing of the outdoor space to create a community gathering space and add some life to the live/work nature of this retail development."
Ample natural light from a wall of glass windows floods the new space, which seats 18 people on benches, simultaneously providing a line of sight to the outdoor patio, which seats 8. At night, the building is lit up, emphasizing the activities in the area and acting as a beacon to draw people to the shop.
Project Team:
Jeni Britton Bauer, founder of Jeni's Splendid Ice Creams
Dan Basto, VP of Construction, Jeni's Splendid Ice Creams
Sarah Moore, Retail Management Specialist, Jeni's Splendid Ice Creams
Regis Duffy, Operations Leader, Jeni's Splendid Ice Creams
MBH Architects, Design, Architecture, and Construction Administration
Bacon Construction