Located in Birmingham, Ala., Helen is a new restaurant from Executive Chef-Owner Rob McDaniel. A contemporary southern concept, the operation is inspired by and named after McDaniel's grandmother.
"My food memory is always going to her house, and she would be cooking steaks on [her indoor] grill and there was the smell and feeling of being at your grandmother's house. It was that feeling of warmth and comfort and security. That was the idea behind the restaurant. We try to recreate that experience for everyone who walks in the door and at the same time try to touch a food memory of their own," says McDaniel.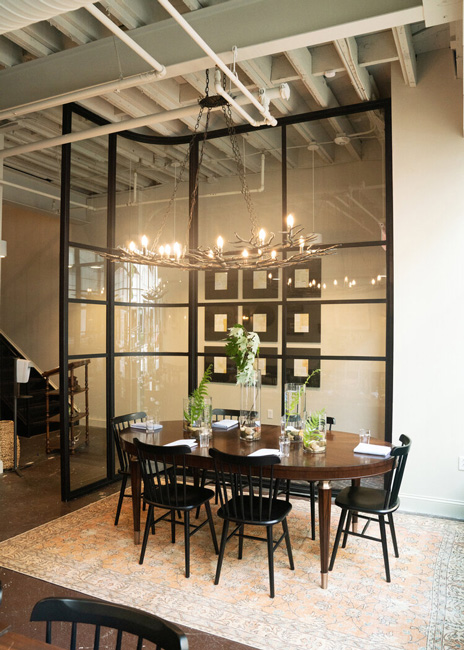 The restaurant is located in a two-story shotgun-style building that dates to the 1920s.
Downstairs, the featured seating includes a residential-style table that represents the kitchen table at McDaniel's grandmother's house. Located near the entrance, a glass wall provides diners with a bit of separation from foot traffic. Overhead hangs a branch chandelier made by a local artisan.
Such earthy, natural touches run throughout Helen. The designers left the floors untouched. Repurposed church pews were used in place of banquette seating. A shelving display shows off art pieces and artifacts collected by McDaniel and his wife, Emily, along with curated items selected by the project's designer.
"We are Alabama to the core," McDaniel says. "I've lived outside of the state two times in my life. Other than that, I have been here the whole time. We really did want to embrace the state and my upbringing. I love to fly fish. I love to turkey hunt, and I love spending time in the outdoors. I wanted to pick up on some of that rustic feel."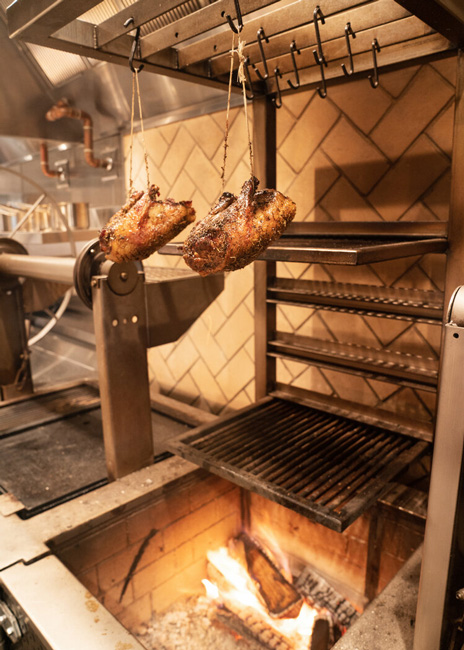 The undisputed centerpiece of Helen's first floor is the open kitchen with a 120-inch grill. This wood-fired unit, McDaniel's says, is a direct nod to his experiences at his grandmother's house.
Notably, the open kitchen does not have any formal chef's table set up in front of it. Instead, guests who want to watch the action can park at the five-seat bar right next to the kitchen. In keeping with the operation's relaxed feel, these seats are usually not open for reservations.
"I actually came from a restaurant that was doing [a chef's table]. I had done it for 10 years. I was ready to do something a little bit different. That five-person bar very much gives that feeling, but it's just not right in front of it," says McDaniel.
The restaurant's second floor offers a more traditional dining environment, with manufactured hardwood floors, a larger bar and more standard seating, along with a private dining room.
This space still has its raw touches, though. The brick visible under chunks of broken-off plaster is not an affectation. This, says McDaniel, is how the walls were when he took on the space. The plaster is too fragile to work with directly, so some areas that were dirty were simply covered with drywall. In other spots, the broken plaster was simply left alone.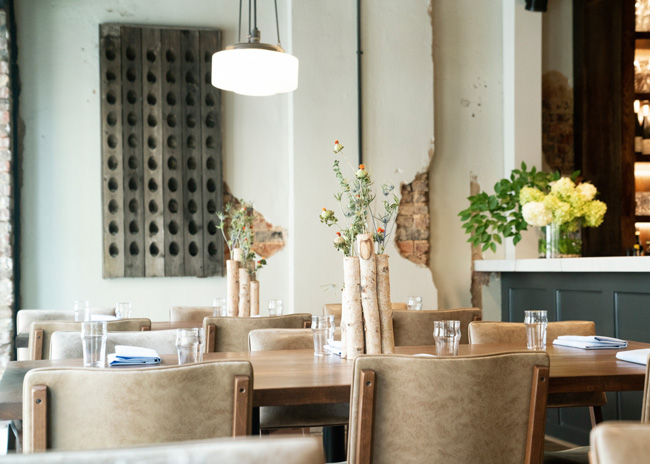 The bar itself, meanwhile, features a quartz countertop along with art pieces that are a touch edgier than what is found downstairs.
"We definitely wanted to try to create a little bit of a different vibe upstairs. Downstairs has the kitchen, and we knew that would set the tone for downstairs. Upstairs is more about the bar and that being the place people wanted to gravitate to for drinks, happy hour, things like that," says McDaniel.