Restaurants and hotels devote more space than ever to bars. They can generate a vibrant ambiance, encourage a sense of community and, of course, bring in significant revenue. Today's successful bars rarely sit in a dark corner. Rather, they are up front and often center with décor, lighting and menus that invite customers to spend a relaxing hour or two (or three) socializing and creating memorable experiences that will make guests want to return and bring friends.
"Bars can be secondary, complementary or primary to a restaurant or hotel," says Anthony R. George, principal and architect, George Architecture in South Pasadena, Calif. George's projects include Wistaria Restaurant and Bar, Sierra Madre, Calif., and Crossings Restaurant, Communal Gastropub and Mike & Anne's Restaurant in South Pasadena. "They can be a stand-alone casual destination, a hip nightspot or an upscale classic cocktail lounge. Selections of beer, wine and cocktails can define or express the concept. And more area than ever is dedicated to displays, branding and environmental considerations."
Bar size should be a careful balance of area dedication, circulation, noise and traffic and perception, George says. In addition, bar sizing depends on the number of drink and POS stations as well as back-bar displays and storage areas.
In order to make the most of this valuable real estate, keeping up with trends is crucial.
A Diverse Bar Menu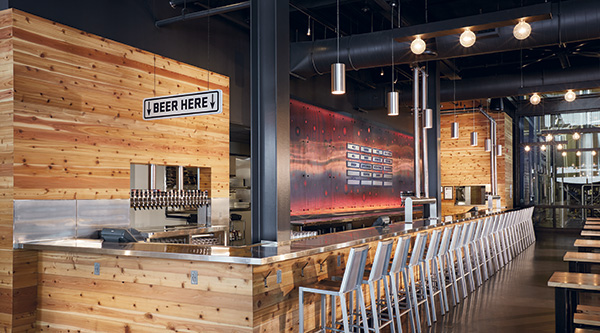 Paula Storsteen's project, the bar at Surly Brewing Company, serves as a key design element that anchors the Beer Hall. Photograph by Corey GafferThe presence of craft beers is nothing short of an explosion. "The craft beer craze has led to a proliferation of tap, tower, wall-mount and underbar dispensing options, with various storage and keg options," George says. "Previously, much of this was only available for custom installations." More developed craft beer programs require greater and well thought-out circulation and support space, storage and maintenance requirements and superior product knowledge, he adds.
"The beer bar needs taps that will market several beers and other selections of bottled and/or canned beer," says Tom Galvin, FCSI, president of the Galvin Design Group Inc. in Winter Garden, Fla. Galvin designed Mango's Tropical Café in Orlando, Fla.; Seasons 52, throughout the U.S.; Hard Rock Café, worldwide; and Bahama Breeze, throughout the U.S. "Essential considerations include proper beer refrigeration, a cold-water spritzer for draft beer or frosted glasses, and storage for clean and dirty mugs. Beer temperature must remain between 36 degrees F to 38 degrees F. A lower temperature negatively impacts the beer because the C02 separates when beer is too cold, causing guests to feel bloated or full, which will decrease sales."
As bars call attention to their craft beers, they look for variety in taps. "Long dispensing arms are more traditional and popular in brewhouse designs," Galvin says. "For a more modern ambiance, draft beer tower medallions that contain LED lights illuminate what can be a dark space and bring attention to this area of the bar."
Designers must also allot enough keg storage to hold all the beer varieties and position the kegs as close as possible to the point of pour, also known as the faucets. "If the beer lines running from storage to the faucets are too far apart, when the lines are cleaned, a lot of product is lost," says Kristin Sedej, FCSI, principal and owner, S2O Consultants, Inc., in Chicago. Sedej's projects include Godfrey Hotel, Chicago; Bar Novo, Renaissance Hotel, Chicago; Mercedes Superdome and Smoothie King Arena in New Orleans; and Churchill Downs, Louisville, Ky. "A rule of thumb is to have a separate faucet for each keg and to plan for one keg that is hooked up and one in storage for redundancy."
Wine-dispensing systems allow bars to offer greater variety and higher-quality wines by the glass without uncorking a bottle. Systems can minimize spoilage and waste. Whether preserving, dispensing and merchandising displays are elegant or basic, allocating enough space to show off selections and holding wines at proper temperature is essential.
"With all systems for beer and wine, allocating the outlets for enough electricity is imperative," Galvin says.
Mixed cocktails also attract customers. "Mixologists need enough space to display ingredients such as fresh and perhaps organic herbs, locally sourced fresh fruits and herbs, essences, reductions, infusions and concoctions such as bitters and barrel-aged spirits," George says. "Though beautiful, these display elements still need to function into the workflow, especially on a frenzied Saturday night, and require careful preparation, presentation and storage."
Designers also must be cognizant of leaving enough space for storing extra glassware for beverage samples of regularly featured beverages as well as locally sourced spirits, wines and beers.
Support Equipment
Making their way into bars and eventually the glasses are large, one- or one-and-a-quarter-inch ice cubes or irregularly-shaped ice forms. "These cubes create visual interest in a glass," Galvin says. "Rubberized molds are available for bar staff to make their own cubes."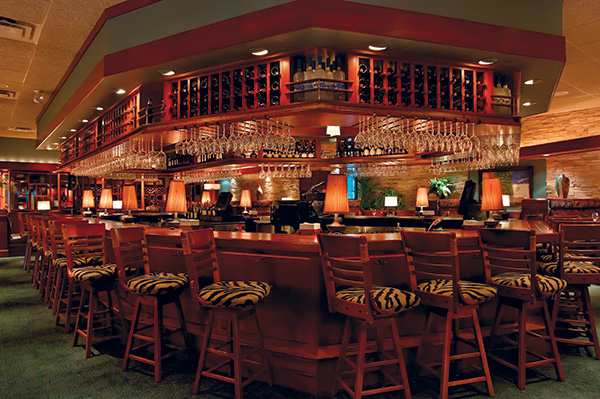 Tom Galvin's project, Seasons 52 in Orlando, Fla., contains glass storage above. Having this overhead space is a benefit for not only stemware storage but also wine and liquor storage. Lights invite customers to gravitate toward the bar. The lampshades provide a home-style ambiance. Photography by Emily Galvin"Because ice must be readily available at all times, ice machines must be large enough to handle the larger forms and volume," Sedej says.
For entertainment value and up-selling, C02 frosters allow bartenders to quickly transform glasses while customers watch. "A froster unit connects to a C02 tank or cylinder, and its spout emits a frosty cloud that converts a room temperature glass into one that is ice cold," Galvin says.
"Whatever special elements are used, they must be part of a clear workflow and shouldn't interfere with the efficient flow," George warns.
Underbar dish machines can also contribute to efficiency. Rather than carting glasses from the bar to a kitchen, staff can place dirty ware in the nearby machine.
Maximizing Design without Compromising Service and Efficiency
"Open or see-through bars are beautiful extensions of surrounding décor, but normal back-bar storage must find its way below and into the line," George says. "An artful balance of spirit selection, location, visibility and access necessitates careful planning and workflow management."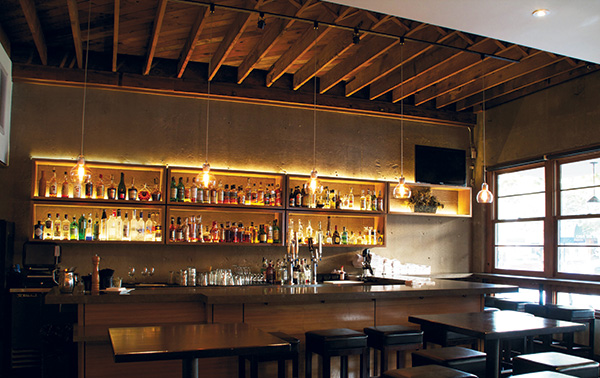 Tony George's upstairs bar at Crossings Restaurant includes an underbar dish machine, ice maker, two wells, three sinks, speed rails and underbar refrigeration. The display features house-made bitters, barrel-aged whiskeys, and premium wines and spirits. Photography by This email address is being protected from spambots. You need JavaScript enabled to view it."We know that ultimately a restaurant and bar needs to operate efficiently and support the owner's business plan to be successful," says Paula Storsteen, IIDA, LEED AP, senior interior designer in the Interior Architecture and Design Group of HGA Architects and Engineers in Minneapolis. Storsteen's projects include Surly Brewing Company, Accenture, ADC Telecommunications in Shakopee, Minn.; General Mills World Headquarters in Golden Valley, Minn.; and Discover Center in Allentown, Penn. "It doesn't matter how beautiful the space is if the restaurant/bar can't operate smoothly in the space. At Surly Brewing Company, for example, the length of the bar was driven by the desire for quick and efficient service. The bar also serves as a key design element that anchors the Beer Hall. Designated walk-up areas allow guests to quickly get a beer in hand, which is an effective solution for both guest and staff."
Galvin proposes that bars (and kitchens) must be designed for right-handed people to accommodate a majority of the staff. "In addition, symmetry of equipment placement is important so on each side of the bar, a staff member can operate efficiently without readjusting movements."
Bar area sizing and aisle space is crucial. "The placement of the back bar to the front bar equipment should be 42 inches," Galvin says. "If it is less, staff can't move easily, and if it is larger, staff will fatigue after a few hours from moving too much." He adds that a five-inch hang-on speed rail can be installed, which would cut the aisle down to 37 inches. "If an inspector is in a wheelchair, staff can take off the speed rail so the inspector can do his job. The speed rail also allows staff to place more drinks as needed."
Sedej says she designs for a 36-inch aisle. She adds that "drink rails are crucial because bartenders can set drinks in front of them. Bartenders set down glasses on a four-inch lip, so the rail keeps overspill from going over the bar top. Therefore, bartenders don't have to wipe down the bar as often, and they can keep making drinks." Designing a bar with ample POS stations is also important to keep the traffic flow moving, Sedej says.
If food is offered at a bar, all the serviceware must be available. "Out-of-sight storage is needed for dirty dishes, and procedures for staff taking dirty dishes to the dishwashing area must be considered," Galvin says.
If the bar is open late at night, food may be placed in warmer drawers so bartenders can plate food if it isn't coming out of the kitchen.
Bar Seating
Seating variety attracts various customers looking for different experiences. "If you're looking to attract the Instagram crowd, funky barstools and large communal tables are best," George says. "For fine dining, it's best to have cushy, comfortable seating with backs, and place them in a more private setting. Elevated seating brings patrons up high, near standing height, affording a more sweeping view and more eye-to-eye contact with service."
Another trend that Storsteen sees began in offices and airports and has migrated into restaurants and bars. "Guests want to be able be able to plug in their phone or tablet wherever they are, even while sitting at the bar," she says. "Keeping them connected also keeps them at the bar longer. Additional amenities, such as purse/messenger bag hooks under the bar, are small touches that are appreciated by guests."
"At the front bar, the back part of the bar chair must be covered with metal just like the front is," Galvin says. "A woman puts high heels on the front rail, and the metal strip protects wood at her feet. We forget that a man puts his foot on the back rail, and if it isn't protected, it begins to wear badly."
Finishes, Design and Technology
Many bars contain counters with natural stones. "These are beautiful and part of the green/organic movement, but natural stone is a porous material and must be sealed often to prevent staining and food seeping into the pores," Galvin says. "For granite, you need credit card seams so little food gets in between. A six-inch die wall should sit underneath the granite counter for proper support."
Creating an artful juxtaposition of non-aligned furnishings and accessories can create a stylish balance of seemingly differing tastes and aesthetics. "For example, vintage furnishings from the 1940s, '50s, '60s, '70s and '80s can be repurposed and juxtaposed against more neutral design elements such as bar counters, tables, stations and cooking lines to startling effect and, in some ways, at a fraction of the cost of custom furnishings and accessories," George says.
Also effective are mixed copper, stainless, bronze and brass. "Metallurgical consistency is no longer the de regueur of bar design," George says. "Combining textured fabrics and weaves in wall coverings, floor rugs and ceilings adds dimension and dazzle. Also, graphic tiles can serve as countertops, stair-risers, bar facings and wall murals."
For hue variations, tone-on-tone combinations such as deep black on grays and Indigo on aquamarine are in vogue. These may be offset against textured whites in fabrics, marbles and mother-of-pearl, and neutrals. In addition, bright contrasts with pops of reds, corals, oranges and yellows can work beautifully as a base pallet.
"Environmental controls, data management, lighting and audio controls are all available on smartphones and tablets, as well as laptops, making these devices essential management tools," George says. "Real-time ability to adjust and adapt is as close as your pocket."
What's more, LED lighting, along with natural lighting, passive heating and cooling methodologies, are contributing to sustainable practices.