Subway plans to remodel more than 10,500 U.S. restaurants by the end of 2020. The chain has completed nearly 1,400 remodels globally and says 900 more are underway.
The chain rolled out a multimillion-dollar grant program that will cover about 25 percent of the redesign costs for franchise owners. The multi-year global transformation centers on three key initiatives: updated, modern restaurant redesigns; bold new flavors, tastes and menu options and greater convenience and enhanced customer service for guests.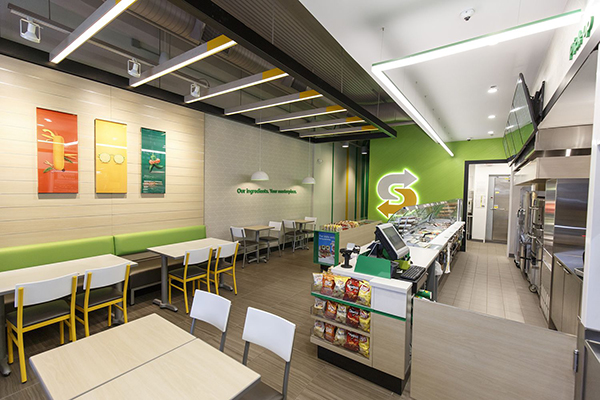 Subway's new design
Last year, in addition to the new design, Subway announced an $80 million investment to emphasize new flavors and create a more personalized guest experience in the restaurants. This new program, which is free to franchise owners, is already in 14 countries, including France, Brazil, Singapore and Australia. The program features Flavor Stations, with even more options guests can use to customize their sandwiches and salads, and Beverage Stations, with such offerings as Tropical Strawberry Lemonade and Pomegranate Limeade. This program will be in all eligible U.S. restaurants this summer.