Opening a new fine-dining restaurant in Chicago's red-hot Fulton Market neighborhood, where some of the city's highest-profile restaurant groups now play, isn't for the faint of heart.
Such a move is even bolder if it's an operator's very first restaurant. But when the principals of upstart Sancerre Hospitality set out to develop BLVD as their inaugural concept, they took a go-big-or-go-home approach — and the result is dazzling. Opened last June, BLVD (pronounced "Boulevard") is a modern American restaurant where the champagne flows, the chandeliers sparkle, and the design, menus and beverage programs channel Golden-Age Hollywood glamour. With it, Sancerre brought a bit of luxe to the district that as recently as a decade ago was considered a skid row for its mix of meatpacking facilities, flophouses, dive bars and drug-fueled crime. Today, Fulton Market District is becoming a haven for the hip and the hungry, replete with top-notch restaurants, coffeeshops, condos, boutiques and other businesses, many of whose concepts and designs tap into its gritty, industrial vibe.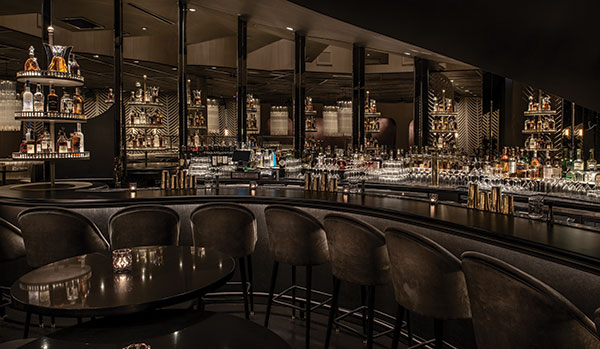 Behind the curved bar, gold-tinted mirrors provide warmth and energy to the first-floor space. A large illuminated liquor shelf highlights premium pours and frames the far end of the bar. Image courtesy of Anthony TahlierAt first glance, BLVD does so as well. The building's refinished brick facade is unassuming and keeps with the character of the neighborhood. Once inside, however, guests make their way along an entry corridor, turn the corner at the host stand and are instantly transported onto a stage set by Chicago-based designer Karen Herold, principal at Studio K Creative, to evoke a luxurious Sunset-Boulevard-circa-1950s hot spot.
"When we decided to open a restaurant, we wanted to do something that was a full experience," says co-owner Kara Callero. "A lot of the restaurants and lounges along Sunset Boulevard back in the day did just that. When people went out for an evening, they went for a special experience — for people-watching, listening to great music, being in an incredibly beautiful space, and having great food and drinks. That's where the inspiration for the concept started. We wanted BLVD to encompass all of that but to do so in contemporized, relevant ways that wouldn't be too literal or theme-y."
Callero comes to restaurant development and operations from a background in hospitality and restaurant public relations. Her husband and partner in Sancerre Hospitality, Frank Callero, is a real estate attorney. A third partner, Steve Zaleski, is Frank's cousin and a real estate investor and developer. Frank and Steve worked together at Sancerre Real Estate prior to looping Kara in to launch Sancerre Hospitality.
Their first task — finding a location — was one for which the team was well suited. Snagging a space in their target West Loop neighborhood, however, wasn't easy. With redevelopment rampant over the past several years and almost no listings available, Callero recalls the site-selection process including a lot of shoe leather and door knocking on frigid Chicago winter days.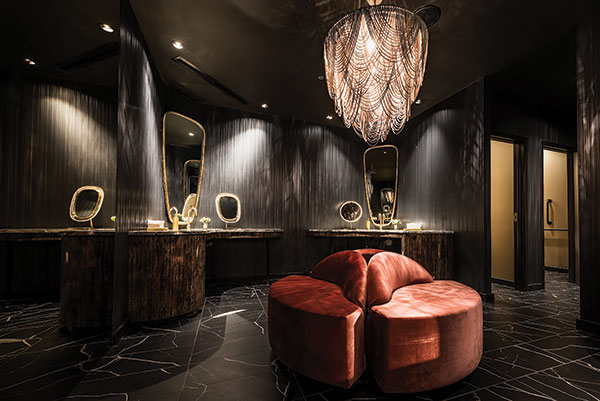 The most Instagrammed spot in the house, the ladies' room invites guests to linger and soak up the vintage Hollywood dressing-room vibe. Image courtesy of Kailley Lindman"We knew we wanted to purchase a space and do a full development. It had to make sense both from a real estate investment standpoint and from a restaurant business standpoint," Callero says. "There wasn't much listed for sale, so we literally hit the streets. We went around the neighborhood, checked out all of the old meatpacking buildings and started cold calling. When we walked into this building and saw the grandiose high ceilings, we were completely drawn in and knew it was the space for us."
The building had sat vacant for 10 years. It had most recently been home to the Chromium nightclub, which shut down in 2007 after a weekend night ended with the murder of a patron just outside. Built in 1939, it had also at one time been a printing shop, according to Callero.
Purchased by Sancerre in June 2015, the building measures roughly 10,000 square feet. Even though it had been a nightclub, there wasn't much that the Sancerre team could use. Ultimately, it was completely gutted and reimagined. It now provides 220 seats over two levels connected by a grand, curved staircase.
The ground floor holds the main dining room and a small bar/lounge area that extends along the back wall from the base of the staircase. Upstairs, a mezzanine provides additional dining and lounge seating, and the separate Champagne Room functions as a flexible space for dining, drinking and private functions.
Luxe On a Budget
The second-level Champagne Room layers on the glam with more gold. Image courtesy of Kailley Lindman"The first year was spent just working with our GC and with Karen, thinking about what we were going to build, developing the floor plan, etc.," Callero says. "Once we actually got going on construction, it took about eight months. The whole process seemed really long, but because it was our first restaurant, we wanted to take our time and do it right. We had a lot of questions and were very involved. It's definitely a start-up, but when you're in the space, it doesn't look or feel like a start-up." That's thanks in large part to Herold, the design force behind several award-winning operations in Chicago, Las Vegas and Aspen, Colo. As projects go, Herold says BLVD was architecturally the most difficult she's done to date. Despite starting with what seemed like a fairly simple space, the concept and the design vision for it required symmetry.
"There's a lot of formality to the design, but the building really didn't offer that because of columns, etc.," Herold says. "You're working with an existing structure and a limited budget, so we definitely had to be thrifty, but the look we achieved is way more than the budget would assume."
The look is pure, understated luxe. Shimmery gold and mirrored finishes, muted colors, low lighting, and multiple large crystal chandeliers suspended over plush circular booths and velvet-covered chairs stand out against stained black oak tabletops and dark flooring. Banquettes and semi-private booths are tucked under arches against softly lit, hand-scraped plaster walls along both sides and the front wall of the space. The softly textured plaster, an economical solution in a custom hue that Herold describes as "eggplant-ish," also has a touch of gold leaf blended in to provide a hint of warmth and shimmer.
"To create this amount of seats and at the same time provide a sense of luxury was a very complicated process," Herold adds. "Ultimately, we took the approach of creating a lot of niches as a way to create intimacy and to hit a balance between giving real estate to luxury and giving real estate to more dining seats. Every decision was made from both a business and an experiential standpoint."
Deco-style "curtain walls" made of two layers of polymer material frame the dining room, providing visual interest and texture. To lend just the right amount of visibility, the grooves on the outer wall are a different size than those on the inner layer. "We talked at least 50 hours about getting the exact amount of 'draping' in those walls and tested six or eight samples," Herold says. "We were very picky in how much you can see through, so if you look from the inside out, you can see that the two layers aren't exactly the same. That's by design, to control the visuals."
The dining room offers a modern spin on Golden-Age luxe with shimmery finishes, muted colors and large crystal chandeliers suspended over plush circular booths. A big design challenge was to devote enough real estate to luxury while also maximizing seating capacity. Photo courtesy of Anthony TahlierAnother major point of discussion during the project was BLVD's signature staircase, which sweeps in a continuous curve from upstairs down to the main level and pulls around in a single ribbon to become the bar, ultimately swirling around to end at a large illuminated liquor tower.
"I knew right away that the space needed a great staircase," Herold says. "The whole design concept started with the staircase, which would tie together this great atrium space between the two levels. It added to the cost, but it was necessary — that's your money shot as you walk into the room. It looks simple, but it was extremely complicated because it mimics a grand, 1950s-era residential staircase, but being a commercial building, you need to have a landing after 12 steps. It's like many things that look simple — you know, how people talk about their simple Chanel dress? — but there's nothing simple about it. It took extra money, time and more than a few heated arguments to get the continuous sweep that I really wanted. In the end, everyone agreed it was the right decision for the concept."
Upstairs, the top of the staircase opens to a second host stand and curved mezzanine. It's set with cocktail tables and soft seating and overlooks the bar and dining room below.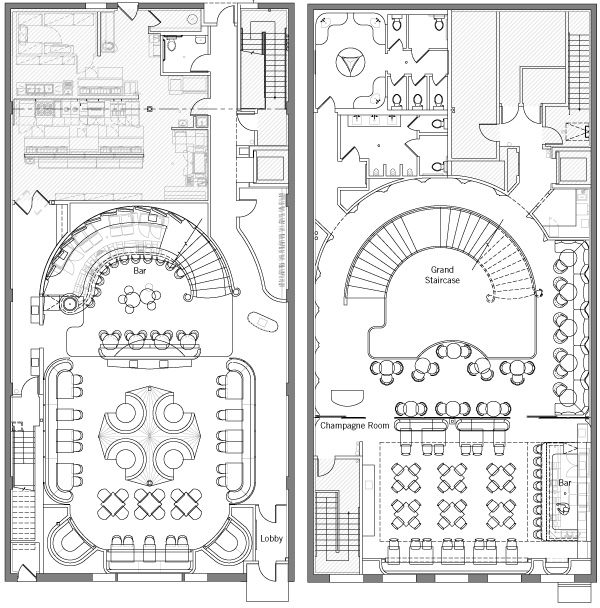 BLVD Floor Plan Final
Behind a wall sits the Champagne Room. Dressed in much the same style and finishes as the main dining room, it has its own full bar and can accommodate 50 to 55 guests for seated dinners or 75 to 80 for standing receptions. When not in use for private functions, portions of the wall separating it from the outer mezzanine area can be opened to create a flow of energy between the two spaces.
"We have a special champagne and sparkling wine list that's only available upstairs, including some really cool things available by the glass that you can't get anywhere else in the city," Callero notes. "And we've just started offering a complimentary taste of champagne to everyone who is seated upstairs just to reinforce the Champagne Room theme. We also have some 'luxe bites' that you can only get upstairs — fun, high-end things."
Extending the experience initated downstairs, the Champagne Room layers on the glam with more gold. Its ceiling is painted a softly shimmering gold, for instance, as are the tabletops. "We used metallic automotive paint on the wood tabletops to mimic the ceiling and the gold-tinted mirrors on the walls, which follow the curvature all the way up the wall behind the bar," Callero says. "That's one of my favorite features."
Another favorite feature, both of Callero's and of BLVD's female guests, is the spacious ladies' room. There, low lighting, gold-framed mirrors, soft seating, dramatic black-and-white flooring and a statement chandelier create a vibe that evokes a vintage Hollywood dressing room. "Women sometimes bring their drinks and hang out in there to talk for a bit because it's so cool, while their dates wonder where they've gone," Callero laughs. "It's definitely the most Instagrammed room in the house."
The Sancerre team is continuing to refine operations and finalize design touches on its industry debut. A significant one — a custom chandelier that will hang from the second-floor ceiling down through the atrium area — had yet to arrive as of early winter, for example. Herold and Callero shrug off the fact that the restaurant had to open without it, confident in the fact that, like a seemingly simple Chanel dress, BLVD was already a stunner — no additional adornment needed. 
Project Team
Owner: Sancerre Hospitality – Frank Callero, Kara Callero, Steve Zaleski
Design: Karen Herold, Studio K Creative
Architect: Space Architects + Planners
Branding: World Headquarters
Contractor: LG Construction + 
Development
Millwork: J&J Woodwork Furniture Inc.
Metalwork: Vero Design + Build
Glasswork: Illinois Glassworks LLC
Plaster: Artisan Venetian Plaster
Banquettes/Custom Furniture: 
Anita's Upholstery
Custom Tables: Homethings
Snapshot
Location: Chicago's Fulton Market district
Opened: Summer 2017
Concept: Modern American fine dining, small plates, upper-level Champagne Room
Project Type: Renovation
Size: 10,000 square feet over two levels
No. of Seats: 220
Average Check: $70
Inspiration: Mid-century Hollywood, Sunset Boulevard
Design Highlights: Sweeping curved staircase, gold-tinted mirrors, art deco-style "curtain walls," multiple crystal chandeliers, circular booths, swanky restrooms, rich neutral tones, velvet upholstery, hand-scraped plaster wall finishes
Build-Out: Design/concept development, 1 year; construction/renovation, 8 months