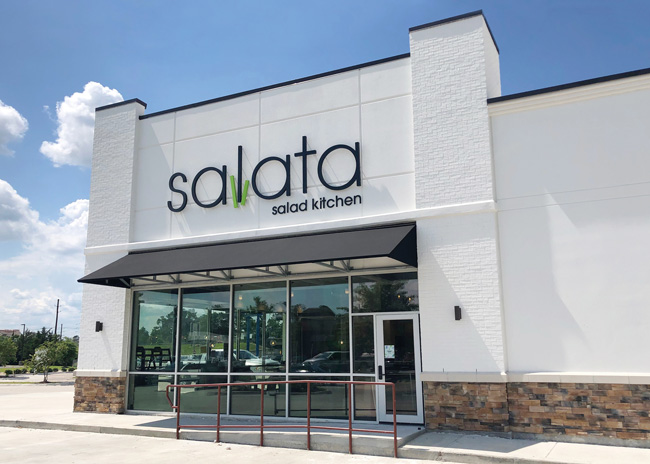 Salata's rebranding
Houston, Texas-based Salata Salad Kitchen's rebrand strives to highlight its food and customization options. This marks the first full rebranding effort in the chain's 14-year history. Salata's rebrand features a playful, simple and colorful new design and ambience that encourages guests to celebrate individualized healthy lifestyles — however they choose to define them.
The chain's 85-plus stores nationwide will feature Salata's new logo and point-of-purchase materials. Team members will wear new, more casual uniforms with the intent of making them more approachable to guests. The chain's new website features Salata's new logo, original photography, a blog and language about restriction-less experiences at its restuarants. Later this summer, the chain will add a nutrition builder to its website.
The rebrand comes on the heels of a restaurant redesign that debuted in February in Lake Mary, Fla., with a second version opening this July in Lake Charles, La. Rebranding and restaurant redesign efforts were done simultaneously, however, following extensive consumer research led by Salata and Back Lot Productions, Inc., an Atlanta-based brand development and design firm.
"With the modernized rebrand that is based on a deep understanding of our current and future guests, we are putting more intention on the front-of-house customer experience. This will help us stand out from competition in this space and support the aggressive growth plans we have laid out in front of us to enter new markets and attract new guests," says Salata President Michelle Bythewood.
Together, Salata and Back Lot Productions developed Salata's new restaurant design and logo. Salata partnered with full-service advertising agency GS&F in Nashville, Tenn. to develop the marketing rebrand. "We know that transforming a brand and a physical restaurant go hand in hand," Bythewood explains. "We believe a more contemporary Salata will now be reflected in all facets of the brand, both inside and outside of our restaurants, but we remain true to our original roots and our mission feels good physically, emotionally and mentally through the food we serve and the experience we provide."
Salata's rebrand is the latest milestone in a high-growth year for the chain. In 2019, Salata has 20 new locations in the pipeline nationally and has a goal of securing 25 new franchise contracts. The franchise team emphasizes expansion within Texas as well as entry into new markets, including Tennessee, North Carolina, South Carolina, Phoenix and Tampa.
Salata plans to roll out a second phase of its rebrand later this summer with delivery, a new tech suite and loyalty program/app, all designed to make the guest experience more convenient and more rewarding.