Throwing axes and throwing back drinks may seem like an improbable combination, but axe bars are in full swing these days. In just a few years, the extreme sport has grown to hundreds of venues in North America. No longer a sport just for lumberjacks, urban Americans now don flannels and watch caps to experience this unique Canadian pastime. Variations on this theme run the gamut from raw and rustic warehouses to elaborately decorated timber lodges. The common thread among these concepts is the sturdy wood-and-chain-link construction of the axe-throwing lanes designed for safety.
Bad Axe Throwing
Burlington, Ontario, Canada
"Axe throwing is modern-day bowling, only a lot more fun," says Mario Zelaya, president and CEO. "Our mission is to bring the thrill of a traditional Canadian backyard pastime to urban communities."
A key driver to growth in the sport has been the World Axe Throwing League and televised tournaments on ESPN. Zelaya formed the company in 2014, opened the first U.S. unit in Chicago's West Loop in 2016, and now operates more than 34 locations in North America. Bad Axe is on pace to open a new location every month, according to the company.
A few of the early Bad Axe facilities were BYOB, but the company continues to add bars to existing units, and going forward all locations will serve alcoholic beverages. Bad Axe will partner with breweries to offer local specialties as well as canned and bottled wine and beer. "Currently, we're moving toward becoming a high-end bar that people can hang out in," says Zelaya.
Each unit differs based on the site, building and location. Axe-throwing lanes consume most of the space, with the bar area occupying about 10 percent to 15 percent of the total facility.
Design ties all the Bad Axe locations together. The walls feature matte black paint, which contrasts with the rugged concrete floors. "It's a combination of a raw/carnal feeling that we want to maintain since people are throwing axes and combining it with a cool hangout space," says Zelaya.
The units include custom-made bars, tables and paneling. The wood has been hand-torched, which brings out the wood grain and creates a beautiful patterned look to the furniture, Zelaya says. "The torched look on the wood gives the whole space a really cool vibe."
All of the axe-throwing lanes are custom-built from scratch with an emphasis on safety. "We have a specific lane build-out document that we use for all locations," Zelaya says. The lanes are a wood-frame construction with a dividing wall about four feet high, and the top level is contained with PVC mesh fencing up to the ceiling.
For customer safety, Bad Axe coaches give guests strict instructions on safety as well as pointers on how to properly throw axes. The coach helps perfect technique and stays with the customers the entire session. "With the help of our talented axe-throwing coaches, hundreds of thousands of people have been able to share our passion for throwing axes," Zelaya says. Clientele includes walk-ins, axe-throwing leagues, private parties, team-building events and tournaments.
"Business is great! People love axe throwing and are joining our axe throwing leagues, which are part of the World Axe Throwing League," Zelaya says. Plans call for opening a Bad Axe Throwing bar in every major market in the U.S.
Kick Axe Throwing
The Ginger Companies, Washington, D.C.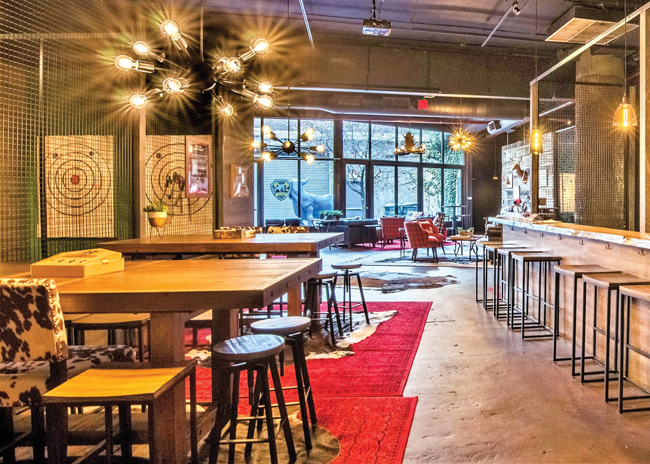 Flesher-Sonnier foraged for an eclectic mix of taxidermy, antler chandeliers and tables hewn from tree trunk cross-sections. Image courtesy of Kick Axe Throwing"Instagram is driving the popularity of axe-throwing. Customers are looking for experiences they can brag about on social media — and drinking beer and throwing axes is pretty darn unique," says Ginger Flesher-Sonnier, owner and CEO of The Ginger Companies.
In 2017, the Ginger Companies opened the first axe-throwing bar in New York City, in the Gowanus area of Brooklyn. "We were surprised how quickly the concept took off: Within a month or two of opening, we were maxed out," recalls Flesher-Sonnier. This spring, she opened a Kick Axe with a full cocktail bar in Philadelphia, and an even larger and more elaborate venue will debut this fall in Washington, D.C.
"Part of the popularity is being transported to another world," says Flesher-Sonnier. She aims at creating an atmosphere "as if they were in an Adirondack lodge, yet they are in the middle of Gowanus." That appeals to a 25- to 45-year-old demographic that skews toward women — ones that don't want to go to a warehouse to throw axes.
The eclectic mix of furniture and decorative objects includes faux digital fireplaces, antler chandeliers, glued-together rock cairns and tables hewn from tree trunk cross-sections. Neon signs sport tongue-in-cheek sayings such as "death and axes." Faux bark dresses the bar and reception desk. The entryway is clad with reclaimed barn wood to make it look like a log-chinked cabin, notes Flesher-Sonnier, who designed the spaces herself.
The Brooklyn Kick Axe measures 7,000 square feet with about 2,000 square feet dedicated to the bar-lounge, and 10 ranges with 2 axe-throwing lanes each, where customers can also drink and eat, take up the remainder of the space.
The 9,000-square-foot, 10-range Philadelphia unit features a lot of window space right on Market Street. Intriguing taxidermy dresses the storefront window, including a squirrel drinking from a beer can and a jackalope in flannel shirt, down vest and camp pants with axe in hand. This location allocates 3,000 square feet for the bar-lounge and private party areas and a second drink station in the back near the ranges. Guests can eat and drink anywhere in the venue and order from tablet-based computers at every range.
Architects designed each location's ranges to be sturdy and aesthetically pleasing. They measure roughly 10 feet wide by 21 feet deep with high wooden walls and fenced cages so the ranges are completely contained.
An axe pro controls each range to teach safety and throwing techniques. For safety reasons, guests require an invitation from the pro to enter the range, and the pro has control of the axes at all times. Strict protocols govern when players can throw and retrieve axes. "If a guest is throwing in an unsafe manner or appears to be intoxicated, we ask them to stop throwing," Flesher-Sonnier adds.
Ranges accommodate as few as 1 person to as many as 12. Each session is 1 hour and 15 minutes. "The Instagram crowd doesn't want to do anything for too long," comments Flesher-Sonnier, and axe throwing can be physically tiring. In Philadelphia, she offers "shorties," 30-minute sessions.
While the Brooklyn Kick Axe offers a couple of beers on draft and bottles and cans of beer, wine and hard seltzer, the Philadelphia unit has a full cocktail bar. No hard liquor is allowed before axe play, but afterward, guests like to hang out, play board games and drink in the lounge. "Attracted to the window display, people walk in to see what's happening and hang out for a drink or two because of the cozy environment," says Flesher-Sonnier.
Slated to open this fall, the Washington, D.C., Kick Axe will consist of 12,000 square feet with 12 ranges and a full bar. Above it and connected internally will be the Ginger Companies' Throw Social, which will feature indoor curling on synthetic ice and six bowling lanes. The building will also include a rooftop deck and mezzanine decorated in a Miami Beach chic vibe. Attached in the back will be the Other Half Brewery's new taproom. "It will be a complete, competitive socializing space," adds Flesher-Sonnier.
Downtown Sporting Club
Strategic Hospitality, Nashville, Tenn.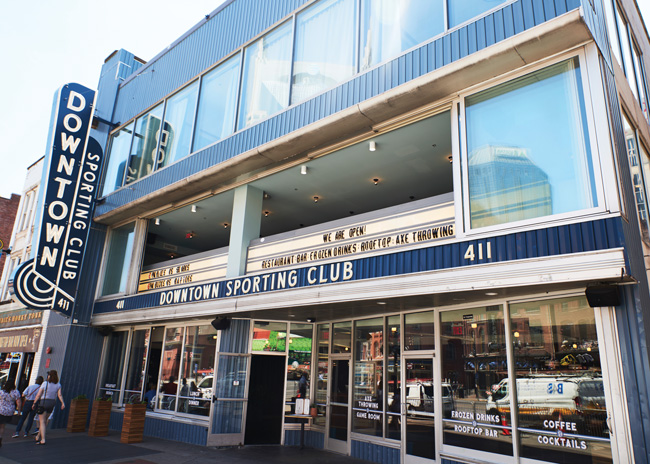 It's not all axes at the Downtown Sporting Club; guests can play a variety of games as well as dine at three different restaurants or lounge on the rooftop patio bar. Image courtesy of Danielle Atkins "People want to enjoy activities in groups — casual fun in a slightly competitive environment that, at the end of the day, nobody is actually really good at," says Benjamin Goldberg, co-owner with brother Max of Strategic Hospitality.
Axe-throwing was part of the
original concept when Downtown Sporting Club opened this spring. "Although people know us as an axe-throwing venue, it only takes up about 2,500 to 3,000 square feet, which is just about one-third of the second floor. So it's a pretty minimal footprint," explains Goldberg.
Indeed, the three-story Downtown Sporting Club has plenty happening. The building measures 42,394 square feet; every floor divides into smaller areas. The first floor features the 100-seat Ribbon Room restaurant as well as a casual cafe that serves lighter fare all day long. The second floor is home to The R.E.C. Room, a big sports bar with seating for about 65. Besides axe throwing, guests can play corn hole, ring toss, foosball and shuffleboard, as well as a variety of arcade and board games. On the third floor are 16 hotel rooms. On the rooftop, a 4,000-square-foot patio bar overlooks lower Broadway.
"We haven't gone for the lumberjack look," says Goldberg. The decor has a lot of wood and demarcation lines on the floor in different colors that add a dynamic element. Chain-link fencing not only secures the area but also opens up the space.
"We traveled all over researching axe-throwing facilities," says Goldberg. "We wanted to create a fun environment that is totally safe." Six bays accommodate 12 throwing lanes. The sturdily constructed bays feature a wooden wall that goes up 24 to 30 inches, then a chain-link fence and a header-board of 24 to 30 inches. Each bay is a totally enclosed and controlled secure area.
The limit per bay is eight guests with a dedicated coach. The facility allows only two people in the throwing area at a time. A coach and a gate control access to the lanes. Alcohol is served in the back area. The axe coach places the drink orders and monitors consumption levels, making sure guests do not drink too much. Also, notes Goldberg, 95 percent of axe-throwing reservations are for one-hour blocks. "So it's not some three-hour party where people are over-indulging," he adds.
Axe throwing is definitely a popular draw, attracting a clientele of both locals and visitors. "Reservations are booking nicely," says Goldberg, who adds that axe-throwing is just one of the attractions of the Downtown Sporting Club. "Guests spend some time throwing axes, and then they stay with us, have some dinner or hang out at the rooftop bar. Axe-throwing is just part of what we do here; it's not the only thing we do. But it adds an interesting dynamic to the whole concept, that's for sure."