Tablet technology puts flexibility, control – and fun – in customers' hands.
In this increasingly digital age, chains and independent restaurants alike are looking to integrate new technologies into their stores, both from the ground up and in retrofit designs. The use of touchscreen tablets for digital menus and in-store ordering in particular has caught on in the past couple of years and seems to represent a growing trend.
"Technology can be used as a point of differentiation within the restaurant industry and especially with millennials," says Darren Tristano, executive vice president of Chicago-based research firm Technomic. "Operators who want to stay ahead of the curve in an increasingly competitive market will need to evaluate the best use for the latest tech trends and decide how to integrate them into their operations. This may mean having a printed menu available, as well as an iPad/tablet computer."
While the number of restaurants incorporating these technologies into their operations hasn't shot up – yet – that doesn't mean consumers aren't interested in the latest tech amenities when dining out, according to research from Technomic. In fact, 51 percent of consumers surveyed feel it's important for restaurants to integrate technology into ordering, particularly through tableside touchscreen devices.
Many of these tablets integrate with social media and gaming platforms, POS systems and online reservation management programs. They can even set the stage for interactive business meetings. And while these tablets promise faster service, added convenience and seamless transactions for busy, on-the-go diners, they also present a powerful marketing tool to attract more tech-savvy patrons.
Consumers between the ages of 18 and 44 years old are far more likely than those more than 45 years old to say they would order using a touchscreen kiosk, according to Technomic. Interest is highest among 25- to 34-year-olds.
Specially made tabletops with touchscreen-ordering capability have taken off in the bar industry for digital ordering, social media-based networking or "table talking" and game playing (think: trivia night), but restaurants are just now investigating their use, according to Rhon Daguro, cofounder and CEO of Touch Taste Technologies.
Restaurants that are in on the trend, however, seem to be leaning toward the use of tablet devices. Two years ago, some franchised Chili's Grill and Bar stores began testing a tablet device that attaches to tables and allows guests to order, pay for their meals and even play games. At least one McDonald's franchisee, in Virginia, offers iPads for free in-store browsing. T.G.I. Friday's has bypassed the use of tablets, integrating its POS system with an app that customers can download to pay at the table. Another tablet device integrates with POS systems to process orders placed on a sleek, black stand by diners at their tables.
While a handful of large chains are beginning to integrate tablets into their stores, a few independents and small multiunit restaurant groups are taking the idea further and designing entire concepts and facilities around tablet technology.
Take a look.
STACKED
Locations: Cerritos, San Diego and Torrance, Calif.
Number of units: 3
Service type: Fast-casual/full-service hybrid
Average unit sales: $3 million-$4 million
Number of tablets: 50-60 per store
Maker/software: Apple iPad/proprietary
When installed: 2011
Uses for tablets: Tableside ordering and payment, pre-ordering, POS integration, table management
"Our ordering system relates to the food; we wanted a very focused menu with core categories, but within those categories we wanted to give a great deal of choice and variety to our guests," Motenko says. "Once we decided to do that, we had to determine what level of service could handle that system of ordering. We concluded that none of the traditional service styles were appropriate, except for some sort of digital device."
Though the first STACKED restaurant opened last year (the company now has three locations), the concept had been in an incubator stage since 2009. The iPad, STACKED's device of choice, didn't even exist until 2010. "We had been looking at different devices on the market, but nothing really fit our needs," Motenko says. "When the iPad came out, it was sort of our 'aha' moment; we knew we had a piece of equipment to enable us to give our guests the luxury of designing their meals exactly how they want them."
To order, guests can either select from the menu of signature burgers, pizzas or mac and cheese, or customize their own from the list of different meats, buns, sauces, condiments, vegetables, add-ins and more. To pay, they can swipe a credit card, split a check for multiple cards or hand cash to a staff member. The kitchen starts making the food only after payment has been processed.

"We are a creative concept, so we wanted a very artistic-looking interface," Motenko says. The company worked with software developers and graphic designers for a proprietary system. Both the STACKED website and interior design, by architecture firm Jordan Mozer and Associates, reflect that artsy, lofty look.
Customers can also pre-order and receive a special code confirming the transaction. Once inside the restaurant, customers enter the code into their table's iPad and pay for their order, which sends it to the kitchen.
The use of the iPad and supporting software also improves communication with the back of the house. With so many different options across the menu, "it was really important for us to have a kitchen program that could display orders in the most efficient way in order to handle the intense customization from our guests," Motenko says.
Each kitchen station features a monitor that clearly displays the customized orders. The display is a result of a proprietary interface software developed by STACKED and a team of software providers and graphic designers. Kitchen staff set printouts of the detailed order tickets on top of the finished plates so food runners know who gets what.
The iPads assist with table management, too. STACKED considers itself a hybrid full-service/fast-casual restaurant, combining self-service iPad ordering with a host desk for seating and servers, known as concierges, who mainly refill drinks and check on tables. At the host desk, staff members use an iPad to note where guests have been seated and manage waitlists. The mobility of tablet computers allows hosts to move about a waiting area to call names and update seating.
Motenko says that, fortunately, theft and damage of the iPads has not been a problem, despite the fact that they are not physically attached to the tables, which would otherwise make it difficult to pass the tablet from guest to guest at a table. A heavy frame and backup battery do offer some added protection.
Using just four routers, Motenko can set up Wi-Fi through the entire space (5,500 to 6,500 square feet per unit), which seats 200. "We invested in strong routers because we can't afford to have iPads disconnected," he says.
Motenko finds that, among customers, millennials take to the iPad ordering easily, but it's also a hit among working professionals out for a quick lunch. "Our guests seem to appreciate the ability to get exactly what they want and as a result are more likely to embrace the technology," he says. STACKED plans to build three or four more stores this year in California.
KITCHEN 67 BRANN'S CAFÉ
Location: Grand Rapids, Mich.
Number of units: 1 (sister concept Brann's Sizzling Steaks and Sports has 10)
Service type: Fast casual by day, full service by night
Sales average: $1.5 million-$2 million (projected)
Number of tablets per store: 15
Maker/software: Apple iPad/proprietary; Steelcase (media:scape)
When installed: 2011
Uses for tablets: Digital menus; digital jukebox; free Wi-Fi; POS integration; control of lighting and digital menu boards
Johnny Brann Jr. branched out from his 72-year-old family business when he opened Kitchen 67 Brann's Café in August 2012. For Brann, this wasn't to be just another restaurant; he knew technology would play a huge role in attracting a younger demographic.
"I've always been an Apple person and was intrigued by the iPad, so I knew I wanted to integrate some of the best technologies available for the concept," he says. "I ended up reaching out to Apple to see if they were working with restaurants in any way." They weren't. "Together, we put together a design and layout of the restaurant, much of which could be powered by the iPad and Apple TV." Each booth comes equipped with both an iPad for menu-scrolling, free Web surfing and emailing, playing games and accessing a Kitchen 67 iTunes digital jukebox of 200 songs that plays throughout the restaurant. The restaurant's 15 iPads attach to the tables with wires and a magnet-like autoport for charging when not in use.
Kitchen 67 is also a friend to the smartphone. A wireless charging station embedded at each table allows for plug-free charging, and the restaurant shares one of its entrances with an adjacent Verizon Wireless store. Customers can also use their smartphones to access the digital jukebox by downloading a remote app and wirelessly connecting to the K67 playlist. Apple iPods are also available for use at opposite ends of the open kitchen line.
The entire 4,631-square-foot restaurant, which seats 110 inside and 25 on the patio, is run through a cluster of 9 Mac Mini computers and 2 iMacs. On the back end, Brann chose a POS system that can eventually hook up with the iPads for tableside ordering – his next project now in the testing stage. Currently, customers order their food at a counter during the day and at their table through servers at night. In the meantime, management's central iPad can control the lighting, LED monitors for menu display and Twitter feeds, and the nine TVs and ceiling screens displaying different colors, patterns, logos and other "scenes." The host stand also uses an iPad for table management and online reservation bookings.
Brann also worked with software techs to develop the K67 app, which guests can access at their tables to review the menu and receive alerts about new items and specials. The app helps administer the guest loyalty program and will eventually include an online ordering component.
And the tech-focus doesn't stop there. At the back of the restaurant in a semi-private space, Kitchen 67 features a business conferencing area using media:scape technology. An adjustable flat-screen monitor offers multiple hookups for different laptops and "pucks" that customers can hit to switch the screen to their computers. "It's become like a second office or third home to some people," Brann says, noting that customers can reserve the media:scape space through an online scheduling device. "Instead of everyone hovering around one computer, or wasting time trying to hook up a projector, this system is an instantaneous way for you to walk in, plug in, hit the puck and show your work on the monitor."
Leveraging these technologies has helped the restaurant expand traditional dayparts, Brann notes. Nearby college students and professionals booking meeting space will line up at 10 a.m., with similar groups lingering after the lunch rush, almost like a work café. Full dinner service draws in families and young professionals for more traditional dining. Says Brann, "We created this concept as a place to hopefully spark new ideas and productivity, and give our guests something new to think about."
TIN DRUM ASIA CAFÉ
Location: Georgia; Georgia Tech Campus
Number of units: 11
Service type: Quick serve
Number of tablets per store: 2-3
Uses for tablets: Kiosk/tablet ordering; reviewing detailed menu nutritionals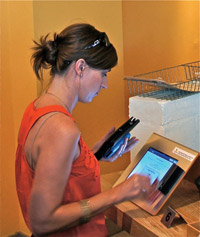 Steven Chan took more of a health-focused approach for his pan-Asian restaurant when he bought the locations' tablet-style ordering kiosks. Customers can not only order their food using this system, they can also access detailed nutritional information and make selections based on nutritional or special dietary needs.
"We don't want customers to wait more than 10 minutes to place an order or more than 10 minutes to get their food," Chan says. The idea of implementing a self-ordering system came as a result of that goal and because of the proximity to Georgia Tech's campus, which is full of young, busy, tech-savvy patrons.
At the kiosks, customers can simply order from the main menu or select their health goals – such as building more muscle, tracking calories or creating diabetic-friendly meals – and the system will narrow down items to cater to those needs.
Though Tin Drum's first location opened in 2003, Chan says, "we believe in the technology, and the health aspect is something I personally am interested in." For customers who opt out of using the kiosk or want to pay by cash, traditional cashiers are on hand.
A Georgia Tech architecture graduate, Chan played a hands-on role in designing the kiosks, which use an average of two iPads attached to stands that are connected to a custom-built table built at just the right height. The iPad stands hook up to printers and modems for receipts and online access.
Chan and his team also redesigned the entryway to orient customers toward the kiosk table first and to the cashier next. A bottled drink cooler was replaced with a smaller ice bin to make room for the tablet table.
"I'm a believer that great design enhances function, so I would strongly recommend restaurants considering implementing tablet technology to first consider that design perspective," Chan says. "Most of us just think about the hardware and layout, but in the end it's the customer's experience of using that piece of hardware that matters."