An "open kitchen" is an imprecise term encompassing many types of designs. Depending on who you ask, an open kitchen can range from providing a view to the back of the house through a large counter-height window to positioning cooking stations next to dining tables so that customers can freely interact with chefs.
Though there are numerous ways to showcase the work of chefs via an open kitchen setting, some design principles apply in all types of concepts.
Who Should Have an Open Kitchen?
An open kitchen is appropriate for many, but not all, restaurant concepts. "I've seen it in Indian, Brazilian, Asian — you name it," Egnor says. "All forms of cuisine and cooking lend themselves to be open for display." There is one proviso, however: The restaurant should prepare meals from scratch, otherwise an open kitchen can be detrimental.
"You sell food visually. The consumer doesn't want to see pre-packaged ingredients," says Joel Schultz, design division lead, Great Lakes Culinary Designs. "We are trying to allow the customer to be part of the action, to see how things fire and flame, to see proteins on the grill and how things saute. The customer doesn't want to see a lot of bags." It's fine if some standard prep work is on display, but you've got to put on a show that engages the senses — fire for the eyes and sizzle for the ears — if you want to maximize the benefits of an open kitchen.
Consider the atmosphere of the establishment. When you install an open kitchen, you introduce noise and activity that some patrons might find distracting. "If it's a sedate and formal venue, I would not do an open kitchen," says Russell Stilwell, principal, Next Step Design.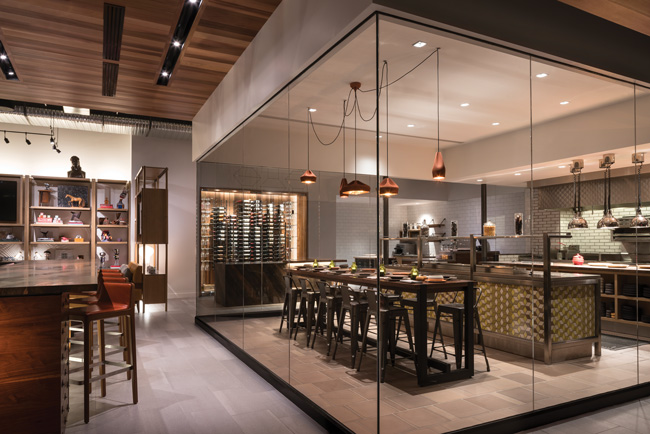 At Weft & Warp Art Bar + Kitchen at Andaz Scottsdale Resort & Spa, designed by Next Step Design, the chef's table is taken to the next level by placing it within a glass-enclosed showcase. Image courtesy of Hyatt
Open Kitchen, Open Floorplan
When planning for an open kitchen, understand the space and its relationship to the dining room, Egnor says. If the kitchen is the show, make sure it is visible. "You want to make sure that you can see the kitchen and be part of the experience from anywhere that you sit," Schultz says.
Computer modeling allows designers to simulate the view of the kitchen from around the dining area. "We are modeling all of our projects now," Schultz says. Software like Autodesk's Revit enables designers to share with stakeholders and experience the space from any point in the restaurant. The simulation allows the size of elements to be altered, such as a half wall between the kitchen and dining area, to assess the visual impact before construction begins.
It's also important to consider the viewing perspective from the kitchen side. "We work with a lot of chef-entrepreneurs," Schultz says. "An open kitchen allows them to see and manage all the different environments." The chef, in these cases, wants an unblocked view of the dining area, bar and reception station, so the design should take into account the sight lines from where the chef is likely to spend most of his or her time.
There are many ways to lay out cooking stations, of course, but the most common is perpendicular to dining tables. This ensures that cooks standing on either side of the cooking station do not block the guest view, but it also allows guests on both sides of the tables a view of the action.
Breaking up the kitchen into island components, Stilwell says, works better visually than aligning long rows of workstations. Long rows of cabinets and equipment on casters tend to move out of alignment and look crooked over time, he says. Cleaning between each station as the gaps show is difficult. "You could have a line, but I would prefer to go with a more manifold pattern," he says. Within cooking areas, for obvious safety reasons, don't create a workflow that requires handoffs over open flames. Also, have refrigerators near ranges to minimize walking distance between them and cooking equipment, and place them discretely under counters whenever possible. Hide trash receptacles similarly.
Aesthetics and Guest Perception
With an open kitchen, you must consider how equipment and supplies look from where the customer sits. Materials must be attractive and easy to clean. It might be more efficient to stack dishes on a counter where they are in easy reach of the cook line, but it won't look good, Schultz points out. So, choose alternatives such as undercounter cabinets or discretely placed shelves.
"If you need a shelf, use a bracket-less shelf," Stilwell advises, because prominent brackets evoke an industrial look. For that reason, too, it is best to use low-profile flues or dress them up. "You can use a mirror or copper or brass facades to hide them," he adds. Placing them higher than usual — say, seven feet instead of six feet, eight inches — makes the space seem more open and visually appealing.
"You want to have aesthetics in the kitchen be on equal level with the front of the house," Schultz emphasizes. Make materials choices accordingly. Don't overlook the back wall, particularly if the design creates large, open views to it. Decorative glass or subway tile are attractive choices for the backdrop and clean up well. Some designers use the back wall to feature the restaurant's logo — a great way to add a marketing element in the age of Instagram and Facebook.
Achieving an appropriate lighting level in an open kitchen can be tricky. Light has to be bright enough for chefs to do their work but not as bright as, say, a hospital operating room. Overhead lights should emit warm hues — avoid cool fluorescents — and can be supplemented with task lighting to brighten labor-intensive areas.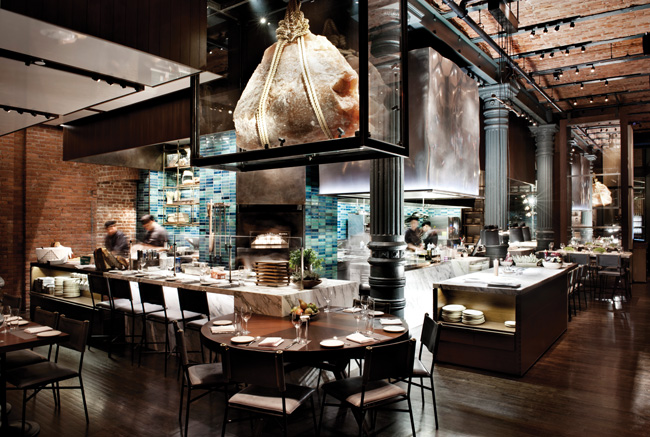 Chefs Club in New York City, designed by Next Step Design, puts the chefs on display. Chefs from around the world take over the kitchen for a set period of time to offer diners a unique and intimate dining experience. Image courtesy of Emily Andrews
Consider the Border — Or Lack Thereof
The area separating the kitchen from the dining area is closest to customers and frames the kitchen from their perspective, so it requires special attention to detail. If you want maximum exposure to the back of the house, you could leave this area open from floor to ceiling. Instead of a half wall or large counter, millwork can help mark the boundary between the kitchen and dining room. Small barriers such as an island or counter that is less than the full width of the kitchen can also serve as delineating markers. Counters should be significantly lower than the 42-inch to 50-inch heights that semi-open kitchens featured in the past, Stilwell says. Refrigerated displays with seafood or cuts of meat can also serve as border markers while creating an eye-catching focal point.
Shiny metal surfaces tend to yield an industrial commissary look, so most current open kitchen designs avoid using stainless steel or aluminum countertops. Think of chef counters as furniture, Stilwell says. Quartz and granite are tried and true natural materials that hold up well and are easy to clean. Don't discount man-made stone, he adds, as the quality of those products today matches that of natural stone. Adding faux drawer faces beneath counters can also soften and de-industrialize the look.
Small details matter. Even though ticket rails don't take up a lot of space, they are noticeable customer-facing elements. "Stay away from aluminum ticket rails," Schultz advises. "That's not going to look good." Also, be sure that food looks its best when awaiting delivery to the dining area. To make the finished product look attractive, LED lighting above warming stations can eliminate shadowing, Schultz says.
One of the design goals of an open kitchen should be to achieve efficient workflow between the front and back of the house. The server station is normally behind a wall, but an open kitchen concept can provide advantages. Servers can see the dining area better from the back of the house and can easily spot meals when they are ready even when attending to customers in the dining area.
That should translate into better quality service. There is one potential drawback to such open views, however. Any mistakes, such as servers neglecting to wash their hands or using an item after dropping it on the floor, is on display for guests to see. The way staff members speak to each and the kind of language they use casually may also be seen and heard. In truly open kitchen and floorplans, staff must be trained to practice both good hygiene and good behavior.
The Obstinate Daughter, designed by Next Step Design, also has an open kitchen. Image courtesy of Andrew Cebulka
Not So Loud
An open kitchen adds noise to the restaurant. While hearing food sizzle on a grill can boost the appeal of the dining experience, there comes a point where the din from the kitchen can be too much. Nobody wants to hear the echo of pots and pans banging around. The cook staff should be aware of this and moderate the volume of their voices as well.
Sound-dampening strategies can reduce kitchen noise. On one extreme is a floor-to-ceiling glass wall that blocks back-of-the-house noise. The drawback, of course, is that it will snuff out desirable sounds as well, and eliminate interactivity between chefs and the front of the house. An alternative commonly used strategy to reduce the overall noise level is to install acoustic ceiling panels that absorb sounds in the kitchen and the dining room. This is one of the easiest ways to reduce noise while having minimal impact on overall aesthetics. Adding soft material such as spray-on acoustic fiber to walls can further dampen sounds but may not complement the decor. Other noise-reducing strategies employed in the dining area can include booths of varying heights that break up sound waves and reduce the overall noise levels.
Designing an open kitchen comes down to close attention to the numerous details that impact the customer experience. When designed well, an open kitchen adds excitement to the establishment and helps to draw customers in. "It can offer differentiation from competitors and provide a huge visual marketing benefit," Egnor notes.
Following best design practices makes for a successful open kitchen with a long life span. "Executed properly, most open kitchens will work fine until you change the restaurant concept," Egnor says.