Page 1 of 2
Union Square Hospitality Group Takes its Roadside Shack Out for a Spin on Jersey's Route 17
In support of the first public art installation in New York's Madison Square Park back in 2001, Danny Meyer's Union Square Hospitality Group (USHG) deployed a simple hot dog cart to serve pedestrians strolling through. The group quickly realized it was on to something good and, in 2004, won the bid to open a permanent kiosk in the park. That kiosk, the original Shake Shack, has since become an iconic spot beloved by New Yorkers and a popular spot for visitors to the city from the world over.
In fact, that humble walk-up stand set the stage for what today is both a beloved boutique fast-casual burger brand and a vehicle for international expansion. Over the past few years, Shake Shack units have opened in cities ranging from London to
Istanbul to Dubai, as well as Miami, Boston, Philadelphia, Washington, D.C., and finally, as of last November, just across the river from New York in Paramus, N.J.
USHG had long wanted to take Shake Shack into New Jersey — proximity and well-established brand awareness made it a natural expansion market — but as with all of its locations the company favored careful site selection over speed to market. Ultimately, the site they secured on Route 17 in Paramus was a home run, according to Andrew McCaughan, USHG's director of real estate and design.
"Being based in New York City, we had always had our sites on New Jersey. We had so much outreach from Bergen County and other communities who knew Shake Shack from the city but we just hadn't been able to find the right site," McCaughan says. "We wanted to be on Route 17, which is a very busy corridor for retail and restaurants and is easily accessible to the surrounding communities. It just took some patience."
Among a handful of critical site-selection metrics the group had to consider was parking. "That's something we've learned as we've expanded outside of New York, where we mainly have pedestrians, subways and buses," McCaughan says. "It's a driving culture once you get outside of the city and for our kind of restaurant we need a lot of parking. So having accessibility, high traffic and the right look were important, but so was having enough space for parking."
In addition to patience in site selection, getting the Paramus location open took a lot of elbow grease. After finding the right site — a freestanding, 67-year-old former pancake house — USHG stripped down and transformed it into what McCaughan describes as "a really clean representation of the brand. A simple but modern version of the roadside hotdog and hamburger stand."
While some of the original building's characteristics — a low ceiling with exposed steel beams and a metal deck roof, for instance — were appealing, USHG essentially gutted the building. "We wanted to open up the floor plan and open up windows with all of the views onto Route 17, so we took it pretty much down to studs and built it back up," McCaughan says.
Retro Rethought
Although USHG continues to expand Shake Shack at home and abroad, the company embraces an "anti-chain" approach to its growth, focusing on creating distinctive units with unique experiential designs for each location that speak to the building, the architecture and the local community. In Paramus, working with designers Denise MC Lee and Sara Stracey, of SITE, a New York-based architecture, art and design firm, the company set out to create a retro roadside shack vibe with modern, eco-friendly sensibilities.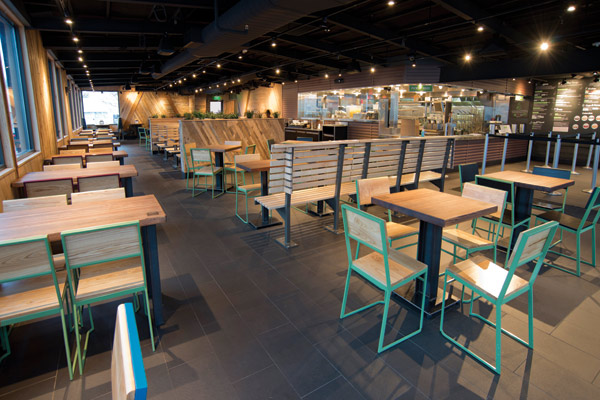 Lee says the project was among the most exciting her firm has done yet for Shake Shack because of the total transformation that took place. "We studied the site extensively and even sketched over coffee while the previous pancake restaurant was winding down — before the contractors began the archaeological dig," she says. "Layers of previous businesses were excavated."
As with any conversion of an existing building, unexpected issues can arise during such an "excavation." In Paramus, significant structural deficiencies were discovered that needed to be shored up prior to reconstruction. Nonetheless, the project was completed on time, within 17 weeks, and on budget.